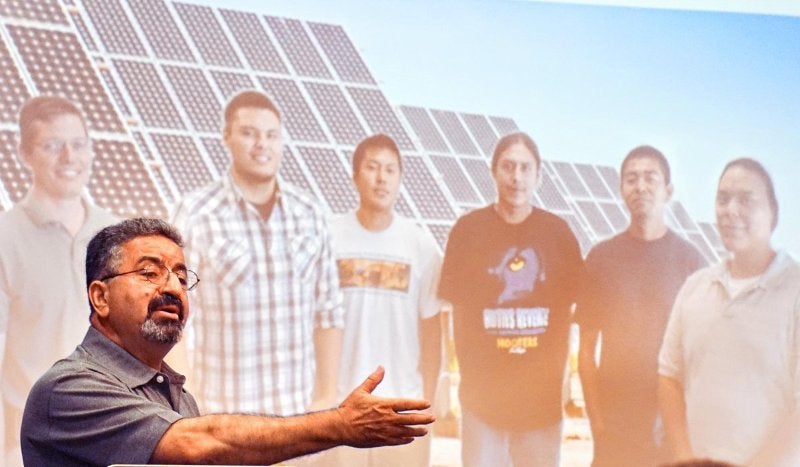 Beaming into the camera, four college students wore their pride on their sleeves — rightfully so after having just taken the Grand Prize at the 2017 NASA Swarmathon Competition. No, they weren't from Harvard. Not Princeton either. Rather, Chrissy Martinez, Emery Sutherland, Ty Shurley and Schulte Cooke were representatives of the Robotics Team at the Southwestern Indian Polytechnic Institute (SIPI), led by Dr. Nader Vadiee, the mastermind behind the growing pre-engineering program at SIPI.
Dr. Vadiee was the first recipient of the Digital Inclusion Award presented by GlobalMindED and WICHE Cooperative for Educational Technologies this past June at the 2017 GlobalMindED conference in Denver. He was recognized for advancing first generation to college student interests —specifically those of Native American and Hispanic students— in the Science, Technology, Engineering and Math fields.
Simply being an engineering professor at a tribal college where STEM may not have been historically prioritized was not the reason why Dr. Vadiee was credited for his impact. Rather, it was the Vertical Integration Pyramid Approach (VIP) he developed and proceeded to implement in the SIPI pre-engineering program that ignited the potential of his students.
The VIP approach is unique for the diverse cohort of students involved, varied in age, ethnicity, and education level. Project learning is promoted as students, with support from an institution, industry, or government, tackle complex problems and major projects together. What results is group work between a non-typical blend of high school students, undergraduate students, and graduate students pursuing master's or doctoral degrees, all of whom build job-ready skills.
For ethnic minorities, this approach instills a notion of upward success through integration and productive exposure. High school students, through association with successful older students pursuing bachelor's, master's and doctoral degrees, add increased value to their own higher education through hard work and academic study. Similarly, undergraduate students, through association and mentorship with graduate students, become more invested not only in their college graduations, but in graduate education, as well as industry-specific skills.
What is truly groundbreaking about the VIP approach is the host of the benefits that go beyond merely creating a level playing field for students of first generation, ethnic minority backgrounds with their more privileged peers. The VIP approach does not satisfy itself with educational equity. Rather, SIPI pre-engineering students gain a competitive advantage in their future STEM fields because their classroom experience is adapted to the shifting engineering industry.
"The current [engineering] educational model is based on industrial revolution era needs and mindset. The new concerns over environmental impacts, energy usage and sources, the advent of nanotechnology, smart materials and computation tools all fuel change and impact the way we teach and practice engineering," said Dr. Vadiee.
To adapt to these changing demands, he adds, we need to understand that it is the age of accessing, not possessing, information and knowledge. Knowledge is a process, not a fact, one that involves critical thinking just as much as problem solving and creativity.
"The future educational system will offer personalized programs of study, with multiple entry and multiple exit points for lifelong learning, in a multi-function and reconfigurable dynamic, interactive, team-based, problem-based, teaching-learning environment," Dr. Vadiee adds. Sound familiar? That is because this is the foundation of the collaborative VIP approach.
This system requires a newfound curriculum, consisting of eight world models (such as theoretical models or common sense models)—a layout which Dr. Vadiee has already begun to implement in the SIPI pre-engineering program. When problem solving, his students are encouraged to choose any or all of the eight world models to develop a solution in order to promote critical thinking.
The VIP approach has not only brought great success to the SIPI pre-engineering program, but to surrounding feeder schools as well. The annual report given in March 2016, reflecting the impact of the NASA TCU-ELO Grant on SIPI, revealed increased overall student participation in STEM classes at both SIPI and the partner secondary school, Bernalillo High School.
Furthermore, the success of SIPI has encouraged outreach to other students of ethnic minority backgrounds. SIPI and the Navajo Technical College will host the 2017 Summer Institute, an institute that brings together five tribal colleges with the aim of increasing technical STEM skills.
Although educational equity is still a working concept, what Dr. Vadiee has given to his students is a starting method to dismantle the disadvantages they face as non-traditional university students. Students involved in the SIPI engineering program forge forward with leverage in both the engineering industry and their academic future—better adaption to the changing industry in their access, not possession, of knowledge. This is the product of a recognition that substantive academic success required resources beyond the usual lecturing protocol.
Here at GlobalMindED, we pride ourselves in being able to recognize impactful individuals like Dr. Vadiee at our annual conference. Next year, we will convene thought leaders from all backgrounds and industries who are committed to eliminating barriers to equal access to educational and professional opportunities from June 9-11 in Denver, Colorado. Visit our website to learn more about past conferences, submit your idea to speak when our Call for Proposals opens on September 1, and discover other ways to be involved in our movement.
Calling all HuffPost superfans!
Sign up for membership to become a founding member and help shape HuffPost's next chapter
This post was published on the now-closed HuffPost Contributor platform. Contributors control their own work and posted freely to our site. If you need to flag this entry as abusive,
send us an email
.