How easy is it to predict the next big thing ? Five years ago, the tech world at large bet robots would be controlling our wardrobe choices and fashion favourites by now. Not quite.

Digital influencers and social media dominated the discussion at Decoded Fashion London Summit 2016, not robotics. Last month, the event brought together the biggest insta-savvy names in the "fashiontech" world.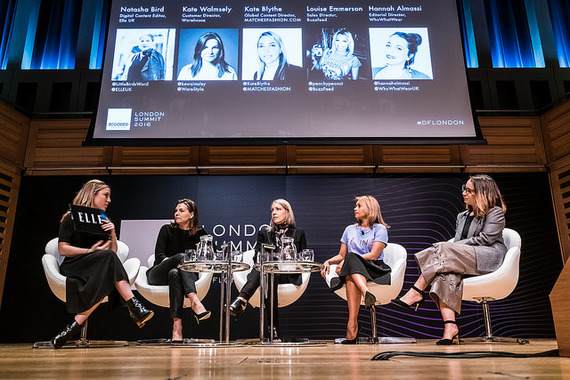 ©Dan Taylor/Heisenberg Media
Amy Cole, Head of Brand Development at Instagram confirmed technology is shaping our everyday life and future. With 80 million photos shared per day and 3.5 million daily likes, "IG" is the largest social community and the world's visual pulse.
The platform allows for people and businesses to build experiences and tell stories. It is also the destination for all things stylish. Fashion instagrammers return to the app on average 19 times per day.
So why is the world so obsessed with "the gram" ?
Cole explained we are more visual than verbal: "The human brain processes images 60,000 times faster than words. So take more photographs, capture attention quickly, be playful, design without sound and share your story".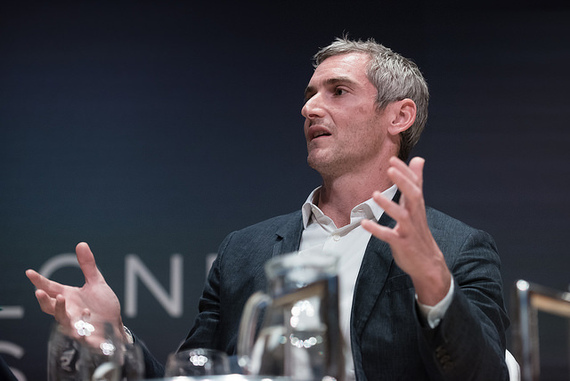 Zach Duane, CEO of Victoria Beckham - ©Dan Taylor/Heisenberg Media
Next on the stage was Zach Duane, CEO of Victoria Beckham. Duane discussed the journey of the Spice girl who once rocked the music world turned high-end designer in her own right.
Duane stressed that more than anyone, Beckam needed to earn her place in fashion . "We thought about what would happen if 150 Spice Girls fans appeared at a luxury store near Fifth Avenue, and the answer was simple - we'd give them the best possible tour of the store".
Duane also explained how social media facilitated the former singer's entry into the fashion industry. It allowed Beckham to be honest, truthful and show she had nothing to hide. He added, "Of course we had a social media strategy in place, yet everything that was captured is real and authentic".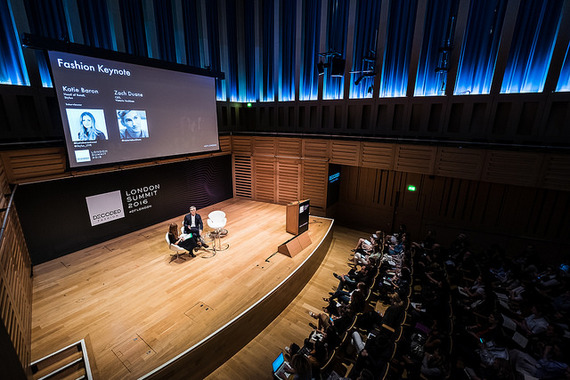 ©Dan Taylor/Heisenberg Media
Sir John Hegarty, Advertising Executive and Founder of the Bartle Bogle Hegarty agency made a strong statement at the beginning of his keynote.
"Fashion doesn't know what a brand is anymore. They have become so consumed in tech and keeping up with the latest digital trends they have forgot the basic principles of branding".
In fact, the fashion industry has become so influenced by Instagram, designers and brands are now creating content specifically for the squared boxed application. Technology brings colossal opportunity, it's a connection, but fashion needs creativity, ideas and stories. Hegarty questions the long-term value and ability to sustain a brand without the above.
In fashion, the power of storytelling and maintaining a strong philosophy of what you stand for is fundamental. Hegarty added: "A brand is made not by the people who purchase it, but the people who know about it".
Are influencers the most valuable asset to brands in this digital revolution ?
Eva Binda from RewardStyle shared that in 2015 alone, digital influencers on their platform generated $500M in sales for 4,000 brands and $1B over the lifetime of the company.
Co-authored by Shannon Jennings, London-based Digital Publisher, Founder at CodingHandbag & FashionTechDaily and Social Media Strategist. Follow Shannon @CodingHandbags
Calling all HuffPost superfans!
Sign up for membership to become a founding member and help shape HuffPost's next chapter