Online marketing can be a daunting task for many business owners with the constant changes to keep up with and platforms your business is supposed to be active on. It can be a full-time job to stay ahead with the latest marketing strategies that drive results for your business, which most can't afford to commit to.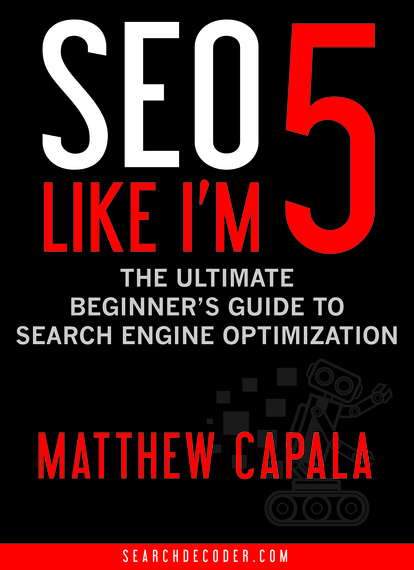 Marketer, blogger at SearchDecoder and NYU Adjunct professor, Capala's first book gives marketers and business owners a comprehensive view of what's important in marketing today and how they can best apply these trends to impact how they do business.
Learn from Capala and the numerous interviews he conducted with industry experts like Brian Dean, Mike Fishbein, Kristi Hines and others about how to succeed mainly with search engine optimization, as well as social media, content marketing and more.
As part of my series on digital innovators, I spoke with Capala about his book, what's most important when it comes to SEO and how businesses can make the most of their online marketing in the newly democratized landscape.
Brian: In the beginning of your book, you talk about how important it is for businesses today to market like it is 2014. What are the most common issues you've seen organization's facing when trying to market with the current digital landscape? What's your recommendation for resolving these issues?
Matthew: '80% of success is showing up', Woody Allen famously said about life.
Marketing in 2014, and beyond, is not much different. Your business needs to 'show up' when consumers search for your product or service on Google, when you are spoken about on social media, or when you receive a review or a comment.

Why? Because showing up equals cash: 80% of consumers search for a product/service before purchasing it; 70% read online reviews before making purchase decisions; 68% of consumers begin their decision-making while searching for a keyword; websites that blog regularly receive 55% more traffic and over 80% more leads compared to websites that don't; and over 70% of search clicks are organic.
Yet, many businesses still miss out on the vast opportunities search engines, blogs, and social media have to offer. They fail to show up when consumers search for or talk about them. At the focal point of decision making, when the purchase intent is as high as it can possibly get, they leave money on the table.
The good news is that the time has never been better for small businesses and bootstrap marketers to reach mass audiences.
New digital tools have emerged to make it possible for individuals and businesses to make millions of dollars online without any significant cost to start a business and promote it. The barriers to entry do not exist anymore.
Brian: There's a misconception for many marketers and business owners that SEO is dead, where did this misguided idea come from and why is it false?
Matthew: SEO is not dead; black hat and spam is. One of the search-marketing experts I interviewed for the book, Jenny Halasz, put it best:
"The funny thing about SEO is that the more things change, the more they stay the same. The tactics shift, and the penalties increase, and the black hats get smarter, but SEO is still fundamentally just marketing.
I'm from the South, and we have a saying here. You can put lipstick on a pig, and it might make it prettier, but it's still a pig. The biggest difference between SEO 15 years ago and SEO today is that Google is better at spotting pigs."
The "SEO is dead" idea can be debunked by visiting the Webmaster Guidelines for both Google and Bing. Both sites give webmasters tips on how to create a fully optimized website attractive to search engines.
The relationship between Google and white-hat SEO is symbiotic. Like the flower and the bee, they benefit from each other. Google wants easy access to great content; the role of SEO is to feed that content to Google effectively. Google loves good SEO. Ethical marketers love Google.
Brian: Most of the book is focused on how to best use SEO for your business, what's the most scary part for companies just getting started with SEO?
Matthew: There are many reasons why businesses may not be using inbound marketing channels (such as SEO, blogging, social media, and newsletters) to drive leads. They might have tried, got burned, and given up. I hear it all the time. But trust me, it's not that SEO is not working for them, it's the other way around; they haven't made it work.
The landscape has changed a lot. Old tactics have been rendered obsolete. You can no longer outsource tweeting, link building, or blogging. You can certainly hire a consultant or an agency to help you, but they cannot 'be' you. Your content needs to be native, authentic, and human. You need to be involved.
I think the major pitfall for businesses is when they treat SEO like it's sausage - they want the final product, but they don't want to hear how it's made.
Brian: You discuss in detail how to establish the building blocks of a personal brand with tips, strategies and the toolkit to jumpstart the process. How does a marketer's personal brand co-exist with his or her full-time job? How does SEO come into place with an individual's personal brand?
Matthew: I write about the intersection of personal branding and SEO on Medium. It's actually a great place for a beginner to start - you can create a profile and publish content in minutes.
Being interesting online requires a unique point of view. You need to be a person of content. Both users and search engines will gravitate to you if you have something of value to offer that differentiates you.
Your content is your work portfolio. It's your differentiator. It's what makes you stand out among the timid masses no matter who you are and where you are from. It shows you're interested and involved in the world around you.
Shows your expertise. It's what makes you interesting in life, and on the Internet. It's the message that will make your personal brand stand out, attracting others to become part of your network.
On another hand, entrepreneurs often ask me: "How do you draw a line between your business name and your personal brand?"
You don't. It's one and the same. Steve Jobs built Apple, not the other way around. You have built your own company, You Inc. The Internet and social media have democratized marketing. Online influence is earned, you cannot buy it, and SEO can certainly help getting ahead on the crowded web.
Brian: How important is the frequency of your content distribution as it relates to SEO?
Matthew: The necessity of having a blog on your site is not really debatable. According to HubSpot, companies that blog receive 55 percent more website traffic, and B2C companies that blog receive 88 percent more leads than those who don't.
The topic of content frequency is my pet peeve because it is often abused and taken to extremes, especially when it comes to blogging and branded content.
It is either too frequent to retain a certain level of quality, or too infrequent to make any difference. Publishing frequency matters, but only if content is good
Brian: There's an informative interview in your book with Joseph McKeating, founder of Pulsar Strategy, about effective PR strategies to help businesses get noticed. How would you recommend a company effectively tie together their ongoing PR and SEO efforts?
Matthew: In a world where bloggers are journalists and consumers look for news on Google and YouTube, SEO and PR teams need to be like husband and wife: synched up and synergized.
Traditional link building is dead and needs to be replaced by innovative content promotion strategies, centered around PR outreach and leveraging existing brand's relationships.
For enterprise-level brands digital PR is the link building 2.0, but only if SEO is involved. Together, SEO and PR have become the core business channels. Operating in silos they face a risk of becoming irrelevant.
I interviewed Joseph recently on my blog, whose Editorial IV blog has been one of the leading voices of how modern PR should look like. In his own words:
Both public relations and marketing have long struggled with quantifying results. Since most PR agencies focus almost exclusively on media relations, results have historically been measured by the number of media hits. Why is this a bad measurement? Two reasons.
First of all, these results have often been measured comparatively. If you're my client and I'm your agency, I might tell you that a half-page article written about you or your business in the WSJ is equal in value to half-page advertisement.
This is a common practice in public relations and is referred to as advertisement value equivalency (AVE). Second of all, even if you have an agreed upon value of what a media hit in a specific outlet is worth to you, why stop there? That's such a surface-level measurement.
Through Google Analytics and other accurate tools, we're able to measure the effects of media attention and overall public relations efforts in ways never before possible.
Brian: Could you discuss the strategy of compounding that is mentioned throughout your book and how businesses can use this technique to scale their SEO and content marketing?
Matthew: SEO is rooted in the philosophy of growth. The foundation of growth, and thus SEO, lies in your ability to design and follow a process where every small step compounds into big results. The secret is in your ability to see ahead and stay consistent, which is easier said than done.
Online growth and SEO are predicated on holistic thinking. In addition to the usual suspects, such as keyword research, link building, and meta tag optimization, 'SEO Like I'm 5' introduces a holistic approach to the process of gaining online visibility.
It emphasizes the signals and metrics that post-Hummingbird Google cares about today, including the knowledge graph, Google+, social content, community engagement, user experience, and semantics.
Stay tuned for more interviews with distinguished thought leaders paving the way for innovation. Follow my column on Digital Innovators or with the #digitalinnovators hashtag on Twitter.
Popular in the Community