Research from Harvard Business Review Analytics Services found that less than two in 10 businesses are able to deliver relevant and valuable customer experiences. According to the research findings, the top three success factors for customer experience transformation is: 1. customer centric culture, 2. management/leadership buy-in, and 3. visibility into and understanding of the end customer experience.
The research also revealed that customer experience (CX) leaders are more likely to be using emerging technologies and creating personalized and omni-channel experiences. CX leaders are also more likely to use data to predict and anticipate consumer needs, understand lifetime value, and track customer advocacy. CX leaders also have a much higher sense of urgency - they believe there is no time to waste in transforming to deliver a superior customer experience.
Data is at the heart of meeting the elevated expectations of today's connected customers. Forward-looking companies have invested in new technologies capable of consolidating and analyzing key customer data and have reorganized to be able to act on that customer insight in a more nimble way. An example of a forward looking company is TELUS.
TELUS is Canada's fastest-growing national telecommunications company, with $12.8 billion of annual revenue and 12.7 million subscriber connections. TELUS provides a wide range of communications products and services, including wireless, data, Internet protocol (IP), voice, television, entertainment, video and business process outsourcing services, and is Canada's largest healthcare IT provider. TELUS has been on the forefront of digital business transformation, by developing TELUS Digital Labs, an internal digital innovation center of excellence, where some of the best and brightest digital experts co-create customer value and amazing experiences by designing and developing web and mobile apps, social media, cloud enterprise applications, advanced analytics and content.
To learn more about the incredible digital business transformation at TELUS, Ray Wang and I invited Shawn Mandel, vice president and chief digital officer at TELUS Digital to our weekly show DisrupTV.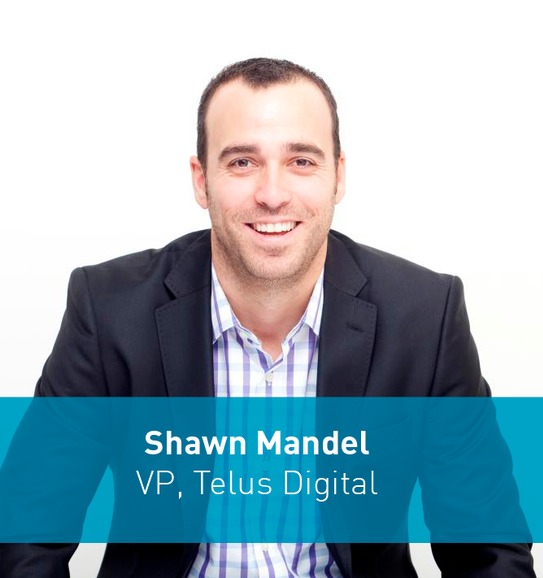 Shawn Mandel is the chief digital officer at TELUS Digital Labs. Mandel leads TELUS' Digital Services team, driving the digital strategy for customer-facing web properties in both consumer and business segments. His team is responsible for delivering a best-in-class online experience that accelerates TELUS' competitive advantage, delivers on our customer first commitment and our goal of becoming the most recommended company globally. As part of the team's digital transformation, Mandel is led the complete re-design of telus.com and business.telus.com using lean startup principles and generating ongoing customer feedback to bring an industry-leading customer experience.
The core values of TELUS Digital is the following: 1. Outcomes over outputs, 2. Quality more than speed, 3. Data more than opinion, and 4. Empowerment more than governance.
Here are 12 takeaways based on our conversation with TELUS Digital CDO, Shawn Mandel:
1. Put your customers at the center of every products and services decisions - Mandel and his team are incredibly focused on design thinking and product development based on deliver measurable customer value. Manel and his team measures their success based on customer feedback, adoption and engagement levels.
"No matter what role or area of the organization, our clear and simple vision is Customers First. It's our common cause – because if the customer wins, we win." — Shawn Mandel
2. Digital is not just about apps, mobile, web and social. Digital is far more strategic and massive vehicle for disruption - Mandel and the leadership at TELUS created a startup within a large telecommunications company - 47,000 employees - called the TELUS Digital Labs. The lab provided Mandel's team the autonomy to create value and digital experiences for employees and customers. The lab started with 20 employees from various lines-of-business within TELUS in 2013, and today there are more than 305 employees at TELUS Digital. The team has achieved a lot, failed a lot, and along the way rapidly transforming a one-hundred year-old company.
I visited TELUS Digital Lab in person in Toronto and watched a vibrant and highly collaborative environment where designers, developers, marketers, IT engineers and enterprise architects working together to develop customer facing solutions. There are 22 delivery teams, constantly pushing products into the market.
3. Incubating and growing digital capabilities is about positioning - TELUS Digital Labs is a complete digital agency embedded between marketing and IT - The role of digital varies on organizations and in TELUS Digital Labs sits where marketing operations ends, and where IT begins. TELUS Digital manages their own application infrastructure, managing the digital life-cycle from concept to commercialization, including research, design and development. TELUS is a full fledged digital agency, partnering directly with CMO and marketing and CIO and IT. The goal for Digital Labs is to push digital capabilities and competencies deeply into every line-of-business within TELUS; essentially managing themselves into irrelevancy over time.
4. Your competition is digital savvy companies outside of your organization - Mandel is competing against Airbnb, Etsy, and fast growing digital startups. You are in a constant battle for the customer and talent. Mandel and his team sits between a startup and big business, able to attract digital talent and giving employees an opportunity to experience speed, agility and leading-edge innovation.
5. Toronto is working towards becoming the artificial intelligence (AI) capital of the world - The startup scene at Toronto is blowing up, according to Mandel. The Vector Institute, University of Toronto, and hot and growing startups like Element.AI are leading the AI innovation revolution. Companies like Google and Accenture and investing in developing a strong AI ecosystem in Canada.
6. The secret to staying innovative is to stay small - As you get big, break it down and become small again, said Mandel. TELUS Digital was inspired by Spotify and their method of staying small - tribes, squads, gills and power of autonomy, information sharing and right sizing teams. Give the team enough autonomy, but put the right guardrails in place to minimize chaos.
7. Failure is part of the learning process - Mandel celebrates failure because this is key to developing your innovation muscle. Your culture and rituals is how you create and cultivate a safe environment to demonstrate transparency, collaboration and co-creation of value.
"In order to create a collaborative and safe environment – one that's conducive to solving problems and innovating together – we need to celebrate failure or what we like to call "retrospectives". In the TELUS digital team we've built retrospectives into our process," said Mandel.
8. Give your team the permission to experiment and co-create value - Mandel is a big believer of empowering his team to reach their their full potential. He has created an environment that is safe for experimentation and exploration with a high degree of transparency and accountability based on a data—driven culture. Mandel's point of view on empowerment is based on three foundational elements:
9. Employee empowerment is the fuel of your innovation engine - Mandel believes that the most important factor in accelerating innovation is employee empowerment. By giving his team autonomy to explore, experiment and iterate, Mandel has realized team improvements in the following areas: 1. intrinsic motivation: improved team engagement and talent acquisition and retention, 2. Faster speed-to-market: better use of analytics and tools to reduce product development and delivery, 3. Creativity: more informed decision making processes with calculated risks that lead to faster and higher quality outcomes.
10. Only data-driven organizations are able to meet the every changing customer demands and expectations - Mandel and his team practice radical transparency because they have created and cultivated a data-driven culture, aimed at continuous improvement. They leverage data so that they can shift from a command and control culture to a collaboration and co-creation of value ethos.
11. Structure your team by outcomes and enablement models - Outcomes and enablement teams have distinct goals. Outcome owners manage the process and resources towards delivering on the promises made to business stakeholders and customers. The enablement team is focused on delivering an optimization machine, ensuring the teams have the right tools, processes and culture to deliver awesome solutions, on budget and on time. Mandel and his team focus on business outcomes aimed at improving the customer experience by measuring, iterating and continuously improving. Mandel ships 400 new changes into production on a daily basis.
"Whatever your vision or objective, collect the right metrics and constantly measure and assess your progress. At TELUS digital our focus is on the customer and it only makes sense to collect the right metrics to have a constant pulse on the customer experience." — Shawn Mandel
12. Strong talent share three common characteristics:
Talented employees wants to make a positive impact
Talented employees want to develop and deliver products that add value at scale
Talented employees want to ship product
By focusing on enabling his team, and measure outcomes, TELUS Digital is providing opportunities for all their employees to make a positive impact by shipping products and services at the speed of customer need. Speed, quality and agility are the new currencies in the digital age and TELUS Digital is an excellent role model of leveraging digital as massive engine for innovation and disruption.
Mandel is one of the brightest chief digital officers that I know. He is a visionary and servant leader, capable of building a world-class team and innovating at a pace that is needed to anticipate and deliver ahead of his customer's needs.
Related
Popular in the Community