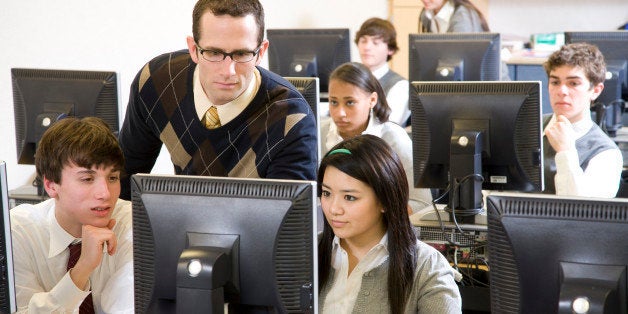 Virtually everyday there are new apps, websites and technically-enabled teaching methods released that have the potential to transform one or multiple aspects of K-12 learning. Too bad most of us will never be exposed to them.
While innovation within the educational technology arena is growing at an unprecedented rate, all too often the benefits are confined by geography, multimedia literacy, and access. Equally as important as the creative and technical innovation involved in producing foundational reading apps like Learn With Homer, hip-hop tutorial YouTube videos like Flocabulary, and Flipped Classroom creation tools like Explain Everything is the ability for teachers to discover, vet and easily use these tools in their lessons.
This coming Friday, thousands of teachers who are also pioneers in incorporating digital media in their instruction will converge in Washington D.C. to share best practices and celebrate Digital Learning Day. Several schools around the world will have satellite celebrations, and anyone else interested in participating in the conversation can do so via a live webcast.
Using #DLDay on Twitter, you can view video nominations of teachers like Jess Jordan of Huntington High School who are creatively introducing technology to their classrooms, become inspired by ed-tech evangelists like Steven W. Anderson of @web20classroom, Kleinspiration's Erin Klein and Cybrary Man himself Jerry Blumengarten.
The one other consistent refrain you will see on Twitter or anywhere else where teachers are celebrating Digital Learning Day is that the event really should be held 365 days per year.
It's easy for many of us who live and breathe education and technology to believe that everybody has access to the latest and greatest app or screencasting revelation, but that is just not the case. Aside from the heavy infrastructure and integration costs associated with implementing technology into classrooms, schools and districts, there are two fundamental issues slowing down the adoption of digital learning among teachers.
It all starts with curation
The first issue, as Steven W. Anderson writes about in books like Content Curation: How to Avoid Information Overload, is that teachers need to view technology as much more than just the sum of all its parts. It's just not about accessing individual learning resources, but more profoundly repositioning a worldview that accepts all the ways technology can inform the teaching process.
As Anderson said in a recent interview discussing his own journey from instructional technology specialist to ed-tech evangelist, "the key is to remember that good teaching comes first", adding that "if you understand what you are teaching, then locating the technology becomes that much easier."
The key early step for teachers that are orienting (or reorienting) their approach around technology is to understand the curation process, and how to identify, store and share their favorite apps, videos, websites and other digital tools. From there, a virtuous cycle exists where teachers learn about new resources from other teachers, while also choosing which new tools to share with their own colleagues, students, and friends/followers from the educational community.
Limited discovery options
While Twitter, blogs and Pinterest are helpful places for teachers to become aware of higher profile apps, videos, and online resources, they are ultimately pretty limited.
When you consider the tens of thousands of meaningful educational apps on the iOS and Android platforms alone, as well as the limitless variety of high-quality educational fare found on YouTube, Vimeo and the web, you realize that there is an enormous gap between the amount of relevant digital content available and the ability of any one educator to find the right resource, for the right lesson and the right time. While having seemingly limitless digital education options available is a nice problem to have, it remains a problem nevertheless.
As we noted, the best referral source for any teacher trying to find the best app, video, or online resource is another teacher. However, bouncing around from blogs, to Pinterest to Twitter is time consuming, and won't always help you find the resource that can assist in teaching a K-12 Math or English Language Arts standard. While the app stores, video platforms, and Google could point you to this information, they don't really provide the context, credibility or transparency that a fellow teacher can as to why certain resources are rated highly or not.
A new solution from appoLearning
This is why Appolicious Inc., a pioneer in app discovery, completely overhauled appoLearning, which now lets anyone search for teacher-approved apps, videos and websites using keywords and natural language. Each digital resource on appoLearning is reviewed by multiple teachers and educational experts and evaluated for key attributes including educational content, features and engagement.
In addition to searching for apps, videos and websites by keyword, teachers (as well as parents and students) can browse by grade level, subject, topic and Common Core Standard. You can view options for all devices and platforms, or filter specifically by iOS, Android, video or web. You can also choose to search or browse only for free options.
The appoLearning database of the best K-12 apps, videos and websites is constantly growing, and soon you will be able to share and review your own favorites. Having one place where teachers can easily and instantly identify the best options for their classes is just another way to carry on the momentum Digital Learning Day every day.
Calling all HuffPost superfans!
Sign up for membership to become a founding member and help shape HuffPost's next chapter