Addison Rose Vincent had been on Tinder for less than one week when they were notified by the dating app's administrators that their account was put "under review," and therefore locked and unable to use. Addison had apparently been reported so many times for their identity that automatic administrative action had been taken.
Addison is a 23-year-old recent college graduate living in Southern California and identifies as transfeminine genderqueer (and uses the pronouns they/their/theirs). They had joined Tinder and OkCupid earlier this spring with high, yet realistic, expectations. Women or feminine-identifying people on online dating apps have come to expect a certain amount of offensive messages or comments (and the experience is a heavily documented one on social media accounts like ByeFelipe). But for Addison, and many other members of the trans community, offensive messages are only the beginning. Regular fetishization, objectification, and even physical or sexual threats are far too common.
In an effort to be transparent with matches, Addison made their gender identity very explicit on their profile, and would bring it up with matches after a few back-and-forth messages to make sure that there were no surprises if the two were going to meet in person. Responses ranged from the irritating ― immediately reducing Addison to what's between their legs rather than getting to know them, for example ― to the perverse and wholly degrading.
Throughout their time on Tinder, as well as OkCupid, Addison took screenshots of the messages that they would receive:
(Please note that some of the below messages may be considered NSFW)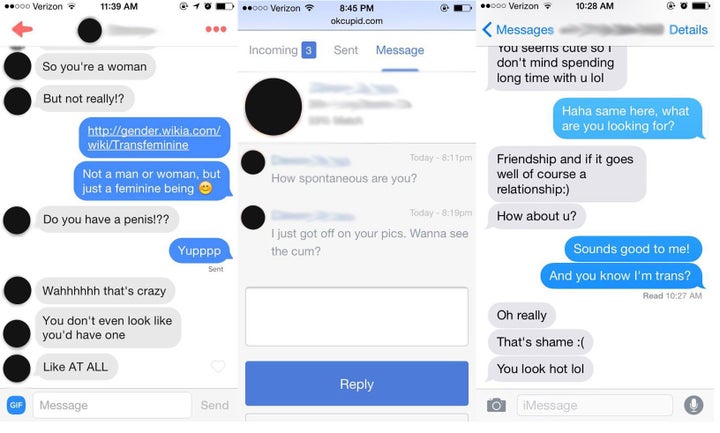 "I always feel like I'm being reduced down to my genitalia," Addison told The Huffington Post. "It becomes this whole fetishizing thing. It's really reducing me down to a sexual object. It's horrible."
Evidently, being upfront about their trans identity constituted a violation as far as their matches were concerned.
Sadly, Addison's experience is not unique. Many members of the trans community who try online dating face unrelenting abuse and discrimination from other users.
Shari is a Colorado-based trans woman and activist who is 50 years old, and told HuffPost that she has been using online dating sites for years. She joined various sites as early as 1991, but hasn't used any since last fall, after years of negative experiences.
"I got scammed a lot," she said. "Being someone who's transgender, they see you as a vulnerable person and they really target you." People would appear to be interested in dating her only to ask for money or other favors. But one date, that took place last fall, and was a major reason that she stopped online dating, was particularly awful. Although she made it clear that she was a trans woman on her profile, the man with whom she met had failed to read it.
"All the blood drained from his face," Shari said, when she told him she was trans. The date ended there, friendly enough -- but once Shari got home, she began receiving "brutal" messages from him. "He'd gone home and gotten drunk, or pissed off, or both."
"Despicable" was one of the many choice words this man had used, and according to Shari, "that was the nicest of them. I'm lucky I hadn't given him my address."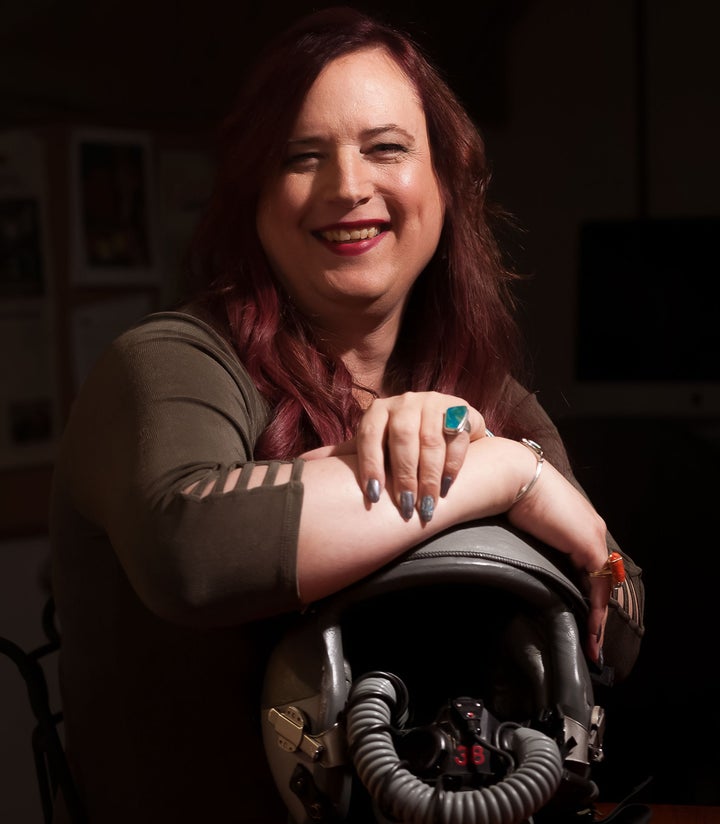 Shari was right to be worried for her safety. Intimate partner violence against women is an astonishingly common occurrence in the United States -- a reality that online dating sites confront with varying degrees of commitment. In 2012, several states passed legislation that requires online dating sites and apps to disclose the safety risks of meeting matches in person. In 2013, a Las Vegas woman filed a lawsuit for $10 million against Match.com after a man she met online tried to stab her to death.
Violence against women is nothing new, and trans women in particular have an appallingly high chance of being on the receiving end of it. According to Trans Student Educational Resources (TSER), haunting statistics show that one in every 12 trans women will be murdered. For trans women of color, that likelihood is even higher. Just last Saturday, Keyonna Blakeney was murdered near Washington DC, making her the ninth trans person to be murdered this year. Earlier this week, the man who murdered Islan Nettles in 2013 was sentenced to 12 years in prison (a paltry sentence, advocates are saying, considering the crime).
Misogyny and transphobia are a troubling, if not lethal, combination. And on top of dealing with bigoted -- not to mention threatening -- matches, members of the trans community must also face the pitfalls of sites and apps themselves, and their administrators. Though Addison was swiftly locked out of an app once complaints about them piled up, trans people generally have less success seeking protection from legitimate threats.
British-based writer AJ McKenna, who also identifies as a trans woman, told HuffPost that location-based apps certainly complicate online dating and exacerbate preexisting risks of violence. She uses Badoo -- a Tinder-like app used in the U.K. that matches users based on location. Like Addison and Shari, she told HuffPost that she makes her gender identity crystal clear on her profile.
"There are people who react really really badly to it," she said, once they do see that she's trans. "There was one guy who acted like I had deceived him. He basically threatened to kill me if I ever tried anything with him. It was such a threat to this guy, in his head, that I had to be threatened off."
AJ reported the user to Badoo, but says she never heard back to hear if the person who had threatened her life -- and had access to her location before she blocked him -- was still on the app. AJ also expressed concerns for the limited reporting categories as well. "The nearest I could get was that they were being 'abusive,'" she said, describing what selected as the reason for reporting a person who threatened her life.
"There was one guy who acted like I had deceived him. He basically threatened to kill me if I ever tried anything with him."
"Safety and security are built into the Badoo user experience from the core," a representative at Badoo told HuffPost in response. "When a Badoo user reports another user, it is reviewed by the Badoo's Community Operations team. Depending on the matter reported, our moderators will review the user's behavior...and depending on the severity of the breach, the user will be issued with a warning or blocked."
The current climate of transphobia in the United States has a profoundly detrimental effect on the way trans people are treated online. Recent legislation -- particularly in southern states like Mississippi, Tennessee and North Carolina -- has resulted in the trans community being policed and politicized, discriminated against and reduced, to the point that members of the community have to worry about where to use the restroom in public or find mental health support, let alone where to find love or companionship.
But how much responsibility do online dating app and site administrators have in keeping trans people safe from their bigoted users?
For Tinder, there isn't a whole lot that can, or will, be done. "The system currently does not permit users to be more specific than 'male' or 'female' when selecting gender and is similarly limited in discovery preferences," a Tinder representative told HuffPost. "Unfortunately, this can lead to some users reporting other users when they unexpectedly appear in their recommendations. Tinder recognizes and believes in the importance of being inclusive of all gender identities and is working towards optimizing the experience for everyone." But Tinder did not respond when HuffPost followed up on exactly how the company was planning to do so.
And the fact that Tinder's system, which automatically freezes an account that has been reported enough times, may be a great way to keep users safe, does not keep it from making the app practically unusable for trans people. Addison reached out to Tinder to try to get their account unlocked, and explain that they should not be punished for their identity, but received a generic response. Addison then emailed Tinder a strongly worded letter about their experience, and told HuffPost that never heard back. At the very least, Addison said, their account has not been put under review since.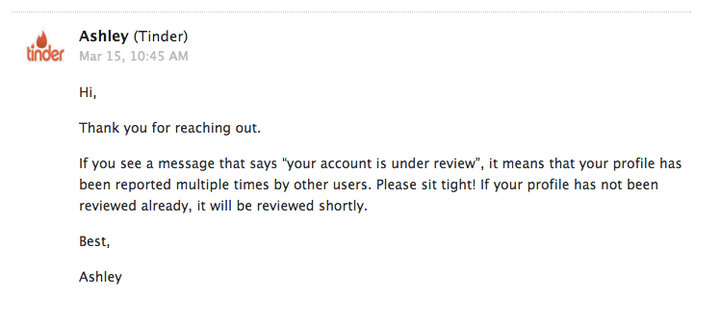 Even when sites do strive for inclusivity -- like OkCupid did in 2014 by expanding users' options for sexual orientation and gender identity -- the experience of online dating can still be a horrible one.
Users from Reddit's asktransgender subreddit had plenty of similar online dating experiences to share with HuffPost. One trans woman's experience mirrored Addison's -- she said, about Tinder, "the app is kinda shitty towards trans people, IMO. I had my account get locked early on, which I'm pretty sure was due to straight men reporting the account due to feeling like they got tricked. It eventually got unlocked, but took several days and the support email that I sent did not get a helpful response." But referring to OkCupid, she said, "the site itself is very trans friendly," but unfortunately that doesn't always mean its cisgender users will be.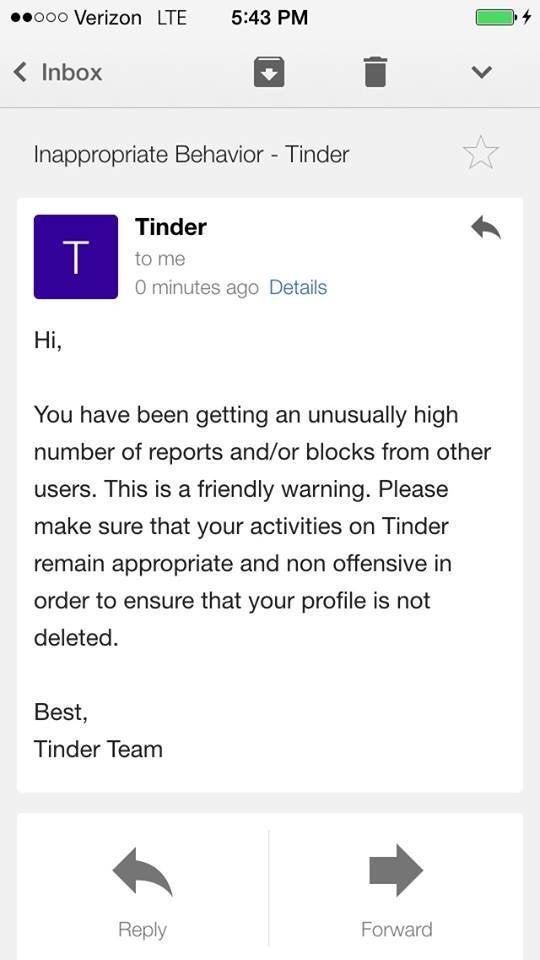 Another user, who identifies as a trans woman, had met up with one man from Tinder. She said he "spent two minutes with me before informing me I'm not feminine enough."
And that's if the other users even pay enough attention to notice that they've matched with a trans person. "Ninety percent of the messages that I get from people that are interested don't know that I'm trans. I'll wait one or two responses and then I'll say, 'Just making sure you're aware that I'm trans,'" Addison said. "People completely cut me off and delete me or block me or report me."
(Please note that some of the below messages may be considered NSFW)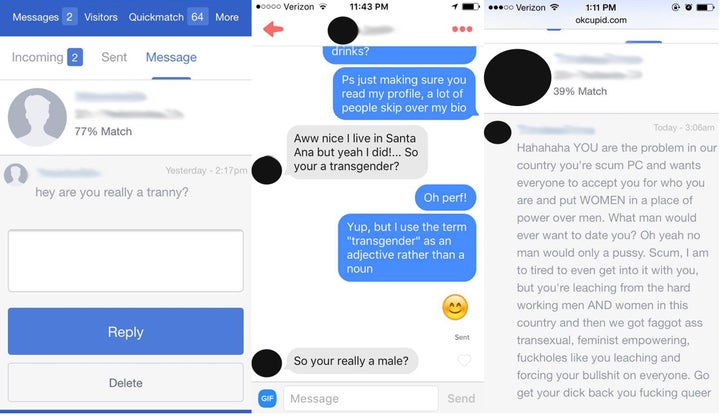 This experience is so frequent that both Addison and AJ have Tumblr pages devoted to it. "Did You Read My Profile?" and "Break the Binary" -- AJ's and Addison's Tumblr pages, respectively -- are compilations of screenshots, GIF reactions, and videos about the online dating experience for the trans community, and serve as a safe place online to share their stories, and the stories of others.
One way to make the online dating experience better for trans people is the potential market for trans-friendly dating apps. "I've heard Thurst is pretty good...it's trans and queer-oriented and includes non-binary identities," Addison said, but prefaced that it also has "problematic and fetishizing" tendencies amongst users.
Like Addison, Shari and AJ have all experienced, there seems to either be extreme fetishization or the irrational fear that trans people are trying to "trick" them. "We are not trying to trick you into doing something you're not comfortable with doing," Addison said. Shari agreed: "It's okay if you don't want to date a trans person. That's fine." For cisgender users who don't want to date a trans person, it shouldn't be more complicated then swiping left. As Addison put it, "there's no need to report or harass us just for our existence."
AJ had a similar sentiment. "I think this is more a case where being able to change the culture is more important," she said, rather than fruitlessly labor for any specific changes that online dating sites and apps could be making.
Unraveling the damaging sweep of bigoted legislation may be a more worthy pursuit -- after all, to echo Addison, trans people are not predators. They never have been. (In fact it would behoove the cisgender community to acknowledge that more Republican legislators have been arrested for conducting illicit behavior in public restrooms than trans people ever have.) Depicting trans people as predatory is a favorite tactic amongst certain news outlets and certain presidential hopefuls, but this perpetuation is painful and damaging, and has horrible repercussions for the trans community -- including their online dating experiences.
Addison told HuffPost that they have since deleted their OkCupid account, and have developed better Tinder intuition. "I'm much more careful with who I swipe right for nowadays and remain unapologetic and upfront about my trans identity," they said. And, as for the trans community at large? "Know that we as trans folks are worthy of being loved and have so much love to give."
Before You Go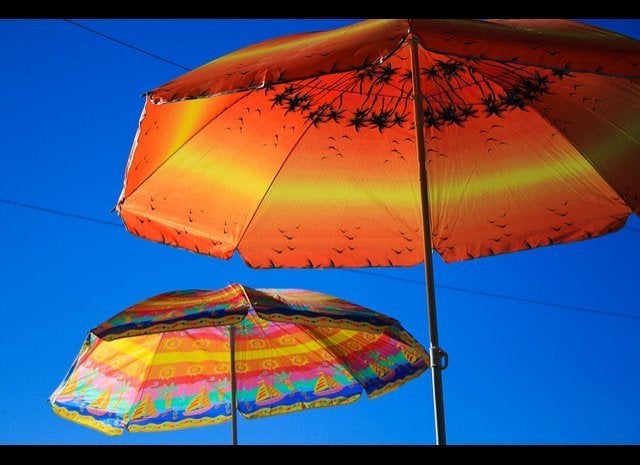 15 Things To Know About Being Transgender By Nicholas M. Teich
Popular in the Community