As technology and tech knowledge become ever more accessible, the world has become more connected.
New, exciting gadgets are battling for our attention every single day, from the latest smartphone all the way to the exotic virtual reality gadgets, technology has changed the way we live and share moments with others.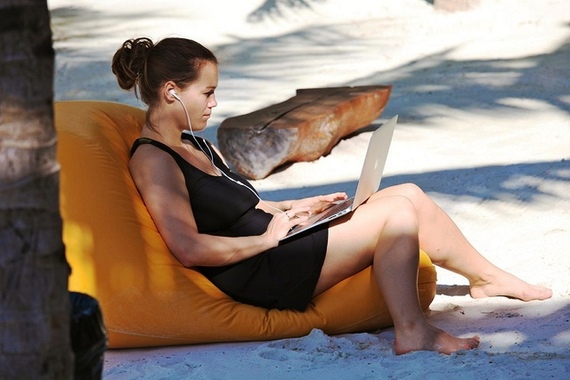 Image Credit: Flickr, Creative Commons| Steven Zwerink
Long gone are the days when one could take a vacation and not expect to hear anything from the office until returning a week later. Also long gone are the days when a business trip meant attending a conference at the Holiday Inn in beautiful downtown of Toledo.
Business and pleasure don't have to occupy entirely different spheres anymore. With all of the technology available to businesses these days, you can even work while on a permanent vacation, since the things that used to tie us to a cubicle in an office are long gone, too.
Digital nomads can feel free to see the world while working, and being more productive at what they do.
Let's explore 4 ways to enjoy a vacation while you work, or vice versa:
Look for a conference to attend in a vacation spot
Is there somewhere you've always wanted to vacation, but have never had the opportunity to visit? Check with your professional association, trade association, or even Google for a conference relevant to your business in a location you want to go. Be sure to check all the visa requirements and prepare yourself financially.
You may be able to deduct the trip from your taxes as a business expense, provided you are attending the conference at least 4 hours a day (keep logs or your attendance badge). Schedule your trip so that you are arriving one day before the conference and returning one day after it ends. You'll be able to deduct the cost of airfare and hotel room, even if you bring a spouse.
Ask for an assignment that allows you to travel
Business travel isn't for everyone, especially if you spend more time on the road than you do at home. But one of the perks of taking an assignment that requires travel is that you can do double-duty while on these trips, spending time as a tourist while you're spending time away from home. Instead of staying at a chain hotel, book a room at a resort or rent a home. If you're lucky, your business travels could take you to
, a small town on the Sea of Cortez in Mexico, just 50 miles from the U.S. Border.
Make travel your second occupation
Just as mentioned before, there are some professions that are not tied to a desk. These
, as they are called, can feel free to roam the globe while still holding a full-time job. These are mostly tech-based professionals that are building startups, or freelancers that specialize in any number of fields. Those who work like this say there are several benefits like being able to spend more time creating because there is no commute, staying in hotels is cheaper than housing in some U.S. locations, and making connections and networking with many different people.
Staying plugged in while on vacation
So you're taking the family to Disneyworld, but you've got a full plate back at work. Cancelling the trip is out of the question because a) your family would probably banish you to a tent in the backyard forever and b) there's no need to cancel the trip if you've got the right plan. Make sure you prepare a list of contacts you may need to get in touch with while away.
Also set email and voicemail alerts that will notify those contacting you that you are on vacation. Give them instructions for who to contact in your absence and how to contact you if it's an absolute emergency.
You should also set clear working hours so that you aren't focusing on work the entire time.
REAL LIFE. REAL NEWS. REAL VOICES.
Help us tell more of the stories that matter from voices that too often remain unheard.