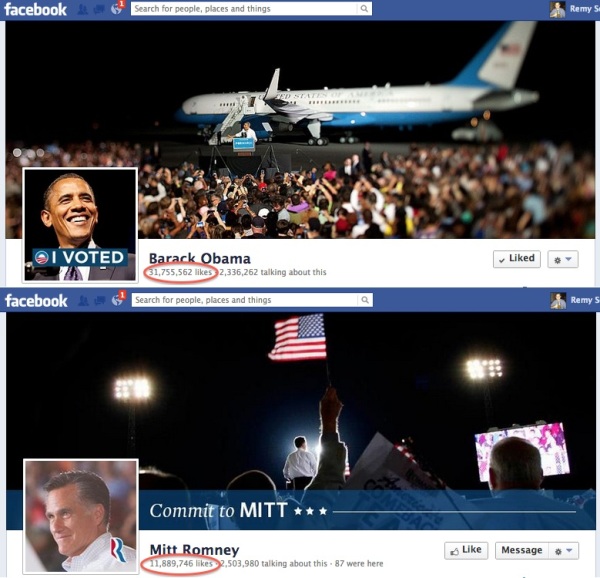 Photo Credit: Remy Schwartz
The 2012 presidential race has been a leading news item for more than 22 months, and I'm ready for it to be over. The election has grown far beyond television ads and news articles. I can't open my email without a plea for money at the top of my inbox, and nowhere is less safe than my Facebook or Twitter feeds. David Kaufman is the president of the College Republicans at the University of Massachusetts, Amherst, and he's experienced a similar onslaught of election-spam.
"There's always something from Romney, always something from Paul Ryan. There's always something sponsored on Twitter that he's paying for, something trending. Believe it or not, a lot of people my age get information through memes," Kaufman said.
He mentioned one image of President Obama that's been making the internet rounds that uses a metaphor of toddlers, blocks, and naptime to riff on fears of socialistic income redistribution. "They're going to remember that joke, that's going to resonate with them a lot more than some 10 minute speech about how great Romney's tax plan is, quite frankly." Kaufman was adamant that his party has stepped up their web game, but that doesn't mean the social media playing field has been leveled.
Mitt Romney has more than one and a half million followers on Twitter, but that's eclipsed by Obama's 21.5 million. Facebook isn't much different, where the president has 20 million more "friends" than Romney. But will these numbers have an impact on election day? Charlton McIlwain is an associate professor of media at New York University, and he's not sure that 18-35 year olds are worth banking on.
"That's the age group that you really see targeted by both of these campaigns, they're the early digital adopters. They like information and they're motivated, but they don't always find that last bit of motivation to go to the polls," he said. McIlwain explained that digital outreach methods are still being perfected, and allow for a fairly large margin of error. "It's always an open question to election day, will they go out? And will they go out in greater force because we've used these digital channels to communicate with them?"
But communicating through social media only scratches the surface of digital politics. Large teams of strategists and specialized companies run digital campaigns. Most of these private firms have popped up in the last eight years. One of the first was called Blue State Digital, which Jascha Franklin-Hodge co-founded.
"We built this company around the core idea that the internet is an incredible tool for two-way engagement and community organizing," said Franklin-Hodge. "So we developed a series of tools - because most of the technology on the market at that time was really aimed at talking at people, rather than giving them things to do."
Blue State was born out of Howard Dean's 2004 presidential run, but it got its big break running Senator Barack Obama's 2008 digital campaign. Michael Gottwald worked alongside Blue State strategists as a digital program director for the president in 2011.  "What I saw on the campaign in 2011 was seamless integration of field organizing and digital organizing," Gottwald explained. "The last campaign was kind of like the first date, but now they're married. Now you have the top field organizers working in digital and top digital organizers working in the field. Everybody works hand in hand."
After Obama's groundbreaking web campaign, two Republican National Committee staffers started their own digital firm in 2009 called Targeted Victory. Like Blue State for the democrats, they work for Republican candidates and causes, but have no formal affiliation with their party. Zac Moffatt was a co-founder of Targeted Victory and works as Romney's digital director. No one from there returned my emails, but in an interview with PBS's Frontline in October, Moffat said his team doesn't evaluate their success against the Obama campaign's, "...because if we did we'd be judging ourselves against an institution that's been around for six years and who's run unopposed for the last three." Moffat said he recognizes that President Obama has a more established online following, so his team has invested in a different strategy – data mining.
"The Romney campaign has used sophisticated data mining techniques to find where people across the United States are who can make these kinds of contributions, high dollar contributions," Professor McIlwain explained. "They build a profile of someone who has the means to give, and also has the inclination, given their political choices."
Romney's team has made a lot of money this way. Obama's campaign has been less active in using data mining as a fundraising tool. McIlwain attributes this to the size of its base. Instead of fishing for a few large checks, the campaign reaches out to everyone on its giant list and ask for a few bucks, crowdfunding in the manner of websites like kickstarter.com.
Evidon, which tracks online trackers, has developed software that "reveals the invisible web" and shows people when they're being followed. It found that from May to September, BarackObama.com was much more actively tracking its users than MittRomney.com, which may have helped maintain the President's social media lead, and thus his fundraising ability.
Jascha Franklin-Hodge refused to comment on how his team has used data mining in this campaign, but he thinks it's the future of digital campaigns. "A tremendous amount of info is collected and available. It's going to change the business of politics," Franklin-Hodge said excitedly. "It will allow campaigns to be more effective in their messaging. More effective in finding the right people to engage in the right ways, at the right time of day, through the right platforms, to give people experiences that are more tailored to them, and more compelling for them."
For digital strategists, this election is pretty much over. There's not much more to do besides get people to the polls. And that's something that can only happen face to face and pen to paper.
Originally published on Youthradio.org, the premier source for youth generated news throughout the globe.
Youth Radio/Youth Media International (YMI) is youth-driven converged media production company that delivers the best youth news, culture and undiscovered talent to a cross section of audiences. To read more youth news from around the globe and explore high quality audio and video features, visit Youthradio.org