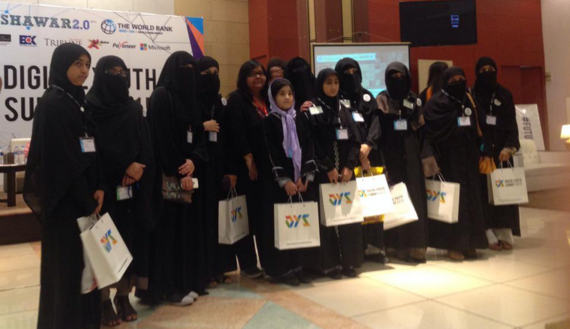 Many young women came to the Summit eager to be tech entrepreneurs. Photo Credit: Tanya D'Lima
On a sunny Thursday earlier this month in Peshawar, capital of Khyber Pakhtunkhwa (KP) province and the fifth largest city in Pakistan, the energy at the venue of the Digital Youth Summit 2015 was palpable from the beginning.

Young people were lined up to access what has become the largest tech conference of Pakistan, while others were working as volunteers to help manage the event. A coalition of prestigious sponsors joined the World Bank, the KP IT Board and Peshawar 2.0 to put on a two and half-day summit to inspire the next generation of digital innovators in Pakistan.

Arsalan Ahmed Jaraal, a student at the Institute of Management Sciences, who was volunteering at the event, said friends are persuading each other to attend the Summit. It saw the participation of 3000+ youth and 80+ speakers, over 30+ sessions and breakout events.

With energetic, social media savvy youth presence, it wasn't surprising that the Summit trended on Twitter in Pakistan and more than 1.2 million people were reached on social media.

While this is the second such summit, there were also several firsts this year. This year saw many more international and national speakers flock to Peshawar to take part in the event. Two Pakistani American entrepreneurs, who met for the first time at the summit, announced that they would be launching a fund targeting high net worth Pakistani Americans as seed funding for Pakistani tech startups. This is perhaps the beginning of an angel investment network that leverages to expatriate community.

In addition, the Summit saw the first investment in a Peshawar based startup. Ebtihaj, Haroon Baig, Zahid Ali Khan, and Mubassir Hayat--all of them in their early 20s-- founded Messiah, an app that allows users to easily connect with loved ones and first responders in case of an emergency. At the summit, they were offered investment in their startup, by two angels--Shubber Ali and Kash Rehman--as well as from Oasis 500, a Jordan based investment company. The team will be attending a 100 day acceleration program in Amman later this year.

"We are truly delighted to receive an investment from three prestigious investors; our business adventure started just one year ago when we first applied to the Peshawar Civic Hackathon organized by the KP ITBoard, Peshawar 2.0, UET Peshawar, Code for Pakistan and the World Bank," said Ebtihaj, CEO of Messiah.

The Summit was opened by Khyber Pakhtunkhwa's Chief Minister, and several Ministers and other representatives of the Government of Khyber Pakhtunkhwa were also present, indicating the high priority of the Government on investing in youth. The formal opening was followed by a keynote speech from Shubber Ali, an investor & entrepreneur based in San Francisco.
He shared his experience of how it was hard to convince his family and relatives that becoming an entrepreneur was a wise choice. Most parents in Pakistan want their children to become doctors, engineers, or businessmen, he said. The audience nodded "yes" in response.
Ali talked about how youth ought to listen to advice and ask for help. He also shared the golden rule of innovation: keep trying until things are right.

Throughout the Summit, many entrepreneurs from Pakistan and around the world shared their stories, successes and failures. Local officials also shared their commitment by discussing how the government is creating an environment so that entrepreneurs can help businesses and public services flourish and improve.

Faisal Khan, the co-founder of Peshawar 2.0, said that Peshawar has a great opportunity to contribute to the technology world, rather than just being a consumer of technology. To help youth innovate, he co-founded Peshawar 2.0, a social enterprise aimed at building a startup community in Peshawar.

Khan has good reason to believe that Peshawar can become a technology hub based on his own experience. After obtaining a PhD from Oxford University, he returned to Peshawar hoping to spur innovation, inspire people and train the next generation of leaders.

And there are already many other leaders who are doing all they can to help youth in the country. For example, Jehan Ara, a technology leader in Pakistan said during her keynote speech on May 8 that one of her goals this year is to increase number of women entrepreneurs in the country.

Events like the Digital Youth Summit inspire young women and men to launch and lead businesses as they hear from other successful young entrepreneurs about how it's done. Youth also get to network with investors, mentors and peers.
Peshawar 2.0 and the Khyber Pakhtunkhwa Information Technology Board worked with the World Bank to organize the Digital Youth Summit in Peshawar for the second consecutive year. Young people not only heard from successful entrepreneurs from around the world, but also got hands-on training on how to stay safe and work online, succeed as a freelancer and get paid.

There was also a session where participants pitched projects to a jury on how their projects could improve public services. The ideas at #tech4gov included a range of projects such as how to prevent corruption and how to increase civic participation using technology. (More on how governments and hackers are working together in another post.)

A common thread among all of the sessions and speeches is to make youth economically independent so that they can not only create jobs for themselves but also for others. Kash Rehman, a native of Pakistan, and Founder and CEO of Foodem.com shared his thoughts on how to earn a "6 figure digital income."
When asked about his impressions of youth in Peshawar, he said he was "very impressed." He was also part of an historic angel investor's lunch hosted by the organizers where investors, leading businessmen of the area and government officials met to discuss how to financially help young entrepreneurs.

It's a remarkable sign of what Summits like this can do for a city that at times feels left behind from rest of the country.