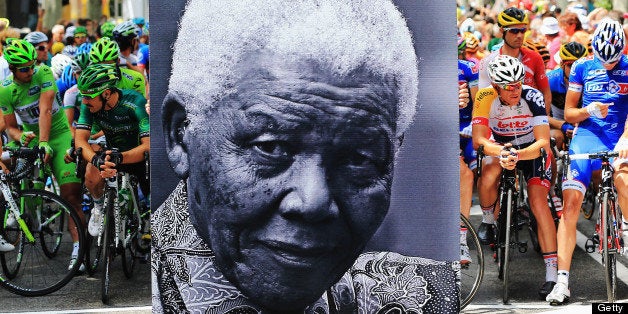 Today the world celebrates Nelson Mandela International Day, which by no coincidence falls on the birthday of the former South African President for which it has been named. In 2009, the General Assembly of the United Nations passed a resolution that declared July 18th Nelson Mandela International Day, in recognition of "Nelson Mandela's values and his dedication to the service of humanity." On this day every year, the UN joins the Nelson Mandela Foundation in asking every citizen of the world to dedicate 67 minutes to helping others. Sixty-seven minutes representing the number of years Nelson Mandela has devoted his time to the service of humanity.
It is a day of service to others and, for me, an important and appropriate time to reflect on the way in which we serve others. I have been "in service" to others, in a professional capacity since 2007, when I co-founded an international development organization called Roots of Development that helps impoverished communities achieve greater independence and autonomy over their own development efforts. That service has given me the opportunity to learn more about myself, more about poverty, and more about humanity than anything else I could have done in my life. It also gave me a very intense look into the interpersonal and intercultural complexities associated with such service.
Over the past few decades, and after serious criticism and forced self-reflection, charities and development organizations have made significant changes to the way in which they serve others. In order to make their efforts more friendly and more respectful of the people they are supposed to be serving, they have changed their approach to be more about the people (beneficiary-driven), and therefore more sustainable. But if we want to truly humanize the act of serving others, this change must continue at a faster rate and on a more dramatic scale. Nelson Mandela once wrote, "Any man or institution that tries to rob me of my dignity will lose." Our efforts to serve others, to fight poverty or discrimination, will continue to lose if we do not take into account the ways in which our approach, as well-intentioned as it may be, too easily robs the individuals we are serving of their dignity.
When an individual continuously causes another to be dependent on them, it is a significant threat to that person's dignity, and detriment to the global fight against poverty. When an organization or institution, in the name of development, doesn't give a community the opportunity to decide what its greatest needs are (the opportunity to decide its own future), it is robbing that community of its dignity. When an individual, in the name of charity, pays directly for a child's education instead of donating to an organization that is committed to helping the child's parents find a way to pay for that child's education on their own, they threaten the dignity of those parents. Development efforts and charitable acts will not preserve the dignity of individuals they serve if they do not allow those individuals the opportunity to become the fathers, mothers, sons, daughters, or community members they dream of being.
Fully incorporating the principles of ownership and independence into the charitable activities we support and participate in will not always be easy, but we must do so if we are to serve others in the most sustainable and respectful way possible. And, there is no better time to commit to those principles than on the celebration of one of the most dynamic and dignified leaders alive today. I will certainly be carrying out my 67 minutes of service today. I hope you will as well. Reflect on the influence and the impact you are having, at the most fundamental level, on all those you are serving. For when we peel back the layers of what it means to be in service of others, whether it comes in the form of charity or development, humanity must be at its core. And for humanity to be at its core, upholding one another's dignity must be a driving force behind those efforts.
Happy Birthday President Mandela, and thank you for giving me the opportunity to once again reflect on the significance of dignity.
Calling all HuffPost superfans!
Sign up for membership to become a founding member and help shape HuffPost's next chapter