The eastern French city of Dijon is home to more than mustard. The capital of France's Burgundy region, Dijon, reigns over the multitude of wines created from the four types of grapes grown in the area.
"If you don't like the wine of Burgundy, it's because you haven't tried enough. Someone, somewhere should produce something you like. It's a small area, but everyone is a wine maker," said Laurent Delélée of Wine & Voyages, who gave me a tour of the Côte de Nuits near Dijon.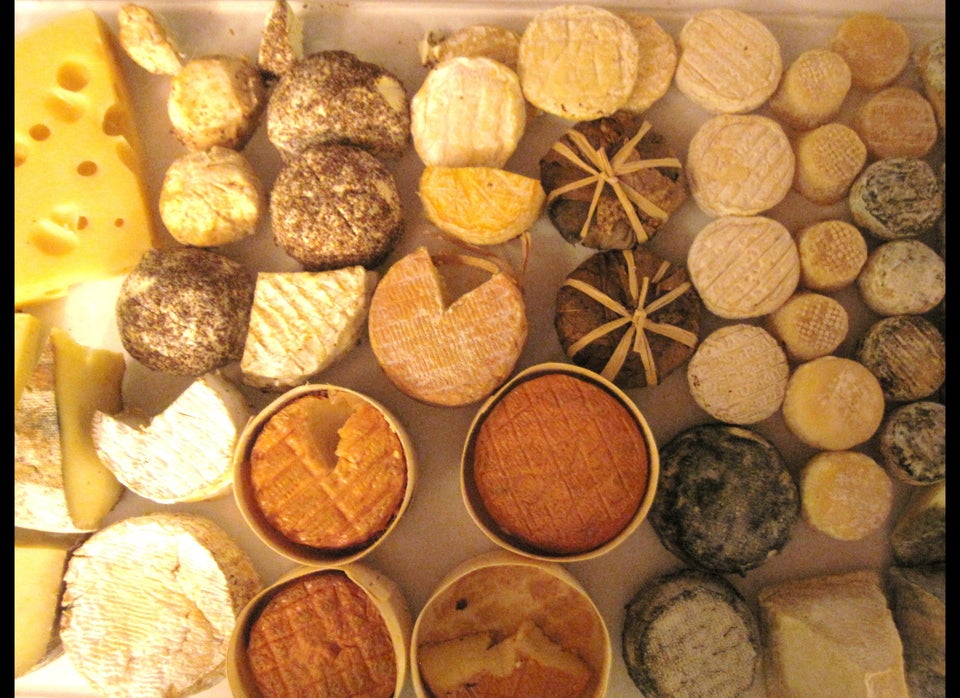 Dijon, France: More Than Mustard
The Côte de Nuits, whose vineyards lured Thomas Jefferson in 1787, produce some of the most expensive wines in the world, including Romanée-Conti, a single bottle of which was sold at auction for $10,953 in 2010. You can't buy these vineyards -- they're not for sale. You have to inherit them, and the only way to increase the your plot is to marry into a few more rows.
The city's boutique wine stores also sell crème de cassis, a sweet, dark red liqueur made from blackcurrants. The French mix the liqueur with white wine to make a kir, an aperitif so popular among women it could be called the cosmopolitan of France. In Burgundy, crème de cassis can be found in everything from gelatin candy to mustard.
Dijon's beautiful historic quarter is filled with artisanal food shops housed in timbered buildings dating back to medieval times. While the famous Maille shop, opened in 1747, is among them, serving one of the world's best known mustards straight from the pump, boutiques specializing in pain d'epices offer much more delectable tasting stops for the sweet-toothed traveler. Literally translated as spiced bread, pain d'epices is made from rye flour and honey, and relies on many spices, including cloves, ginger, cinnamon and anise, to give it flavor instead of butter or sugar.
One of the most famous pain d'epices shops, Mulot and Petitjean, founded in 1796, offers several varieties of pain d'epices. My favorite was filled with jam and garnished with candied fruit.
If you are looking for mustard though, Dijon is the place for you. An unimaginable number of mustard flavors are available in Dijon, from Mango and Thai Spices to Chablis and Morel Mushrooms. Just as crème de cassis can be mixed with a white Burgundy to make a classic aperitif, Dijon mustard heated with white wine and a touch of cream makes a simple but delicious pan sauce.
With so many possibilities, if you don't like the mustard of Dijon, it's because you haven't tried enough yet.

How to Make a Kir: Mix one part crème de cassis with three to four parts white wine. The cassis should be poured into the glass first, followed by a dry white wine. Champagne can replace the white wine for a Kir Royale.
Getting there:
-Fly into Paris and take a TGV highspeed train from Gare de Lyon to Dijon. You'll be there in only 1.5 hours. You can check fares at Air France (www.airfrance.us) and Rail Europe (www.raileurope.com)
Where to Eat:
-La Dame d'Aquitaine (www.ladamedeaquitaine.fr), an upscale restaurant housed in a 13th-century crypt, complete with stone columns and vaulted arches. The menu includes everything from pigeon and duck to beef topped with foie gras.
-Les Oenophiles (www.restaurant-lesoenophiles.com), a secluded but elegant restaurant with an extensive wine list and a cheese selection that includes chèvre rolled in mustard seeds.
Where to Stay:
- Best Western Hostellerie Du Chapeau Rouge (www.chapeau-rouge.fr): Don't let the word "hostellerie" fool you - this is far from a hostel. With a Michelin-star restaurant tucked into its ground floor, this quiet and centrally-located hotel is the perfect place to relax after a long day.
For more information:
-ATOUT France/France Tourism Development Agency (www.franceguide.com)
-Dijon Tourist Office (www.visitdijon.com)
Related