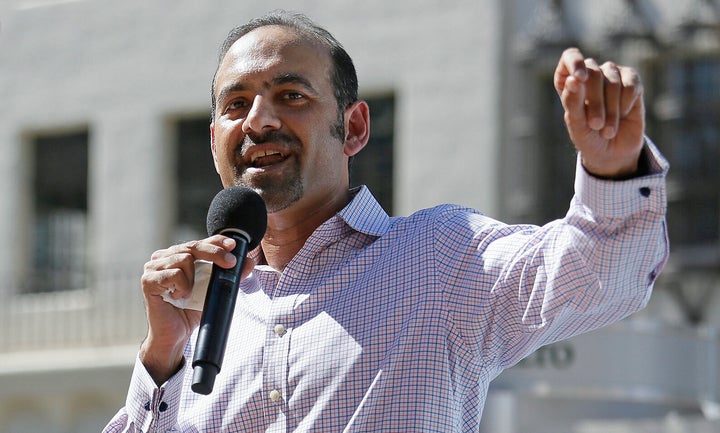 Republican senators boycotted a Senate Small Business Committee hearing Thursday, making it the fourth time they've done so in order to block a vote on Dilawar Syed, who would become the highest-ranking Muslim official in the administration if confirmed.
President Joe Biden nominated Syed for the No. 2 job at the Small Business Administration in March. But so far, he hasn't even been able to get a vote in committee. When Republicans refuse to show up, they deny the committee quorum and block senators from proceeding with business.
"I am disappointed that my Republican colleagues are still putting partisan politics over the needs of our most vulnerable small businesses," Sen. Ben Cardin (D-Md.), the committee's chair, said.
Republicans skipped votes on Syed twice in July, once in September and on Thursday.
Syed is a Pakistani American businessman who has stepped into public service roles in both California and at the federal level, leading engagement with small businesses for President Barack Obama's administration after the passage of the 2009 stimulus package. He is also co-founder of AAPI Victory Fund, a super PAC dedicated to mobilizing Asian American voters.
Republican senators' reasons for blocking Syed have shifted over time. They now say they will oppose filling the deputy SBA job until the Biden administration commits to taking back loans to some Planned Parenthood affiliates under the Paycheck Protection Program.
The loans, however, were handed out during President Donald Trump's administration. They were meant to help small businesses keep employees on their payrolls during the pandemic. Planned Parenthood's affiliates are nonprofit organizations with leadership and funding structures separate from the national group, but Republicans say they are too closely tied and should not have received the money.
On Wednesday, Sen. Rand Paul (R-Ky.), the committee's ranking member, told HuffPost that he still wasn't satisfied with the response he's received from the administration on the issue.
"They haven't been forthcoming on any of this," he said. "So we're not really happy with that."
But previously, Republicans had another reason for opposing Syed that was more directly about him: They questioned his allegiances because of his Muslim faith and implied that he might be anti-Israel because of his work with a Muslim advocacy group. GOP senators backed away from that line of attack, however, when Jewish and other religious and civil rights organizations came to Syed's defense.
In July, American Jewish Committee said that while it "does not normally take positions" on nominees, the "accusations around Dilawar Syed's nomination based on his national origin or involvement in a Muslim advocacy organization are so base and un-American that AJC is compelled to speak out."
It's hard, if not impossible, to find a Muslim political figure who has not faced bigoted questions about their allegiances or attacks on their faith. Huma Abedin, a top aide to Hillary Clinton, faced accusations about having ties to the Muslim Brotherhood. So did Muslim members of Congress like Reps. Andre Carson (D-Ind.) and former Rep. Keith Ellison (D-Minn.). Reps. Ilhan Omar (D-Minn.) and Rashida Tlaib (D-Mich.) are frequently accused of being anti-Semitic.
"I am hopeful that in the coming weeks, Dr. Paul and his Republican colleagues will end this harmful exercise," Cardin said Thursday, "so Mr. Syed can use his sharp business acumen and commitment to underserved small businesses to improve the SBA and help our small businesses recover from the COVID-19 pandemic."
Popular in the Community