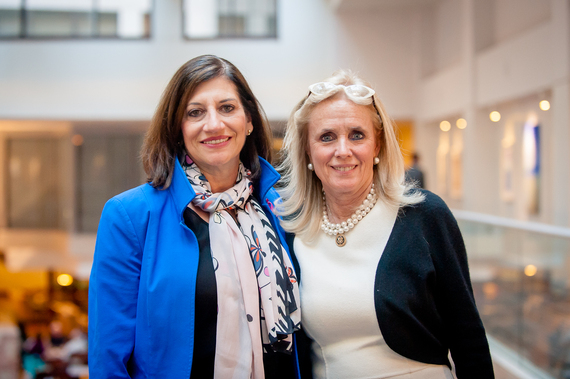 Delighted to be joined by U.S. Representative Debbie Dingell and others at the 2016 Susan G. Komen Advocacy Summit
Consider a typical morning routine. You shower, brush your teeth, grab coffee and breakfast, and hit the road. Or maybe you wake up, help your kids get ready, and walk them to the school bus stop.
You've only been awake for a matter of hours, and you've already interacted with your local and federal government several times -- maybe without even realizing it. Countless policies (in these examples: water and food safety, transportation, public education) are fully and seamlessly integrated into our lives.
Yet to some, the idea of reaching out to lawmakers with information or concerns around these issues or any others -- health policy, for example -- may seem fruitless, or reserved for those with big lobbying budgets. They assume their voice won't be heard, or worse, that it doesn't matter.
But when women and men don't have access to high-quality cancer care, families are struggling to pay the bills because of outrageous medical expenses and biomedical research funding is at risk of being cut, we can't afford to be silent. We can make a much greater impact if we raise our voices to help others.
A stellar example, from the 1940s until her death in 1994, is philanthropist and health advocate Mary Lasker. She used her gift -- her ability to fundraise -- to speak for millions. Through the Lasker Foundation, which she co-founded with her husband Albert (a prominent advertising executive), Lasker made promoting public health her life's work, integrating advertising approaches to the national conversation around cancer, and raising record amounts of money for cancer research. We can thank her for early funding allocated to these programs, as well as the promotion and expansion of the National Institutes of Health.
Today, leveraging the power of advocacy to create meaningful change in breast cancer care is another aspect of how Susan G. Komen has worked for over 30 years to combat the devastation this disease causes to women, families and communities nationwide.
A recent case in point is the work of our Komen Colorado Affiliate. With more than 15 percent of Coloradans uninsured and 27 percent of individuals between the ages of 40 and 64 significantly below the federal poverty level, the Colorado Affiliate team worked on legislation that would add a fee to a special breast cancer license plate, funds from which would support the state's cancer treatment program. Further, the team worked with Representative Diane Primavera, co-sponsors Senator Irene Aguilar and Senator Larry Crowder and other local groups to introduce legislation which reauthorized and secured funding for Colorado's Medicaid Breast and Cervical Cancer Prevention and Treatment program. I had the pleasure of joining them as Colorado Governor Hickenlooper signed the legislation -- which now extends the program through 2019 -- into law.
And just last year in South Dakota, our local Affiliate celebrated an important victory for breast cancer patients across the state as legislation that required fairness in insurance coverage for both oral and IV anticancer medications was passed. Prior to the passage of this critical legislation, oral and IV chemotherapy medications were treated differently under health insurance plans. If a patient were prescribed oral therapy as part of her treatment, it would have been covered under the pharmacy benefit of her health plan, resulting in thousands of dollars out of pocket costs each month. Conversely, an IV treatment plan would have required a small co-payment of $20 or $30 for each visit. Thanks to their hard work, South Dakota state laws now better reflect the reality of modern cancer care.
These are the types of outcomes our Affiliates, advocates and staff are working toward on a regular basis. Last week, I was on Capitol Hill, joined by representatives from Komen Colorado and Komen South Dakota and nearly 150 other advocates representing 35 states to discuss important breast cancer issues with lawmakers. Specifically, we called on lawmakers to: protect funding for the National Breast and Cervical Cancer Early Detection Program, pass oral parity legislation (so patients aren't paying outrageous costs for medications that can be taken in pill form, rather than traditional IV - as was the case in South Dakota and is still the case in many states), and increase federal cancer research funding for the National Institutes of Health (including increased funds for the National Cancer Institute). We visited 370 Congressional offices and were given the opportunity to tell our Senators and Congresswomen and Congressmen why this matters.
It's fascinating that in some ways, we're facing some of the same challenges the remarkable Mary Lasker faced decades ago. Her frequent refrain to Congress still rings true: "If you think research is expensive, try disease!"
So let's use diligence and persistence: diligence in knowing the issues and identifying the solutions, persistence in our outreach. The responsibility does not just lie in Washington, D.C., or your state capital. If we want to see change, then each of us is responsible for prioritizing, promoting, and communicating the issues that matter most.
Popular in the Community