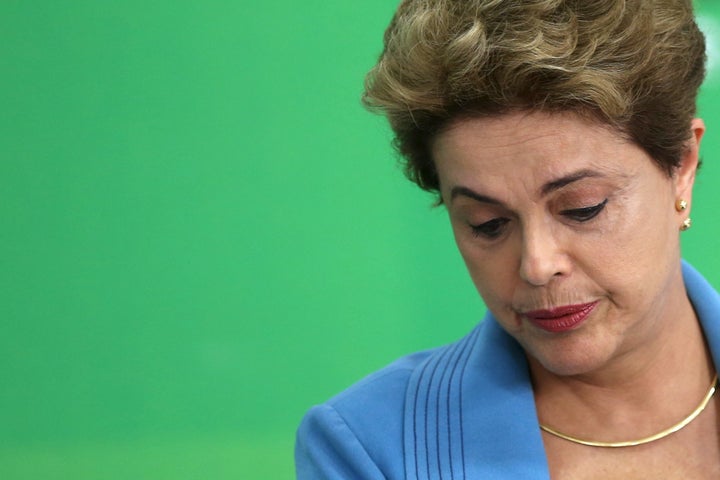 Every week, we bring you one overlooked aspect of the stories that made news in recent days. You noticed the media forgot all about another story's basic facts? Tweet @TheWorldPost or let us know on our Facebook page.
Beleaguered Brazilian President Dilma Rousseff struck a defiant tone on Tuesday, two days after 367 members of Brazil's lower house of Congress voted to advance impeachment procedures against her.
Speaking with reporters, Rousseff described the move as "a coup" and vowed to defend herself before the Senate, which will begin impeachment hearings on April 26.
In recent months, Rousseff's opponents have zeroed in on her plunging approval ratings and Brazil's dragging economy to suggest she is unfit to lead the country. Meanwhile, a probe into an enormous graft and money laundering scheme involving state-owned oil giant Petrobras -- an investigation dubbed "Operation Car Wash" -- has been connected to many members of the governing Workers' Party (PT), including Silva himself.
If Brazil's economic woes are the foundation for attacks on Rousseff, ongoing allegations of corruption within the PT have further enabled her political opponents to transform the president's waning popularity into an outright impeachment movement.
But so far, Rousseff has withstood the ever-widening probe that has felled other members of her party and has yet to be implicated in Operation Car Wash -- even as many of the politicians who voted for her removal are battling their own corruption allegations connected to the scandal.
Of the 23 politicians in Brazil's lower house currently being investigated by the federal police over links to Operation Car Wash, 18 voted for Rousseff's impeachment.
From Allies to Opponents
Sunday's vote in Brazil's lower house also highlighted the friends-turned-enemies tack many of Rousseff's opponents have taken in recent months. Most notably, key members of the Brazilian Democratic Movement Party (PMDB) and the Progressive Party (PP) -- both former coalition parties in Rousseff's government -- cast their vote against the president.
Featuring prominently among them is the speaker of the lower house of Congress, Eduardo Cunha, of the PMDB. Cunha, a close friend of Vice President Michel Temer (if Temer is first to replace Dilma, Cunha would be second-in-line), approved impeachment hearings against Rousseff in the lower house around the time he was being investigated himself over claims of corruption and money laundering. Attorney General Rodrigo Janot has accused Cunha of accepting at least $5 million in bribes to facilitate the construction of two Petrobras drilling ships.
Aníbal Gomes, also a member of Cunha and Temer's PMDB, has also been under investigation for possible involvement in the Petrobras scheme.
The Progressive Party, or PP, has the most lawmakers under police investigation for links to the bribery scheme. This, however, did not prevent its leadership from advising members of the party to vote in favor of Rousseff's impeachment. It was not a unanimous decision, however: Two of the 17 representatives who have been investigated in the Petrobras corruption scandal opposed the president's impeachment.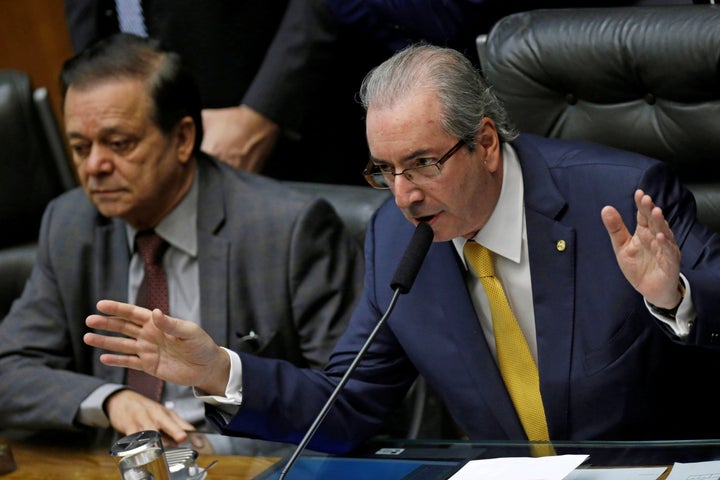 Ugly Attacks And A Bleak Future
The future does not look promising for Rousseff or the PT. If the majority of the Senate votes in favor of impeachment, the president will be unseated for 180 days while the impeachment committee reviews her case, and Temer will replace her.
Rousseff slammed her opponents on Tuesday, arguing that sexism has influenced the impeachment procedures and that she has been "treated like no one else."
In particular, she criticized Jair Bolsonaro, an arch-conservative lawmaker in the lower house and another presumptive presidential hopeful. Known for his bigotry, Bolsonaro dedicated his impeachment vote on Sunday to Col. Carlos Alberto Brilhante Ustra, a man responsible for the disappearance and torture of hundreds of activists during Brazil's military dictatorship.
Bolsonaro's barb was just the latest example of the often-ugly campaign being waged against the president. "They are not satisfied that I am not upset or hysterical," Rousseff told international reporters two days after Bolsonaro's remark. "They have an attitude toward me they would not have toward a male president."
The president announced plans to visit UN headquarters in New York on Friday, where she is expected to denounce the proceedings against her.
A version of this article first appeared on HuffPost Brazil. It has been translated into English, updated with new information and edited for clarity.
Support HuffPost
The Stakes Have Never Been Higher
Related
Before You Go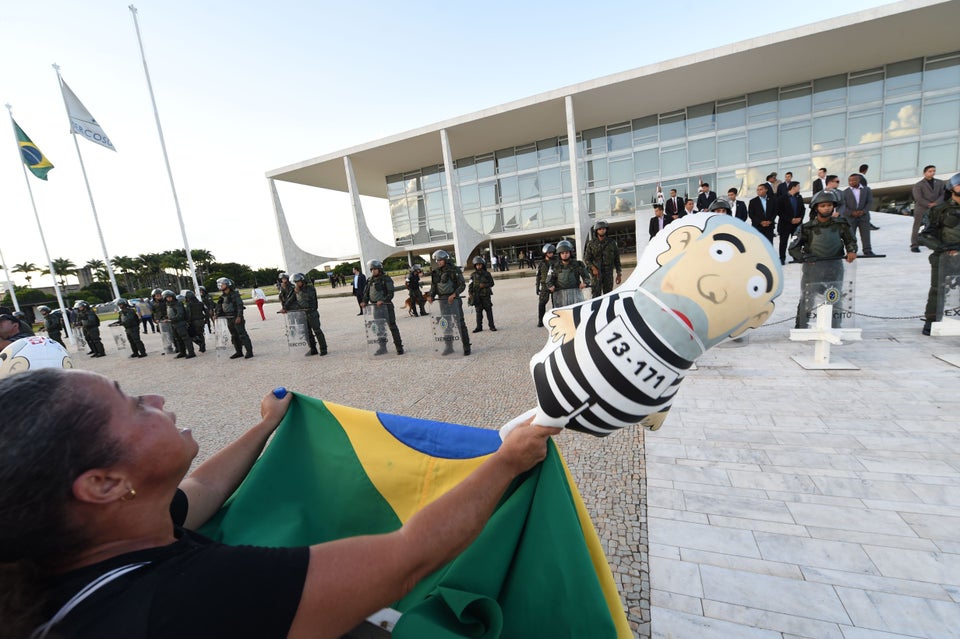 Brazil Protests
Popular in the Community