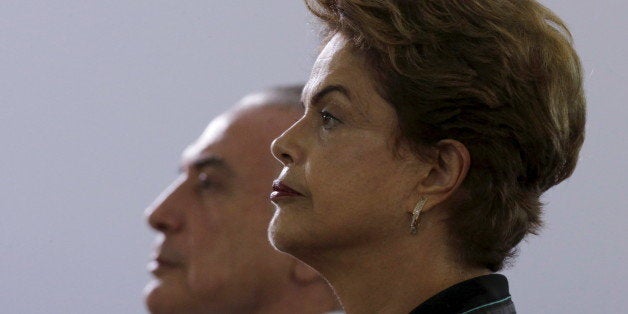 Supporters of the Workers' Party (PT) will turn Dilma into a martyr and use the "it was a coup" narrative to lay the groundwork for the messiah's comeback in 2018. The current government, which is just as bad as the PT and its allies, will use the impeachment as an excuse to demand more power and funds.
Brazilians, however, will gain nothing. Dilma found ways to make the people suffer, and Temer's government will likely follow the same path. Temer may, of course, launch his own version of the Growth Acceleration Program and speed up the process -- but let's not get ahead of ourselves.
Don't fool yourself; Dilma's impeachment won't alleviate Brazil's current crisis.
For the next two years, Temer's government will be under strong (and necessary) pressure. Cuts on the social programs that Dilma started may be increased and accelerated. And the 2018 campaign may bring back former president Lula, in the role of the supreme victim. (The PT is a master at playing the victim, as we saw during the Mensalão scandal.)
Our problems didn't start yesterday, and they won't go away anytime soon. This is a losing battle.
Rousseff's impeachment was the best possible scenario for the Workers' Party. They got rid of the unpopular and incompetent Dilma, they came out with a martyr, and they managed to unify the left and vote against a few of Temer's projects (which they would support and encourage if they were still in power).
In 2018, they may even form an alliance with the PMDB (Temer's party), which would come as no surprise. After all, the PT is already forming alliances with the PMDB, PSDB and DEM for the upcoming 2016 municipal elections.
The fact that Dilma was removed from office while her VP Michel Temer remains in power is completely absurd.
The sad thing is: We have nowhere to run. There is empty, foolish and shallow discourse on one side, and extreme-right rhetoric on the other.
Once again, the PT managed to help Eduardo Cunha by calling for two separate votes, one on the impeachment itself and the other on Rousseff's political rights.
The Senate ultimately decided to preserve Rousseff's political rights. Now Cunha doesn't have to be concerned with being removed from office, as long as he can retain his political rights.
Members of the Social Democrats, conservatives and other less known parties appear to be pleased. "There is no more corruption," one congressman exclaimed. We must put an end to the Workers' Party, they say. But some of them are clearly hypocrites.
This impeachment will not bring peace to the country. The "coup" narrative will remain in people's minds, and PT supporters will keep trying to erase the past. They don't seem to realize that the party is forming alliances with PMDB, PSDB and DEM in almost one-third of Brazilian cities, including Niterói, the second largest city in the state of Rio de Janeiro.
In São Paulo, the PT's candidate, Fernando Haddad is allied with the Party of the Republic's Magno Malta and the Republican Party of the Social Order. The other candidate on Haddad's ticket, Gabriel Chalita, is part of a group of anti-abortion Catholics.
Despite the current situation, Dilma's supporters are intent on saying that once Temer takes office, Brazil will enter a dreadful and dark period. They are pretending that Brazil's problems haven't already started, and that the PT has done nothing wrong.
The fact that Dilma was removed from office while her VP Michel Temer remains in power is completely absurd -- especially when recent polls show that most Brazilians reject both Dilma and Temer.
Politicians will no longer fear being removed from office; they will be able to return the following year as if nothing had happened.
The PT deserved its fate. We, the people, didn't deserve this impeachment process, especially since criminals were involved in the process. There are many alliances. They all chat at coffee breaks and comfort each other, drying their fake tears.
Again: Dilma was removed from office, but didn't lose her political rights. In an unbelievable maneuver, the PT managed to prevent her from losing her political rights.
For Dilma, it was a consolation prize, but for Eduardo Cunha, it is the best gift he could possibly receive.
Politicians will no longer fear being removed from office; they will be able to return the following year as if nothing had happened. Dilma set the standard -- and we should pay close attention to the magnitude and scope of this agreement.
Some politicians hesitate to remove their colleagues from office, because, being corrupt themselves, they know that they may be next in line. Now, they don't need to worry. Thanks to voters' short-term memories, corrupt politicians can count on triumphant comebacks a couple of years, or months, after being removed from office. After all, being removed from office is sufficient punishment, is it not?
As always, the PT is deeply selfish. They made a deal with PMDB to ease Dilma's punishment. This represents a complete breakdown of the law and the constitution. This behavior is however not new for congress -- it has been lacking in principles for years.
This post first appeared on HuffPost Brazil. It has been translated into English and edited for clarity.
Calling all HuffPost superfans!
Sign up for membership to become a founding member and help shape HuffPost's next chapter