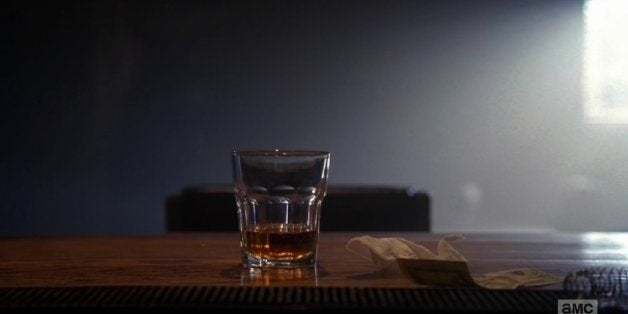 It's been a rough year for "Breaking Bad's" Walter White.
His meth empire has crumbled, his family has deserted him, his partner (who wants him dead) is being held captive -- and the man just needs a drink.
In last week's penultimate episode, TV's favorite disgraced chemistry teacher is tired of hiding from the law. He calls the DEA from a New Hampshire bar and orders his go-to whiskey to warm his frosty body and even frostier heart -- a Dimple Pinch, neat.
In the season two finale, Hank and Walter share some Dimple Pinch over the birth of Walter's daughter, Holly. In the opener to season five, White pours himself a glass after taking out notorious meth kingpin Gus Fring.
While these are all moments of celebration, we wonder about the symbolism. Why did last week's episode end at that bar? With that drink?
Perhaps it's White's way of trying to enjoy one last good thing.
Dimple Pinch is a time-honored whiskey, dating back more than 350 years when Robert Haig was "summoned before the church elders in 1655 for operating his still on the Sabbath (Sunday)," according to Whiskey.com
Nowadays, Dimple Pinch is surprisingly hard to come by. Jim Sias, a marketer for London-based alcohol company Diageo, said it wasn't because of a shortage created by the national obsession over "Breaking Bad."
"There's just not a high demand in this area for it," Sias said.
Luckily, HuffPost Weird got its hands on the blended 15-year-aged whiskey. It has a light air of oaky flavors and a tingling hint of fruit. The bottle is almost as impressive as the drink, with its lacy gold wiring and three pointed sides.
To be fair, we don't look nearly as cool as Walter White when drinking it.
White's Dimple Pinch will join other notable signature drinks of popular culture: Don Draper's old fashioned, Victor Laszlo's champagne cocktail, Jay Gatsby's Gin Rickey, The Dude's White Russian, and of course, James Bond's shaken-not-stirred martinis.
Though we can't be 100 percent sure it's White's last drink, with the final episode airing this Sunday, we're pretty confident the meth kingpin, otherwise known as Heisenberg, is going to be too busy gunning down Nazis to stop for a Dimple Pinch.
So we'll have a glass for him. Neat, of course.
WATCH: HUFFPOST WEIRD TEAM SAMPLES DIMPLE PINCH
REAL LIFE. REAL NEWS. REAL VOICES.
Help us tell more of the stories that matter from voices that too often remain unheard.
BEFORE YOU GO
PHOTO GALLERY
'Breaking Bad' Final Episodes Images