With his perfect blond hair and chiseled features, Ken always seemed to care more about his appearance than about his counterpart, Barbie. The Huffington Post chatted with photographer Dina Goldstein about her latest photo series,"In the Dollhouse," which shows what really happens behind the plastic walls of Barbie's dream palace.
The Huffington Post: How did you get started in photography?
Dina Goldstein: I have been photographing for 20 years. I started out working for a small newspaper and went on to shoot magazine portraits. I love to mix the portrait with the environment. I also take on commercial assignments that interest and excite me. Here I collaborate with other creatives. This work allows me to create my own independent work. These projects include travel reportage; my work as I travel , mini projects; that focus on the sub cultures of society, and conceptual story telling photographic series such as "The Fallen Princesses" and "In The Dollhouse." Currently I'm focusing on my art and exhibiting my work.
(Interview continues below slideshow)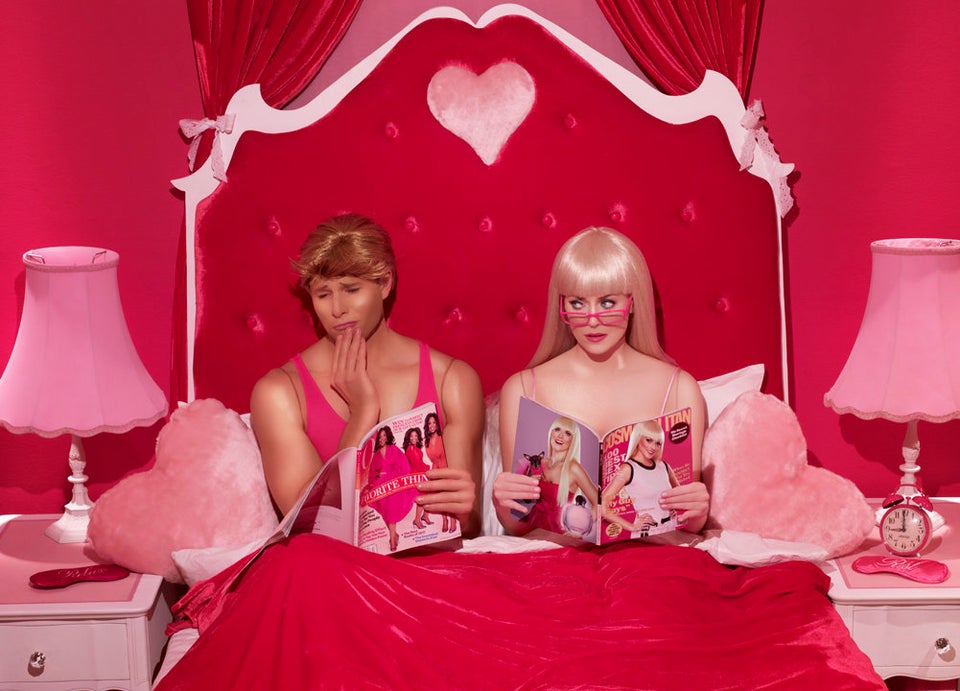 'In The Dollhouse'
What drew you to the Barbie and Ken scenario? Did you always feel Ken was a little gay?
More than any other childhood construct, Barbie represents the concept that Beauty is Power and necessary to attain happiness. However, when Ken, Barbie's handsome but emasculated boyfriend, expresses his individuality, the value of beauty as an apex trait is exposed as a cheap, plastic facsimile. Most people have to deal with challenging issues... I have friends that are wealthy but still have many difficulties in their lives... so, money isn't always a cure. I have friends that are beautiful and also have many challenges... so, beauty isn't always the answer and I have friends that are otherwise healthy and fit but also find themselves dealing with problems. So there is no "perfect" and that's OK. My character "K" finally exposes his true authentic self. He has been enslaved by social expectations and has not found the courage to "come out" and reveal himself to the world. Yes I always thought that Ken and Barbie were a mismatch. In fact, I found out that originally he was designed as her brother not her partner -- that to me makes more sense.
Did you have any other influences (aside from Barbie, obviously) for the shoot?
My daughters inspired both of my recent projects. I started shooting my first project, "Fallen Princesses," when my daughter Jordan was three. "In the Dollhouse" is just a progression of me following my two daughters, Jordan, now seven years old, and Zoe, three. Playing with dolls is a way for girls to role-play and pretend. I started thinking about the messages that they were receiving from their Ken and Barbie dolls. Of course Barbie is an impossibly proportional doll and Ken has become so overrefined that he is barely recognizable. I rework ideas and create alternative worlds for these characters.
How did you go about finding the models to play the iconic dolls?
First, no actual person could live up to the unrealistic proportions of these dolls. I knew that hair, makeup and wardrobe would be essential to bringing these characters to life. Also that there would be quite a bit of post production to consider.
I found Nathaniel Campbell early on in the process. He not only had a good look for the "K" character but he also understood the project and what I was trying to say. He brought his insight and witty sense of humor to the character.
I looked far and wide for a model that could play "B" in this series. I put the word out to all of my friends in the acting world and had everyone I know help with the search. I finally saw Reghan Blake's profile on an acting agent's site. I reached out to her agent who discussed it with Reghan. Reghan was very excited about the project because she is a big Barbie fan. She was also willing to work on the project despite the budget restrictions and she saw the value in this artistic work. When she walked into the set, which was just in the process of being built, I almost fainted! She was perfect for the part! Not only did she look right for the role she had the acting chops to bring the character to life. When she posed for the crying piece she really did have real tears and real emotions. This was kismet of a sort because she was meant to be "B."
Are you currently working on any other projects at the moment?
Yes, I've started conceptualizing my new project, "Gods of Suburbia." It's another production-intensive project, so there is a lot of work to be done before I start shooting.
To get the entire "In The Dollhouse" experience, check out the "making of" video below and then head to the project's official website.
Popular in the Community