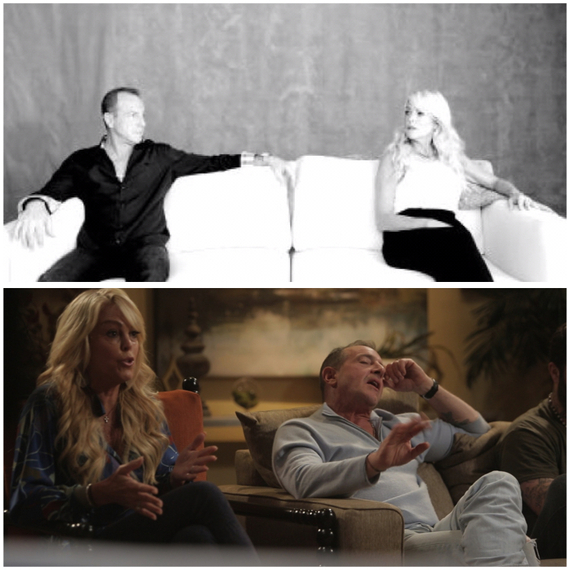 For years the Lohan family, both parents and famous daughter Lindsay, have lived their lives in the public spotlight. The fame came with plenty of constant scrutiny and tabloid gossip that further brought out hidden family secrets. Dina and Michael Lohan divorced in 2007 and now the couple is coming together once again to try and resolve their issues and hash out their problems for the sake of their four children and it will all play out on the VH1 show 'Family Therapy' with Dr. Jenn. The show centers around five families who have lived in the spotlight, they each have their own problems, and it's up to Dr. Jenn and her team of therapist to help them find healing. Dina Lohan is on the show to seek help and solutions from what she calls physical and mental abuse at the hands of her ex-husband Michael. After watching the first episode I can say that the dynamic between the two of them hasn't changed. Dina has things that she needs to work out with Michael and Michael has his own set of issues with Dina. Their hurt dates back many, many years and they try to accomplish some clarity in just three weeks.
I met up with Dina at VH1 headquarters in Times Square and she explains to me that the three weeks, secluded away from everything, even your cellphone helped to bring her healing. She also describes the process as super intense.
Essentially that's what this show is all about. Family Therapy is going deep into the lives of people who have pretty much lived their lives in the pubic spotlight. Along with Dina and Michael Lohan, the cast includes Tiffany Pollard of "Flava Flav" and "I Love New York" fame and her mother, hip-hop mogul Damon Dash and his brothers, the starts of "16 and Pregnant" Brianna and Brittany DeJesus, rounding out the cast is professional skateboarder and stunt performer Bam Margera and his mother April. When you take all of these people in put them under one-roof things of course are destined to be filled with drama but after talking with Dina Lohan it seems like the end results far outweigh the problems they each walked into the house with. Right now it's too soon to tell if the therapy has worked for many of them but as the season progresses we will get an idea of the steps each of them have taken to try becoming a better version of themselves.
For more of my interview with Dina about the season and her happiness you can check out the entire interview by going to the Kelsey Konversations YouTube page.
Popular in the Community