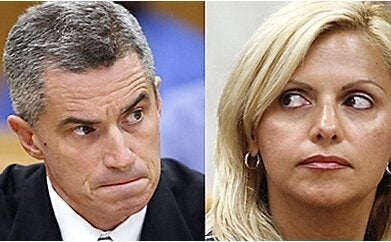 Yesterday the New York Post reported that Dina Matos McGreevey, the estranged wife of former New Jersey Governor and "gay American" James McGreevey, participated in threesomes with the governor and his driver.
Today, Dina Matos McGreevey is calling the allegations "completely false." Matos is claiming the sex tales are retribution from her husband who "cannot stand it when I am receiving attention in the media rather than him."
Keep reading below and here:
Just when it seemed the Jim McGreevey scandal -- governor's gay affair with a top aide, nasty divorce court hearings, child custody spats -- couldn't get any more tawdry, it does.

McGreevey's now estranged wife, Dina Matos McGreevey, heatedly denied to ABCNews.com today the latest allegation -- that she took part in numerous sexual threesomes that included McGreevey and his driver.
Popular in the Community