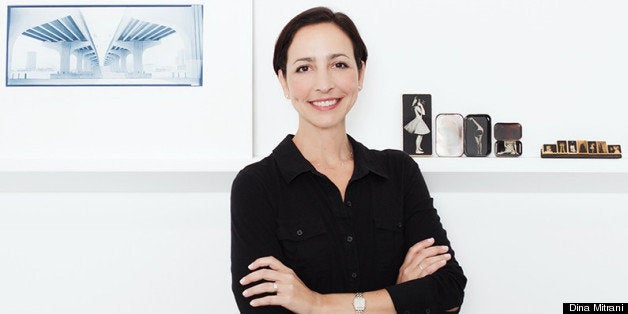 Sisters Dina and Rhonda spent their youth climbing over fabric rolls at their family's clothing factory in Miami's garment district, now the Wynwood Arts District, and getting treated to Cuban milkshakes at what is now Joey's Pizzaria.
HuffPost Miami spoke with Dina Mitrani about her childhood memories of Wynwood, its recent transformation, and what she has in store for this year's Art Basel season.
Who are you:
Dina Mitrani
Years in Miami:
All my life, minus 10 years in Michigan, Paris and New York City
First memory of Miami?
Sunshine, beach, sand. That's all there was in those days.
Current neighborhood:
Wynwood Art District
Current gig:
Owner and Director of Dina Mitrani Gallery, co-founder of the Mitrani Warehouse, mother of two daughters and wife of an artist.
Favorite 'Only in Miami' moment?
Randomly spotting manatees and dolphins in Biscayne Bay.
What's your idea of a perfect day in Miami?
Sitting on the beach with an umbrella, snacks, a good book, watching my kids look for shells.
Where do you take out-of-towners visiting Miami?
Breakfast at Buena Vista Deli, lunch at Garcia's by the river, and dinner by the bay at The Standard Hotel.
Why did you initially move back to Miami?
In 1999, the garment district was just beginning to turn into the art district and I was inspired to help develop the art scene here. After living in New York, where I worked at Christie's and two art galleries, I was ready to make a difference in my hometown.
What was the family business where the gallery now stands?
My parents had a wholesale ladies clothing factory for 30+ years in this building. In 2002 we started focusing on bringing artists and other creative entities to the Mitrani Warehouse. I opened the gallery in 2008 and it stands exactly where my parent's office and showroom was. So it's full circle.
Any memories of Wynwood growing up?
When we were young, my sister and I would climb up over the huge rolls of colorful fabric up on the second floor cutting room, and my grandmother would take a break from her sewing machine to take us down the street for a "batido de vainilla con trigo." That little place is now Joey's Pizzeria.
What influence was the key turning point for Wynwood?
I believe there were two: The Rubell and Margulies collections opened their doors to the public in the 1990s. Then with Art Basel helping the art community grow since 2002, Tony Goldman started making his vision of Wynwood a reality by opening restaurants here.
What has been your favorite exhibit to date in the gallery?
My inaugural exhibition was very exciting, and the show I had during November and December 2012 was my first historic exhibition. I collaborated with Peter Fetterman in Santa Monica and showed 25 signed, silver gelatin prints of Paris in the 1930s, 1940s and 1950s by Willy Ronis. He was a contemporary of Cartier-Bresson and Doisneau. That show was just voted Best Gallery Exhibit in the Miami New Times.
Last big project you did:
Besides my gallery exhibitions, I was honored to curate a photography show at the Girls Club Collection in Ft. Lauderdale. Working with Francie Bishop Good and David Horvitz's collection was a delight!

Upcoming projects you're working on:
In the fall, I will be showing Peggy Levison Nolan's third solo exhibition at the gallery. And during Art Basel I will be exhibiting work by Chinese photographer Shen Chaoliang, co-curated by Inez Suen.
Why do you hate Miami?
I do not like Miami traffic and road rage. I also hope that Miami grows beyond its superficial, plastic reputation.
Why do you love Miami?
I love Miami's multi-cultural vibe and the energy of a growing city. I also love the summer afternoon thunderstorms.
What are three local meals you can't live without?
Café con leche, pizza at Spris, and dinner at Mandolin.
In a word or two or three, Miami is...
…my hometown that I have been proudly watching grow and transform the last 25 years. I am curious to see what the future will bring.

Related
Before You Go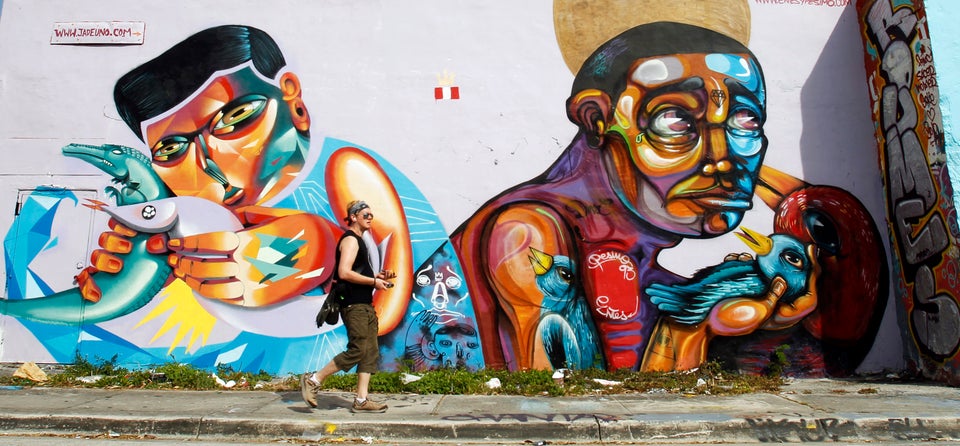 Wynwood Murals
Popular in the Community