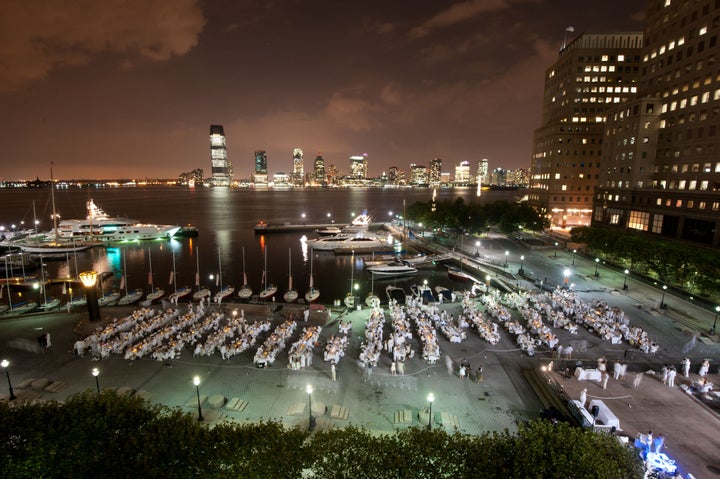 There's something to be said for an outdoor party that avoids rain 23 years in a row.
Thursday's afternoon showers, a precursor to hurricane Irene, politely halted for Diner en Blanc, an organized mob of 1,150 white-clad picnickers who descended on the World Financial Center plaza for a pop-up dinner party.
The affair, a first for NYC, is based on the Parisian party of the same name, which began in 1988 as a reunion of 100 friends (everyone wore white in order to recognize one another), that has since grown to 10,000.
It came as no surprise that the response was overwhelmingly positive. After all, NY is a city that craves the Next Secret Big Thing. One of the organizers, Sandy Safi, a calm and collected Canadian in a white tuxedo suit, recalled watching the emails pour in after a New York Times article: the waiting list numbered 31,000.
That's a lot of baguettes. And a heck of a lot of organizing. The perfect secret location was right under our noses, and at sundown in the Financial District a slight breeze, pink sky, and gently rocking boats provided an elegant backdrop for dinner. Guests arranged tables in neat rows, plated their salads, turned on their LED votives, arranged charcuterie boards, and tied white balloons to their chairs. Jazz music played over loud speakers. Several tables of women squealed with excitement. People clinked glasses before the wine was even served. It was civilized and sophisticated.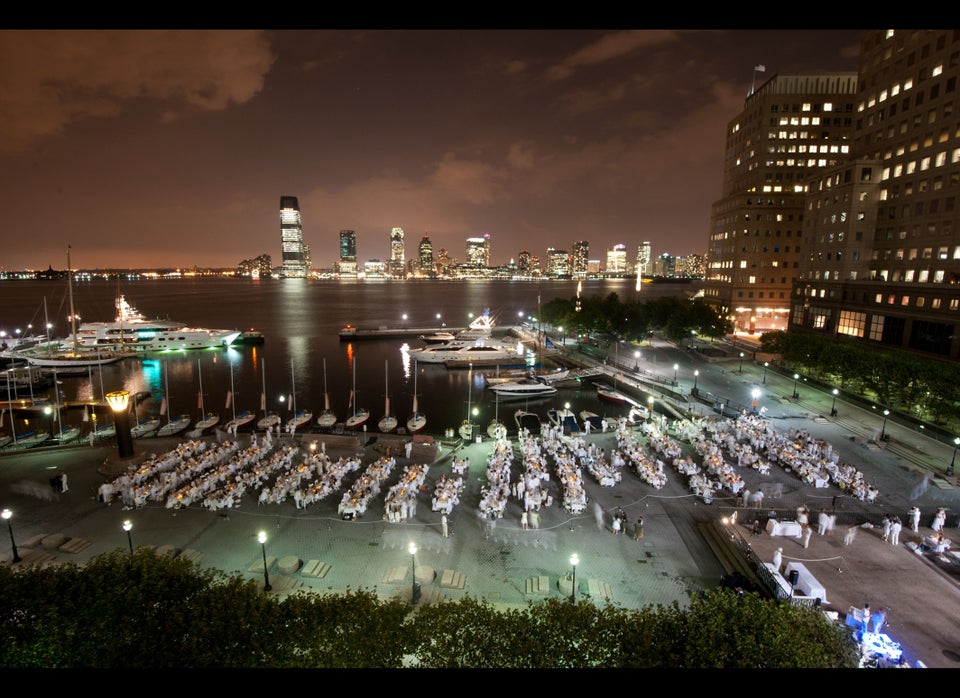 But it was not an auspicious beginning. After signing up for the guest list a few weeks ago (the party is made up of friends, friends-of-friends, and a random assortment of strangers who register online), several confusing messages were made. Reservations were canceled after credit cards were charged (mine included). Some invitations were reinstated, and a barrage of apology messages followed.
Over the last 20 days I received no less than 19 emails, six pdf attachments, and several phone calls. And then there were the rules:
You must dress in white (fashionably: no tee shirts, shorts, sneakers).
You must bring your own folding table and chairs (dimensions given) You must pack your own picnic basket.
You must bring non-disposable plates, glasses, utensils.
You must be accompanied by a date.
You must remain until the end of the evening.
You must clean up all traces of dinner (bring your own garbage bag).
You must order your wine ahead of time.
You must meet your group organizer on time (location given on the day of the event).
You presence is required, rain or shine.
I wasn't sure if it would be worth all the trouble. But then I considered the party's legacy. And the fact that it's run by French people ... the kind that live in Paris. For whom rules are merely a suggestion of governance. Someone must have put them up to this mess of precautionary measures.
Indeed. Because NY authorities are so strict, the organizers needed to make special arrangements (instructing patrons to buy wine through their caterer) and nix others (no sparklers). Diners were charged $50 a head to help pay for permits, stanchions, and security. At a similar party for 600 in Montreal, guests paid a small amount for bus transportation. The Paris version has always been free.
With a roll of the dice I made my way to the party. Email #16 revealed the gathering place for my group - Broadway and Dey Street at 6:30p.m. I could spot my fellow picnickers, a not-so-subtle group of bankers, actors, musicians, chefs, and agency folks dressed head-to-toe in white, with hand trucks for folding tables, chairs, picnic hampers, and crates of china. It was an impressive show of commitment.
Then: the schlep. We paraded through lower Manhattan, converging with more diners until we were a motley crew of several hundred. People traded stories about last-minute shopping trips in Chinatown and showed off the finishing touches on their outfits: white suspenders, white bow ties, white sunglasses, white fedoras, white turbans. Everyone was excited and chatted easily.
We didn't know where were going until we got there. I wandered around to get a good look at the tablescapes, picnic baskets, and costuming. Someone handed me a big goblet of champagne. There were women in long gowns and white gloves, girls in white wigs with white umbrellas, a guy with a chef toque and Where's Waldo glasses. Plus top hats, coattails, cat ears, feathers, and angel wings.
There was plenty of merrymaking and picture-taking. And, despite a shortage of wine, there was still a nice buzz in the air.
Related
Popular in the Community