It was Trump's fifth presidential pardon, following those of other well-known figures such as former Sheriff Joe Arpaio of Maricopa County, Arizona, and I. Lewis "Scooter" Libby, the former chief of staff to Vice President Dick Cheney.
Here's a look at some of the things D'Souza is known for:
D'Souza mocked school shooting survivors.
Less than a week after a gunman in Parkland, Florida, slaughtered 17 people at Marjory Stoneman Douglas High School in February, D'Souza openly mocked the surviving children.
An Associated Press photographer captured an image of the school shooting survivors weeping after Florida lawmakers voted down a bill to ban assault weapons in the state. D'Souza pounced at the opportunity to ridicule the students: "Worst news since their parents told them to get summer jobs," he tweeted.
He followed that up with another callous tweet: "Adults 1, kids 0."
He defended Adolf Hitler.
You aren't misreading that. D'Souza has indicated that maybe Hitler wasn't as bad as people made him out to be.
"Hitler was NOT anti-gay," D'Souza tweeted last year. (Hitler actually was ― he killed thousands of gay people.) "He refused to purge gay Brownshirts from Nazi ranks saying he had no problem as long as they were good fighters."
He said the Charlottesville rally may have been 'staged.'
White supremacists took to the streets of Charlottesville, Virginia, last summer to chant Nazi slogans such as "Blood and soil!" and "Jews will not replace us!"
Violent clashes erupted between the racists and the people protesting against them, and Heather Heyer, 32, was killed when a white supremacist allegedly drove a car into a group of counterprotesters.
In an interview with a radio show following the rally, D'Souza wasted no time in blaming supporters of former President Barack Obama for the tragedy.
"The white supremacist leader of this group is an Obama guy and an Occupy Wall Street guy, so right away you know that this could be a sort of staged Nazism that we're seeing for the benefit of serving a narrative," D'Souza said.
Two days later, he said he wondered if the "rally was a staged event."
D'Souza is wildly racist.
"YOU CAN TAKE THE BOY OUT OF THE GHETTO," D'Souza tweeted in 2015 alongside a picture of Obama.
D'Souza also called Obama the "grown-up Trayvon" in 2013, referring to an unarmed 17-year-old black boy who was fatally shot the year before.
"I am thankful this week when I remember that America is big enough and great enough to survive Grown-Up Trayvon in the White House!" D'Souza said in a tweet before later deleting it.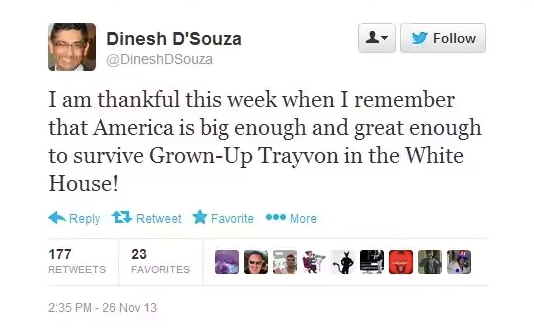 Jonathan Capehart, an opinion writer for The Washington Post, wrote at the time that D'Souza's remarks were "beneath contempt."
"America is big enough and great enough to tell him to…well, you finish the sentence," Capehart said.
D'Souza has also shared a meme of Obama holding a sign that calls himself a "gay Muslim" and suggested that former first lady Michelle Obama is a man, The Daily Beast reports.
More recently, D'Souza said civil rights icon Rosa Parks was an "OVERRATED DEMOCRAT."
But his racism is most evident in his 1995 book, The End of Racism. In it, D'Souza argues that slavery was not a racist institution and that black people were treated "well" because they were treated like property, Vox pointed out.
"If racism is not the main problem for blacks, what is?" he wrote. "Liberal antiracism."
D'Souza has also mocked a woman who accused Roy Moore of sexual misconduct, floated the conspiracy that the gunman who killed more than 50 people in Las Vegas last year was an anti-Trump activist, and defended the president after he referred to Haiti and African nations as "shithole countries."
Trump's pardon of D'Souza isn't just a boon for one of his biggest supporters. It was also a way to stick it to one of his biggest critics: Preet Bharara, a former U.S. Attorney for the Southern District of New York, who prosecuted D'Souza.
Popular in the Community