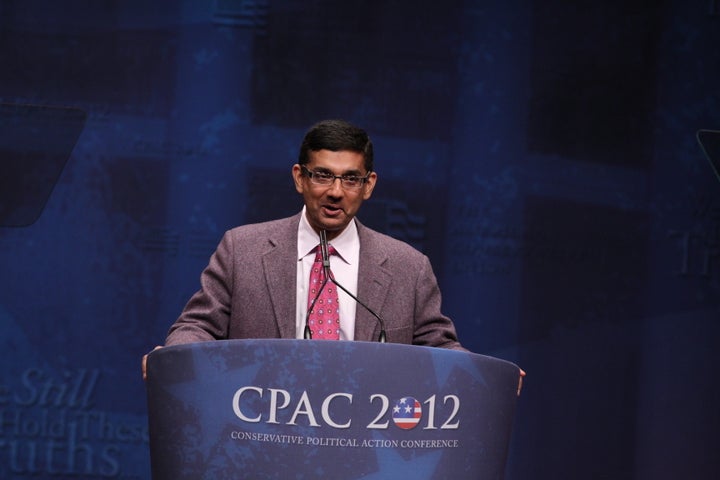 Prominent conservative author and Obama critic Dinesh D'Souza has resigned from the from the presidency of The King's College, an evangelical Christian liberal arts school based in Manhattan, the college's board of trustees announced Thursday.
The sudden departure comes after days of controversy over accusations of marital infidelity against D'Souza, who reportedly attended a recent event on Christian values with a woman who was not his his wife of 20 years and shared a hotel room with her. (The story of D'Souza's relationship to a woman, Denise Odie Joseph II, was first reported by WORLD magazine).
Andy Mills, chairman of the college's board of trustees, made the announcement on Thursday afternoon to students, faculty and staff.
"God has a mighty future for Dinesh, but there are some things he has to go through first," Mills said, according to the Empire State Tribune, a student newspaper at the college. "I have to admit, I got a bit over-enamored with him," said Mills, who emphasized to students that much of the college's funding does not come from D'Souza's high-profile connections. Mills will take over as interim president, a position he has twice held before.
"After careful consultation with the board and with Dinesh, we have accepted his resignation to allow him to attend to his personal and family needs. We thank him for his service and significant contribution to the College over the last two years," Mills said in a statement in which he asked for prayer for D'Souza.
The event where the controversy arose happened on Sept. 28 in North Carolina and was called Truth for a New Generation. On Tuesday, D'Souza, who had been president of the college since 2010, said in an interview with the Associated Press that he and his wife, Dixie, were "living in a state of separation for two years" and said he did not share a hotel room with Joseph II, who he said was introduced as his fiancee at the event. "
"Obviously, I wouldn't have introduced her as my fiancee if I thought we were doing anything improper," D'Souza told the AP. He added that they had canceled their engagement. A college spokesman added that Mills had known about the separation for at least two years.
D'Souza's former positions include being a policy analyst for president Ronald Reagan's administration. He is best-known for his controversial criticisms of President Barack Obama, such as the film "2016: Obama's America," which was based on his earlier book, The Roots of Obama's Rage. His 2007 book, What's So Great About Christianity, propelled him into being a sought-after Christian public speaker.
According to The Daily Beast, D'Souza may not have been the most popular president during his term. The news website reported:

...members of the King's faculty and board alike had grown hostile to D'Souza's presidency over what they saw as a failure to earn his reported million-dollar salary. D'Souza has spent much of the past few months promoting his documentary, 2016: Obama's America, and his high profile in the media was seen as rarely benefitting the college. It may even have been seen as a detriment: According to a former staffer familiar with the college's public relations, King's employees have been explicitly tasked with disentangling D'Souza's extracurricular activities from the college's reputation. D'Souza became a non-presence on the college's official Facebook page throughout 2012, which staffers say was no coincidence.

Editor's note: This post originally included quotes, as reported by Christianity Today, that were erroneously attributed to D'Souza in a King's College press release. They have been removed. The post has been updated with the official statement from the college.
Related
Popular in the Community