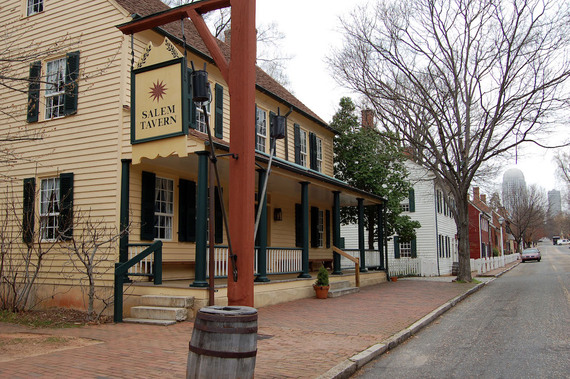 Winston-Salem is vibrant with new industries--bio-tech, high-tech, medicine, higher education--that demand good restaurants of every stripe, from low to high. Here are places I wouldn't want to miss.
THE TAVERN IN OLD SALEM
736 South Main Street
336-722-1227
It really is requisite for anyone visiting Old Salem to eat at this utterly charming, butter yellow 1784 tavern (above) that will give you both an historic sense and a true taste of what Moravian food culture was like. Of course, this being a big tourist destination, half its menu is composed of sandwiches and burgers of a kind no Moravian ever cooked, but if you stick to the front of the menu, you'll eat heartily and well, starting off with impossible-to-resist snowflake biscuits and pumpkin muffins served with warm apple butter ($2.75). A goat's cheese salad manifests Moravian abundance with griddled pears, candied pecans, cranberries, zesty red onions, sweet tomatoes and a white peach vinaigrette ($8), all served by a staff in period costume.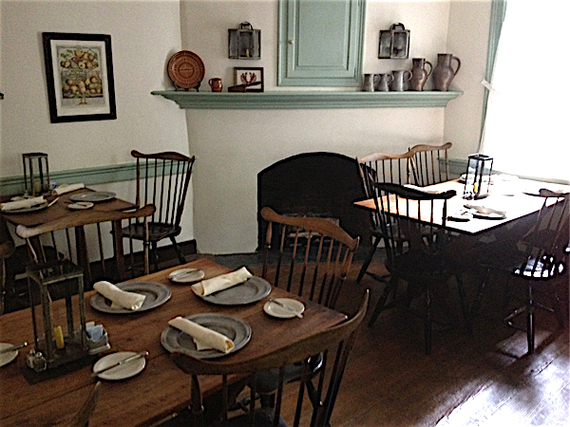 Chef Jared Keiper boils bratwurst in beer then grills it and serves it with house-made sauerkraut, green beans and demi-glace ($9.75); the tavern chicken pie is a large slice pumped up with abundant chunks of chicken and a rich creamy sauce suffused with herbs and spices, served with Redskin mashed potatoes and green beans ($9.50); beef pot roast comes with those same potatoes and beans and the beef is slowly cooked and swims in a brown ale gravy till it almost falls apart ($10.50).
For dessert go with a very simple, traditional chess pie that is not as sweet as they too often are.
The wine list is adequate to the menu and very decently priced, too.
Open Tues.-Sat. for lunch and dinner.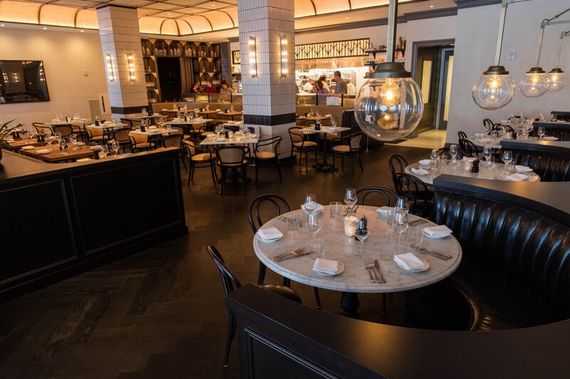 THE KATHARINE BRASSERIE & BAR
Kimpton Cardinal Hotel
4th & Main Street
336-761-0203
Located within what had been the R.J. Reynolds headquarters building, now a Kimpton Hotel, The Katharine, named after Katharine Reynolds styles itself as an American brasserie with French connections and Southern underpinning, via Executive Chef Ed Witt, whose résumé includes Rubicon and Jardinière in San Francisco, and Daniel, and The River Café in NYC.
The room, adjacent to the bar and with an open kitchen, is well lighted and the roomy booths are very comfortable, but the place can get exceedingly loud since there are no soft surfaces.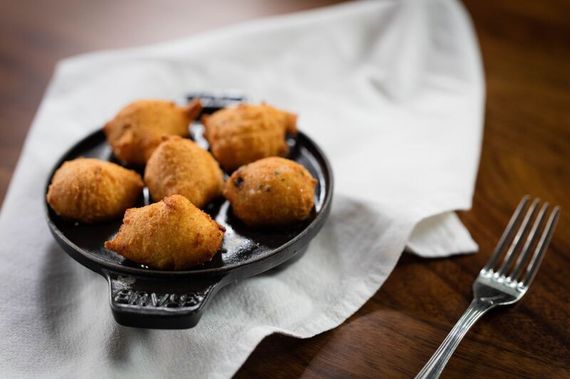 One of the signature items here is Witt's presentation of snails and garlic butter ($12), baked inside hush puppies with maître d'hôtel butter--as winning a marriage of French and Southern cooking as I've ever run across. The same applies to a French onion soup, made with super-sweet Vidalia onions topped with bubbling Lissome cheese ($10). A nod to the North Atlantic is to be found in a special of hearty lobster pot pie ($34), on other days of the week country fried duck breast, coq au vin or blanquette of veal are featured.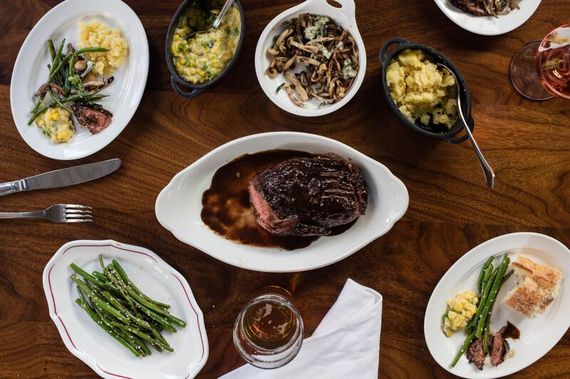 There are platters of pristine shellfish ($75-$135), and meaty Jonah crab claws ($6 each). An impeccably cooked grouper was well served on a bed of basil-laced light green mashed potatoes with a charred tomato snap pea relish ($26). There are four steak offerings, including an 8-ounce bistro-style filet ($21) and a 14-ounce strip loin ($45).
Don't neglect the sides, from creamed corn spiked with jalapeño ($8) to the blue cheese-lavished roasted mushrooms ($8); string beans are glazed with sorghum and benne seeds ($8), yet another touch of culinary hands joined across the sea.
For dessert consider the cookie plate ($8) with a walnut brownie, coconut macaroon, and peanut butter cookies that any grown American child will savor, though the French madeleines were tasteless and limp. A honey pecan tart with salted caramel ice cream made up for that lapse by being irresistible and not overly sweet ($8).
The wine list is unquestionably one of the best selected in the state, largely devoted to French bottlings, including a good number from Alsace, and there is also an extensive beer list.
Open for breakfast and dinner daily; lunch Mon.-Fri.; Brunch Sat. & Sun.

MOZELLE'S FRESH SOUTHERN BISTRO
878 West 4th Street
336-703-5400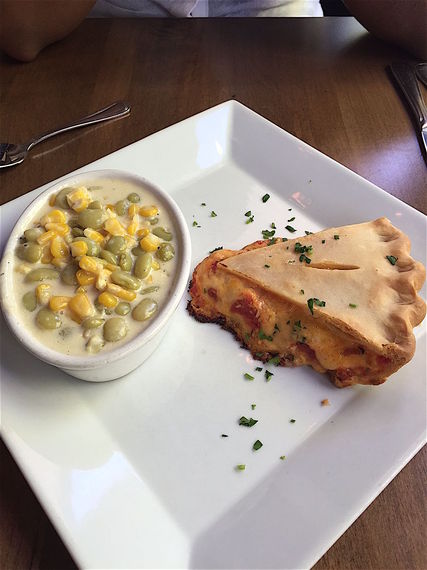 Why owner Jennifer Smith should bother to add the word "Fresh" to her restaurant's name is beyond me, for one bite of just about anything on Chef Matt Haithcock's menu at Mozelle's will tell you that they are buying the best ingredients they can and making everything from scratch. The food is beautifully plated, care is taken with texture and temperature, and the eclecticism of the menu works in the restaurant's favor as a casual but smart place, bright with colors of orange and avocado green against creamy walls and a congenial counter bar.
This is a place where you'll get excellent fried chicken, which is fried boneless, with peach, chutney, Mac-and-cheese and green beans--$19, quite a bargain at dinner, $11 as a hefty sandwich at lunch. There's also good prole food like the "Gourmet Meatloaf" ($19), bacon wrapped with havarti cheese, tomato marmalade, spicy collard greens and cheese grits, which proudly epitomize contemporary Piedmont cookery. Even more to the point is the marvelous tomato pie ($17), almost like a pizza within an American short crust, served with cheese-rich stone ground grits and lima beans.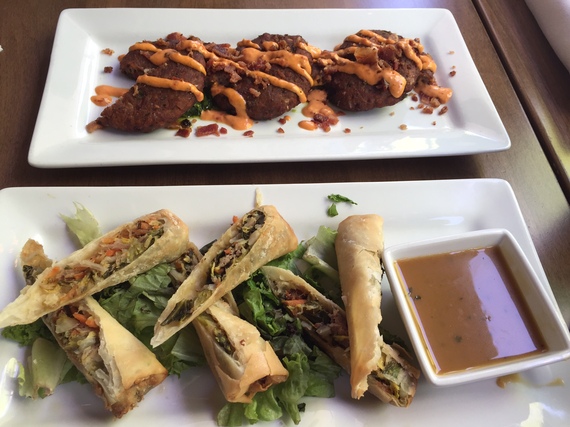 The Southern spring rolls ($11) might have come out of a good Vietnamese kitchen, packed with pulled pork, shiitake mushrooms, Napa cabbage, collards and a nutty sesame ginger sauce, and you'll see just how cannily Haithcock can play with Southern tradition when you taste his black-eyed pea fritters ($9) with bitter collard green pesto, crisp bacon, and an assertive sambal aïoli made with chive oil.
Desserts revert to the American larder--bourbon pecan bread pudding oozing caramel sauce ($7) and a coconut cream pie ($7) that could have come straight from the most modern edition of The Joy of Cooking..
Open for lunch Mon.-Fri., for brunch Sat & Sun., for dinner nightly.
Related