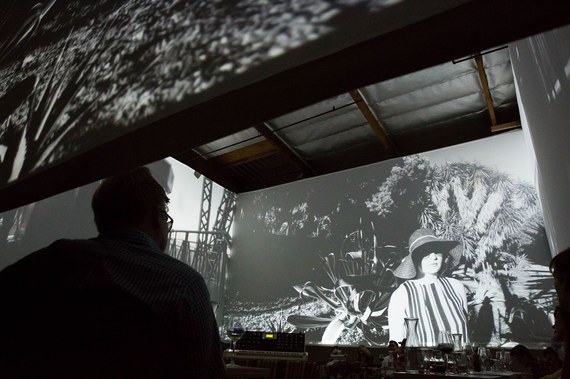 "That was unbelievable" my friend and I both uttered almost in unison upon leaving Monkeytown - a new dining venture in downtown Los Angeles. To call it a meal would not be fitting. It was an art experience.
Prior to entering the nondescript building on the corner of 21st and Main in downtown LA, a small crowd milled around before being gently ushered into what felt like a dream of a 1970's living room.
After drinking a magnificent cocktail of made from a potent lime kaffir, we were led into a giant and pristine warehouse with a cube of four 20 foot screens at the center. Dining tables directly below. This dramatic setting was spectacular to behold and gave the experience the feel of being its own performance.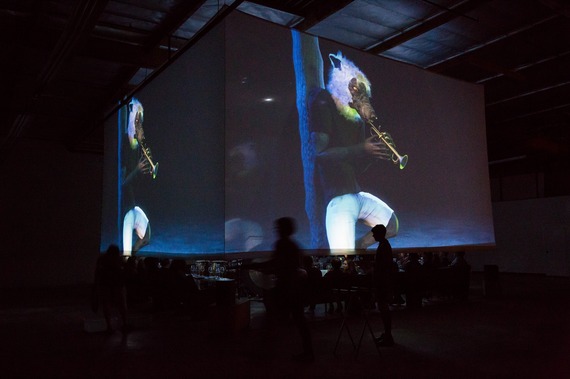 What followed was an exquisite orchestration of unique courses which seemed like they were individually curated to match what I was beholding on the screens throughout dinner. The clinking of forks against plates during courses made me aware of the other diners, seated in such a way that we could also observe each other. People were smiling and also looking completely dumbstruck as this experience was clearly as incredible to everyone else it was for me.
The exquisite planning of every element made it feel like immersive theater. Midway through the meal, Mira Billotte, aka White Magic serenaded for exactly 19 minutes with reverb-laden vocal incantations, summoning indecipherable ancient tongues, unyielding to the barriers of human language.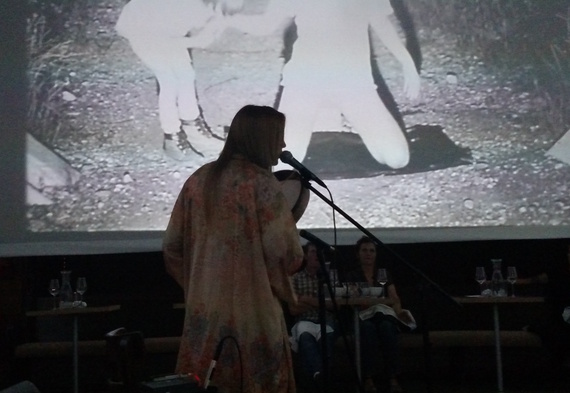 The curation of all these details was not arbitrary. Tables were bolted directly to the floor. Servers came through the corners of the space whisking the courses and allowing plenty of time to indulge in the videos. It was so thoughtful in its essential simplicity. At one point a plate of Red Wine Braised Short Rib cut into a perfect cube was put in front of me and I noticed the composition was adjusted like an abstract painting on a plate, the server shifting the plate so that the food was set to the top right -- the smallest detail was just a simple example of how much love and thought went into everything.
I left feeling so much gratitude. The beauty of this dining experience with giant screens shared communally with others forced me to think about how often I mindlessly eat while staring at my own tiny screen, watching videos that are a haphazard intrusion in my life, rather than something deliberate and hand picked.
The very best art takes you momentarily out of this world. It transports you somewhere and it leaves you with something new. This experience reminded me how much I love video art. Paired with such a lovingly crafted meal chef, Nick Montgomery is nothing less than a sculptor of organic elements. After this magnificent and profound experience, I decided I would not eat looking at a screen anymore, unless of course I'm at Monkeytown.
*Disclosure: I have been invited to perform at MonkeyTown the week of September 13, and I am Ecstatic*
Discounted 1st month seats are available through July 3rd
REAL LIFE. REAL NEWS. REAL VOICES.
Help us tell more of the stories that matter from voices that too often remain unheard.