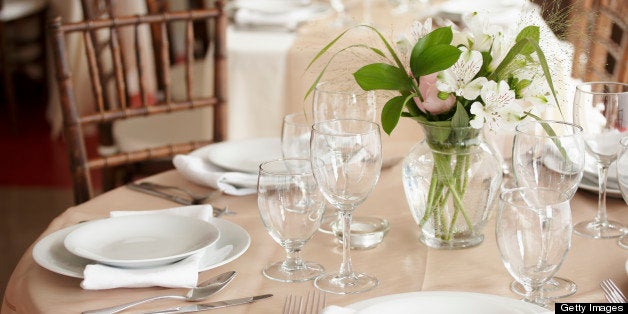 Whenever I attend a dinner party or social event I am never at a loss for dinner conversation. Not because I am a dazzling conversationalist, but because I am always in the company of bright minds that have wonderful questions. Most of these questions revolve around the dinner table, and the most commonly asked question is, "How can I tell which is my bread plate?" The answer, make a "b" and a "d" with your index finger and thumb, "b" for bread is on your left, and "d" for drink is on your right. Easy as pie, but do this little trick underneath the table, rather than up in the air, in front of your fellow guest(s).
Here are a few more tips for setting a welcome table:
The manner in which you set the dinner table must be as practical as it is beautiful. The centerpiece and table decorations should be set low enough for other guests to see each other across the table. Oversized pillar candles and large vases of flowers may look beautiful but block the view of your table mates. Opt for a centerpiece that is low, and leaves enough room in the center of the table to set food items comfortably, the bread basket, salt and pepper cellars and multiple sets of stemware. Avoid strong scented candles or pungent flowers as they overpower the smell of the food.
Set the table according to what the host plans to serve. The place setting depends on the menu and the number of courses offered. Take guest allergies and food preferences into consideration. A good host asks in advance if there is any food related considerations, so he or she will know what to serve and what dishes to lay out on the table.

Do not be afraid to mix china patterns, silverware and glasses. A host must not be discouraged from hosting a dinner party because they do not own matching sets of china, plates, or have enough of any one item. Incorporate what you own and borrow what you are missing. Be creative and use what you have in a variety of ways. For example, small demitasse cups can be used to serve the soup course, and tea cup saucers can be used around the table to place butter pats, lemon slices, or as bread plates. Let your personality shine through in your unique style. Scour thrift shops, antique stores and neighborhood garage sales. You will soon develop a knack for putting your table together with your own flair.

Use a table cloth and linen napkins to elevate the mood of the dinner party. Of course, for a back yard barbeque, feel free to use plastic and paper if you choose. For an evening dinner, a vintage table cloth and antique or new cloth napkins make the dinner party a bit more memorable. The linen does not have to be new or expensive, just fresh and clean. It is better having a variety of different napkins and a few stories to go along with each. Perhaps you purchased your floral set the first year you were married, and the deep purple and gold set were a gift from a friend. You picked up the set with the map of Canada when you took a vacation with the kids last summer. The stories are endless, and so are the conversation starters.

Take a close look at your silverware, glassware, china or plates. Finger smudges on utensils, particles of food stuck on plates and waxy lips on glassware are not acceptable when your guests approach your perfectly appointed dinner table. Take a few minutes to go over each piece set on the table with a soft rag or moist paper towel. Polish or wipe each piece until it shines.

Give your guests plenty of arm and leg room. It is uncomfortable to sit at an overcrowded table, bumping elbows with your table mate each time you cut your chicken or lamb. Limit your number of dinner guests or provide an extra table, set next to each other to keep everyone close but comfortable.

Seat your guests carefully. It is always nice to use a place card at each place setting to let your guests know where you expect them to sit during the meal. It alleviates the awkward moment of standing around waiting for the first person to take their seat. Position unfamiliar guests next to someone that is talkative so they can easily get to know each other better. Encourage table conversation by using carefully designed place cards with each person's name on the front, and something intriguing about a fellow guest at the table, on the back. In case there is a lull in the conversation, you can fall back on this simple attempt to involve everyone in conversation by "guessing" who you are describing on the back of each place card.

Take advantage of family heirlooms. We often store gifts given to us by family members in a closet and never bring them out again. A dinner party is a perfect time to use pieces that you would not often have an opportunity to utilize. For example, the sterling silver napkin rings that your grandmother used when she was a young girl, and the utensil that looks like a small pitchfork, with a pearl handle, that your mother used to remove bread from the bread basket. The individual asparagus tongs that your Aunt Margaret gave you as a college graduation gift that you wondered what to do with. Use this as another way to encourage dinner conversation, and an opportunity to start your own traditions.
The best dinner parties are those that have key ingredients; a gracious host, friendly guests, an inviting table, delicious food and stimulating conversation. Set the table with care, confidence and consideration for your guests. If you are frazzled, your guests will sense it. If you are relaxed, you set the mood for a warm and welcome evening. Do not fret if something breaks, burns or does not rise in the oven. People will remember your engaging attitude long after they forget about the runny crème brûlée.