 Co-Written With Steven Lapidus
Isn't life about experiencing different extremes, giving ample opportunity to contrast and compare? With this in mind, we decided early on to seek out something elegant and international in Shanghai, on the one hand, as well as regionally based and local on the other, to sample two different kinds of eating experiences.
Our first stop was Jean Georges. Every area of the world has its own Gold Coast, where the best of the best reside and dine. For exceptional dining, Huangpu River -- overlooking Three on the Bund, home to Jean Georges -- is that destination. Flanked by the Capital M restaurant directly across the street (where we ending up eating in Beijing) and directly to the east of the Bund, Shanghai is the elegant backdrop for Jean Georges' amazing cuisine. It is a must for all foodies everywhere. Jean Georges has built his library of restaurants in Shanghai to stand with his other restaurants in other locales such as those in New York, Mercer Kitchen, Jean Georges, Spice Market and, of course, ABC Kitchen.
As a marker to any number of special customer celebrations, we were struck by the immense bouquet of flowers posted at many tables. The dining room experience is enhanced by the mahogany, its wooded touches and adorned with burnished gold plate ceiling. The pièce de résistance is the 180-degree view of the Bund, the sleek Huangpu beneath and the looming Pudong financial district at river's far shore. The creativity of tastings abound, served with small single bites of elaborate selections of kingfish sashimi, avocado and radish, followed by delightful foie gras brulee garnished with dried sour cherries and candied pistachio. The tastings also included bites of fish and beef, a succulent Australian Wagyu beef sirloin and patty pan squash confit with mole and sherry vinegar. For our main courses, always happy for fish, we had delectable pan-seared sea scallops with spiced jade emulsion and celtuce and ever delicious lobster with passion fruit emulsion, baby carrot and porcini oil. To enhance every flavor, we sampled a myriad of fine wines from New Zealand, a Sauvignon Blanc (Terravin), from Spain Arzuaga, and from France, a Perrier Jouet Champagne, Crème de Mire. For chocolate lovers like us, dessert choices were equally overwhelming -- chocolate soup, chocolate soufflé and chocolate petits fours.
Jean Georges never lacks for creativity with his roster of restaurants. Recently, in the same building (upstairs), he has opened Mercato, an Italian delight, with imported ovens to cook homemade pizzas and casual dining. It's a totally different vibe from his nameplate establishment, but equally engaging. New to Shanghai, Mercato promises to be a welcome addition to Bund dining.
The next night we choose Xibo, a restaurant created by a woman named Anita Kuo, which is a totally different kind of establishment from Jean Georges. Anita's inspiration is derived from flamboyant Xinjiang style from the mostly small Muslim autonomous region of that name in far northwest China. Her home region borders Kazakhstan and lies along the ancient Silk Route from Central Asia to China. Xinjiang has a dialect and culture all its own. Unlike more traditional Chinese fare, Xibo ingredients of choice are lamb, beef and flat breads. There is a wonderful mixture of spices and condiments for which Anita actually travels home several times a year, six hours away by plane, to bring back for use in her restaurant.
We had an absolutely delicious dish of fried Uighur bread mixed with lamb, onion, cumin and chili. We sampled traditional pumpkin soup and steamed pumpkin dumplings. Regional bread was featured again in a Xibanese grilled eggplant and pepper dish. We couldn't resist ordering some roasted lamb chops with rosemary, cumin and potatoes. We also tried barbecue skewers of lamb, beef and chicken served with cold noodles and a sesame sauce. Her noodles are washed and steamed in a particular way, certainly not commercial in any way. We couldn't resist trying a lot of things, you get the idea!
Anita chose to build her restaurant in the former French concession of Shanghai. There is an extended terrace for outdoor dining and even a heated enclosure for winter nights. In the convivial space she has collected antique hats that represent the different ethnic groups of China which hang on the walls in interesting patterns. Diners can feel good about dining in this restaurant as not only can they partake in the freshness and quality of food, but Xibo also embodies a restaurant with a social mission, giving to charities in Western China. Xibo is a must choice when dining in Shanghai.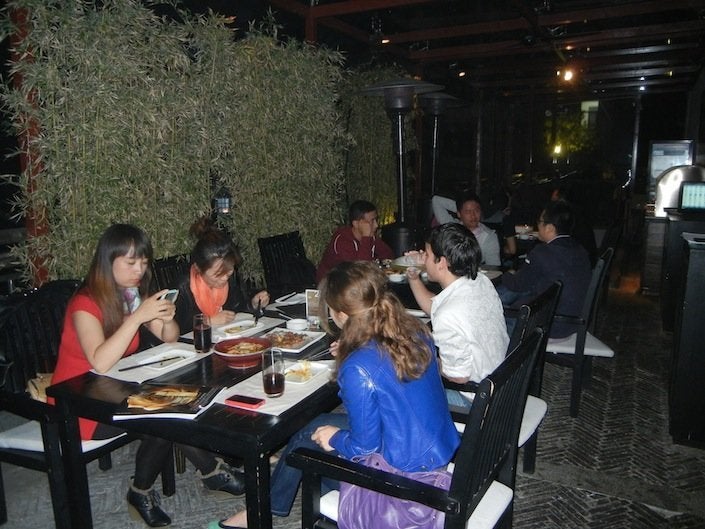 Jean Georges: Telephone: 021-321 773
4th Floor, Three on the Bund, 3 Zhongshan Dong Yi Lu
11:30 a.m. to 2:30 p.m., 6 p.m. to 11 p.m.
Mercato: Telephone: 021-6321 9922
6th Floor, Three on the Bund, 3 Zhongshan Dong Yi Lu
5:30 to 1 a.m.
Xibo: Telephone: 021-5403 8330
3rd floor, 83 Changshu Lu
11 a.m. to midnight