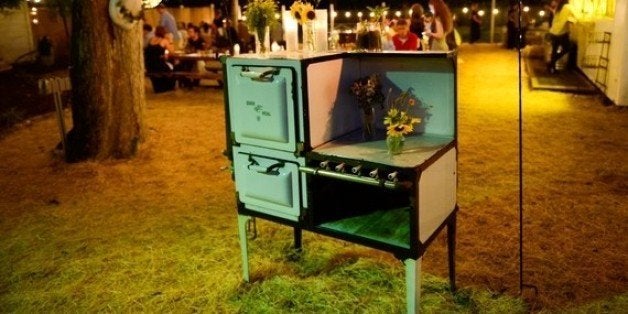 There's a lot to love about all the new restaurants in Austin. From the best trailers finding brick-and-mortar homes to a boom in Asian food options, Austin is diversifying in many enjoyable directions. Shops that were not here even a year ago are delighting locals and visitors alike, with none that have rocked my world quite like Eden East: a urban farm dining experience nestled into an absurdly charming outdoor space on the East side of Austin.
I went with two girlfriends a few weeks ago and the night was so intimate and festive it felt like we crashed the perfect wedding. The weather was a dreamy low 80's and a clear night under the stars. A musician sweetly strummed on his guitar from a large old leather chair in the corner and giant pecan trees, strung with twinkling lights, shaded tables made of reclaimed wood. At our communal table sat five other lovely guests, one of whom I learned lived on the same block I grew up on in New York. Everything was officially flowing and familiar.
The restaurant by local Chef Sonya Cote serves up a five course meal for a reasonable $70 and is open only on the weekends and special occasions. The relaxed experience is elevated by the BYO alcohol policy and enhanced by a cocktail sponsor on-site almost every night to mix up complimentary cocktails for all guests (from a shiny airstream trailer bar, of course). With a chilled bottle of Rose in the wings, the three of us arrived about 20 minutes early for our reservation and walked around the property, exploring the flowers, green produce and chicken coops with spiked blueberry lemon juice concoction in hand.
Even before the food arrived, our levels of bliss were skyrocketing and the locally sourced creations reinforced our happiness: Chicken liver paté with strawberry gelée, pickled gherkins and jalapeño on French toast (or in my case, straight up -- no vehicle necessary) was followed a luscious burrata con crema with heirloom tomatoes, avocado, basil, mint and Castelvetrano olives. After that came a sweet corn and chicken soup and grilled quail, prepared with orange parsley, Dijon mustard and garlic potatoes. Dessert was a yummy looking carrot cake I couldn't eat (I'm allergic to gluten) but I adored the brûléed grapefruit that they graciously substituted for me.
By the end of the meal, the three of us practically floated off the farm and while the food was excellent, it was the 360 experience of delight that made it truly memorable. The whole unfussy evening felt like a portal to an Austin of 10 years ago and a wonderful offering routed in the magic of simple pleasures.
Popular in the Community