Anyone who says Parisian cuisine has fallen behind that of cities like Barcelona, Copenhagen and Lima have clearly not been to France in this century. There is currently more excitement and innovation in Paris restaurants than at any time in its history.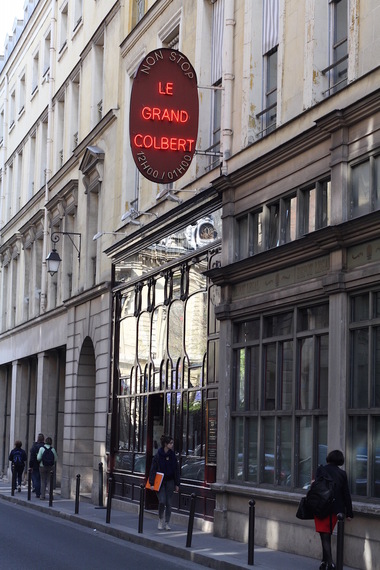 On my latest trip to Paris a few weeks ago, my first meal was at a favorite old spot, Le Grand Colbert (above), on a side street near the Palais Royal Gardens. Named after Louis XIV's principal minister, whose marble bust looks out on the dining room -- it has been a restaurant since 1900, since 1992 managed by Joël Fleury, and it attracts people from the Stock Exchange and nearby theaters; you may recognize it from the 2000 film "Something's Gotta Give" when Jack Nicholson surprises Diane Keaton here on her birthday.
You'll be well greeted, and, if you arrive on the early side, have your pick of tables. Impeccably renovated, the room retains its buoyant fin de siècle décor, with sculpted pilasters, Pompeian-style paintings, mosaic floor, brass railings, and etched glass, all of which qualifies it as a Historic Monument.
La Grand Colbert offers all the classics, from frogs' legs rich in garlic butter (€19) to a generous slab of duck foie gras terrine en gelée (€24), and a bubbly onion soup in white ceramic pot (€11). They serve eight icy pink shrimp (20 €) that are sweet and very pretty (above). Calf's liver comes with caramelized small white onions and steaming hot potatoes gratin (€26). An old favorite, blanquette de veau with morels (€24) was all right, but its cream sauce was a bit thin. For dessert we had delightfully rummy baba cake (€9.60) and the always irresistible profiteroles drenched in hot dark chocolate (€12.70).
Le Grand Colbert offers three courses at a remarkable €37 at lunch and after 10:30 p.m., making it a good spot for after theater.
That night we took the Métro to the Left Bank to dine at Aux Prés (below), run by chef-restaurateur Cyril Lignac, who also owns the posh Le Quinzieme. At Aux Prés, Lignac clearly wants to have some fun within the small space with a fuchsia-colored awning, a tiny back room with red banquettes (the front is not as loud), pretty flowered wallpaper, and sleek marble bar overseen by an extremely affable fellow whom you should trust to choose your wine.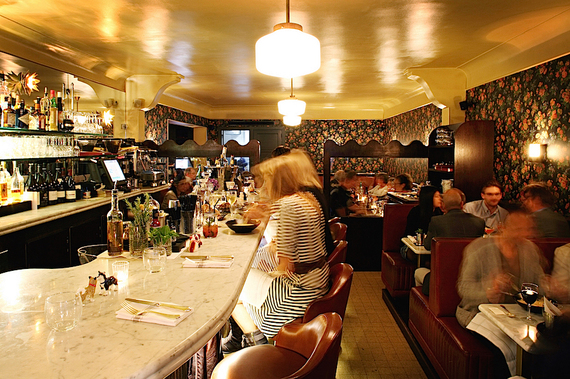 Aux Prés gets a neighborhood crowd, and it tilts young, but the music in the background never blasts out at you as in similar U.S. restos.
Start with a salad of soft egg, kale, orange slices and carrots scented with cumin. You don't expect tacos in a Parisian bistro, but Aux Prés's, filled with tasty roasted chicken in a satay sauce, leaps at least three continents in culture, and they're very good. So, too, are the empanadas of beef with eggplant and a spicy tomato sauce. For a novel turn, sweetbreads come with bittersweet condiments and carrots are recommended.
Charmingly plated desserts include a rich pain perdú with summer cherries, pears and caramel vanilla ice cream, and a salted butter caramel éclair.
There are two prix fixe menus here: three courses at €39 or two at €29.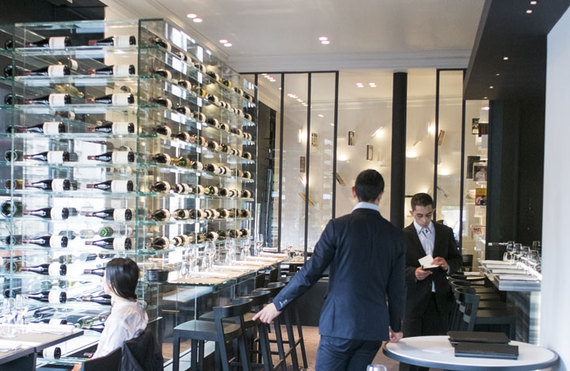 I returned to another of my favorites, the chic Les Bouquinistes (above) , set on the Seine near Notre Dame. Although more than a decade old, this modern bistro by master chef Guy Savoy (who has a 3-star namesake restaurant in Paris and a restaurant in Las Vegas) has shiny black surfaces that never look drab, helped by tall windows that let in the Paris sunlight, twilight and night lights within sight of the Seine's beautiful bridges. There's a spectacular glass wine wall, and, since "bouquinistes" refers to the used book sellers along the river, books hang every which way in the room. Manager Cedric Jossot and his wait staff are all in black and white, young and good looking.
The chef here is Stéphane Perraud, and his cooking shares the lightness of Savoy's rendering of classic French cuisine in thoroughly modern ways. Every dish we tried was not just beautifully presented and suffused with essential flavors, starting with a tartare of salmon and crevettes atop a pretty round of crushed cucumbers. Translucent ravioli are packed with prawns and vegetables in a verbena emulsion. Marvelously juicy and flavorful lamb chops come with spring onions and peas, and gaufrette potatoes (€36), and suckling pig is braised slowly, the meat becoming velvety, served with mashed potatoes (€35).
For dessert a meringue (below) is made from tea as is a sorbet, with strawberries (€15); perfect peaches are marinated in verbena syrup, with cherry-basil sorbet and red currant cake (€14).
All of this splendor is served up with an attitude that you are there to have fun in surroundings of refinement -- the epitome of French casual chic.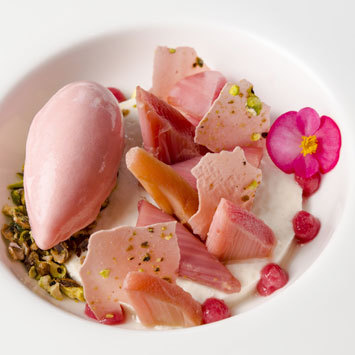 Open daily for lunch and dinner. Set menus include six courses at €89, lunch €32, €36 and €45 (with a glass of wine), as well as a la carte, with starters at €19-€25 and mains €34-€36.
In recent years I have championed dining in the world's best hotels, because, rather than merely offering a dining room as an amenity, hotel restaurants are now expected to draw guests and profits, which can be done only with superior food and service.
Alain Ducasse has a three-star restaurant at the glorious Hôtel Plaza Athenée, but I instead dined at Le Relais (which Ducasse also oversees) on the same premises. This is one of Paris's most glamorous dining venues, sleek and swank from the glossy lighted bar to the main dining area (below).
There's a distinct worldliness in the air here, and an international crowd that enjoys the pampering received from a fast-paced waitstaff.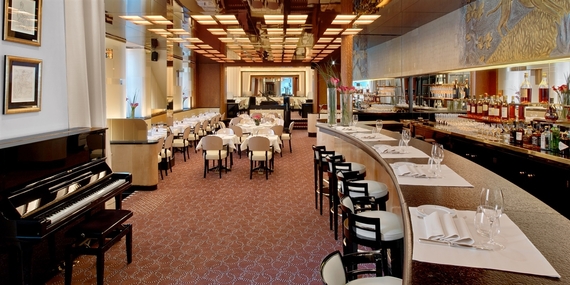 The white asparagus had just come into the market, so we gobbled them up (€32). I've always loved the rosy slab of foie gras mi-cuit here, served with cherry chutney and warm brioche (€34). As everywhere in Paris now, Le Relais offers Italian dishes à la française, like risotto with Périgord truffles (€72) and rigatoni with morels and fava beans in a sauce of vin jaune and cream (€32). Even the bouillon of artichokes has green ravioli bobbing about (€24).
There are six seafood main courses and nine meats on the menu, including the plats du jour. Dover sole meunière with very buttery potatoes mousseline and sautéed spinach (€72) is always listed and one of the richest seafood dishes in the city, perfect with a glass of Champagne. Brittany turbot (€64) is a splendid example of a fish that never seems to travel well across the Atlantic. Here it comes with green cabbage and red wine matelote sauce. The lamb at Le Relais is milk-fed and very tender, served with eggplant caviar, crushed potatoes and a drizzle of olive oil (€46).
One must have the signature "religieuse caramel au beurre sale" (€18), an éclair-like pastry with ganache and crème patîssière (I'll let you wonder why it's named after a nun).
There are fixed price dinners at €46 for two courses, €58 for three, and a Menu Jazz at €78 for three.
Certainly one of the loveliest of locations on the Champs Elysée is Hôtel Barrières Le Fouquet, whose silvery awning and blue carpet lead to a chic lobby whose walls are decked with photos of the great movie stars who have stayed here. With just 81 rooms, the hotel is discreet and seems removed from the bustle just outside. The rooms are a marvel of modern Parisian design and comfort, full of light, with bathrooms one could get lost in.
The hotel offers several dining options, including a café along Rue Georges Cinq; the Provençal-inflected La Maison de Nicole; an interior Fouquet's restaurant with its lovely terrace dining area on the Champs Elysée; and a superb gastronomique restaurant, Le Diane, with an outdoor garden.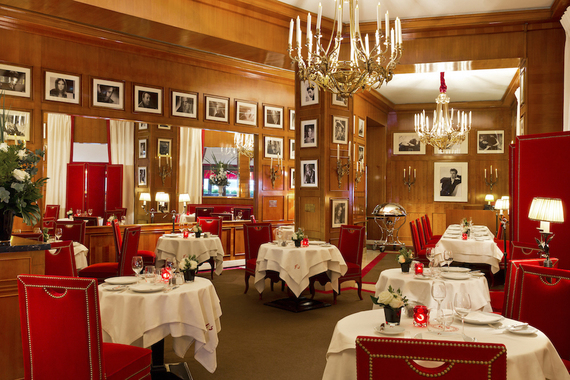 The fine interior dining room, called Fouquet's (above) that leads to the terrace is done in rich red fabrics and polished wooden décor, with white roses on eac table. Here, too, the walls are hung with movie star photos from Charles Boyer to Carole Bouquet.
We began with asparagus lavished with watercress cream, set with a quivering poached egg whose yolk was as golden as the Parisian sunshine. Tomatoes with basil and burrata cheese was an unexpected surprise on a menu so thoroughly French. A nicely seared filet of beef was finely grained and very toothsome, accompanied by a creamy Béarnaise, buttered and firm but tender green beans, and fat fried potaoes. Merlan Colbert -- a very classic dish--was perfect: crisply fried and buttery whiting with boiled potatoes, a raft of chopped parsley and sauce tartare. For dessert I recommend the luscious caramel chocolate croustillant and the brightly colored meringues with fresh berries (right). À la carte, a three-course meal will run about €95, with a Menu of the Season at €90.