As the Dallas economy booms, flush with oil money and new development, the arts and restaurant landscapes have flowered like never before. And the new places are packed. Here are some of the exciting entries right now.
GEMMA
2323 North Henderson Avenue
214-370-9426
gemmadallas.com
Lovable is the word that immediately came to mind as I entered this slightly out of the way new restaurant in the Lower Greenwood neighborhood that needs just such a place. Husband and wife team Stephen Rogers and Allison Yoder relocated here from Napa Valley where they'd spent several years working at the highly regarded restaurant Press, then it seemed time for Dallas-bred Rogers to head home and show him what he'd learned. Allison would be the gregarious face in the dining room.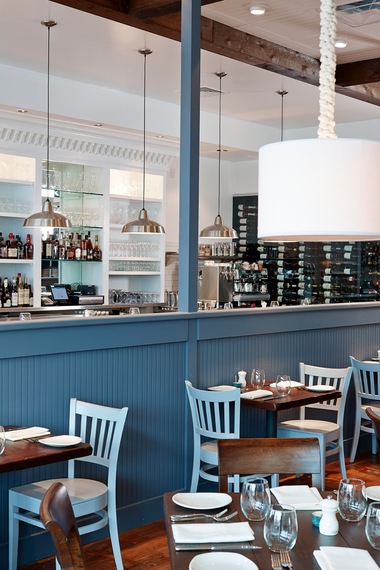 This is one of the least pretentious or overworked new restaurants in the city, cozy, homelike, and, for once, without a crippling noise level. The clean white and Dutch blue colors lighted by hanging lamps play well off the marble counter and glass wine case. The staff couldn't be more affable, and the menu is precisely the length a small operation like this should have: a slew of appetizers that range from raw seafood and beef tartare ($14-$16.50) -- both very good -- to half a dozen vegetable options that include herbed French fries ($5.25) that go fast at every table. Crispy sweetbreads are served simply with whole grain mustard and a refreshing frisée salad ($12.50), and one of the most pleasing items is a butter lettuce salad with a red wine vinaigrette and pecorino romano cheese ($8.75).
Everyone these days is serving pasta on their menus, often with no notion of what a good pasta dish is, so I was impressed and delighted with pappardelle with rich lamb shoulder, king trumpet mushroom ragù with diced asparagus and lemon thyme ($25.95). I'd already heard from several people that I just had to order the veal cheeks, so I did, as enchanted as my advisors by the meat's lush texture, braised to velvety tenderness and served with hearty Tokyo turnip, baby carrots, baby onions, bacon and black pepper spaetzle. ($24.25).
Desserts play the same role of impressing by being homey and honest, including a Basque-style cake with lemon ice cream and a frozen citrus soufflé ($9). Cream cheese crêpes with huckleberry compote on a Graham cracker didn't need the extra dairy of lemon ice cream ($8.50). Gemma's cocktail list is long, its wine list modest but well-chosen.
You're undoubtedly going to see both Chef Stephen and Allison in the dining room, because they truly do want to know what you think of everything they have so carefully crafted to reveal what I must only suppose is a reflection of their own very personal sense of hospitality.
Gemma is open Wed.-Sun. for dinner.
BOULEVADIER
408 N. Bishop Avenue
214-942-1828
Though new to me, Boulevardier has been around for two years and continues to draw a very, very regular crowd that packs this convivial French bistro run by Brooks and Bradley Anderson, chef Randall Copeland and chef Nathan Tate. You may indeed have the sense of a Parisian eatery when you see the deliberately aged walls, scuffed wooden floors, oysters on ice, painted wooden chairs, and wall rack of wines.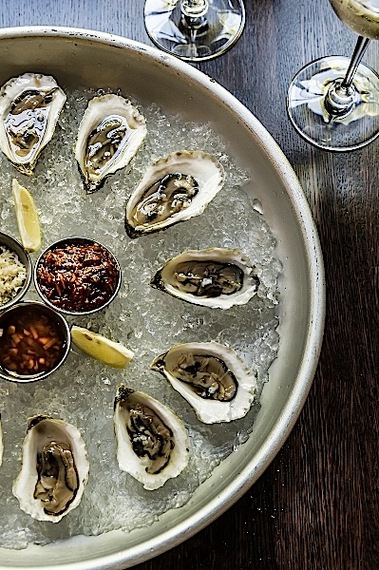 Alas, Boulevardier is much louder than any Parisian bistro I've ever been to, as much a result of such hard surface materials as it is the decibel levels Dallasites can reach while conversing with friends.
The food, however, is solid, and you can tell the staff has been assiduous in getting classics like onion soup just right ($10); their version is about as fine and flavorful and sweet and caramelized as any I've had on the Left Bank. There is a hefty marrow bone roasted to succulence here, and while the crawfish beignets might skirt authentic French tradition, call them Creole and be happy you ordered them, with a rich aïoli for dipping ($12).
Of course there's bouillabaisse -- a little expensive at $30 but generous -- and braised lamb neck with toasted orzo and a red wine braisage ($27), which came to the table far less bubbly and hot than I expected: apparently they transfer the cooked ingredients to an iron casserole but do not heat things through enough.
For dessert, go with Nancy's bread pudding ($8) lavished with huckleberry jam, bourbon butter sauce and vanilla ice cream. Then maybe sit back, finish your glass of Grenache or nurse a Cognac, and perhaps recall just such a place from your salad days and your first dinner in Paris.
Open Tues.-Sun. for dinner; Sat. & Sun. for brunch.
CBD PROVISIONS
1530 MAIN STREET
214-261-4500
http://www.cbdprovisions.com
Set next to the Joule Hotel downtown, CBD Provisions (no one ever told me what those letters stood for) has successfully avoided the onus of being a hotel dining room though it serves breakfast, lunch and dinner from the long, open kitchen here, supervised by Chef Michael Sindoni, who is so admirably veering away from the expected by offering an array of dishes that ask his audience to be a bit adventurous.
The walls are brick, the floors planked from salvaged wood, the lighting low (the waitress may bring you a flashlight), and the noise level is high, not helped by throbbing piped-in music. It's a décor that will remind you of many others you may have seen in so-called American brasseries, but the comparisons stop when you get the menu.
You could, of course, play it safe and order pork rinds or a burger here, but the great stuff goes in other directions. Start with the "Little goat pie," which is terrific, not least its perfect pastry ($6), and if you love tripe--which rarely appears on Dallas menus--dive in at CBD: it's done with spicy house-made chorizo and smoked paprika, enriching the taste and tender texture of the tripe magnificently ($12).
Among the large plates there is superb heads-on shrimp with grits ($19), more spicy condiments--this time Italian n'duja chile, and local peppers. Sindoni packs everything he cooks with big, tantalizing flavors. Only a pork shoulder ($18), cooked for 18 hours, didn't quite have the savory impact of the other dishes I tried.
And then there's the Berkshire pig head carnitas meant for a table to share($43). Yes, it really is a pig's head and it ain't pretty and it overlaps the plate. From the skin to the custard-like flesh beneath the pig's cheeks, it is a unique marvel, enhanced with roasted tomatillo salsa and hot tortillas with which to soak up the juices. Does anyone actually order this thing? Well, aside from the one slapped down on my table, a remarkable number of pig's heads were headed to others' throughout the night.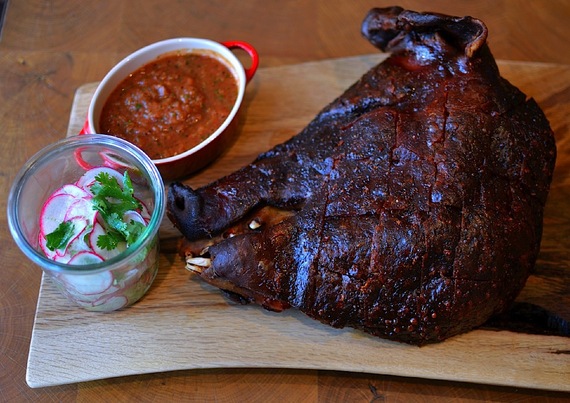 You may skip dessert but shouldn't: the cinnamon bread pudding with salted sorghum caramel, brown butter ice cream and spiced pecans, and the seasonal fruit cobbler with almond oat crumble and horchata ice cream are as delicious as any desserts in Dallas right now.
The wine list is strong in its by-the-glass section, but the small bottle selection lacks focus and has only five wines under $50 on it.
CBD Provisions takes chances but what I like especially about Sindoni's ideas is that they fall well within modern Texas cookery while nudging guests to take a chance and be amazed.
Open for breakfast, lunch and dinner daily.
Spoon Bar & Kitchen
8220 Westchester Drive
214-368-8220
spoonbarandkitchen.com
At a time when the comfort and cosseting of guests seems rare and respect for the rigors of the hard-won mastery of cuisine fading, Chef John Tesar's Spoon Bar & Kitchen is a reminder that true excellence is not about spontaneous combustion in the kitchen.
Tesar, who chose to stay in Texas after earning his impressive credentials in New York and Las Vegas, first built his rep at The Mansion on Turtle Creek in Dallas, then, following a zig-zag of career moves, returned to open Spoon--certainly the most exciting seafood restaurant to open since New York's Marea five years ago and Le Bernardin back in the 1990s.
The food is deceptively but exquisitely simple, from the service of raw seafood like yellow tail with Texas ruby red grapefruit and toasted beets to Singapore style chili lobster and Texas toast. His classic French training shows in the intensity of his reduction of a red wine sauce with a swordfish steak in a wild mushroom crust, and the recipe for his potato gnocchi with jumbo lump crabmeat and black truffle essence should be required reading at every culinary school.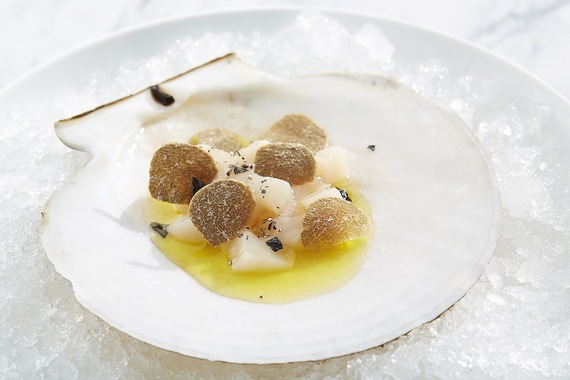 Add to this a low-lighted, low-decibel level dining room in soft grays and sea foam colors, a pleasingly dressed staff that knows its stuff and is cordial without a whiff of pretension, and you have a restaurant whose coalescence of great, innovative food and a sophisticated, casual ambiance conspire to make Spoon a totem of fine dining in Texas right now.
Open for breakfast, lunch and dinner daily.
Stampede 66
1717 McKinney Avenue
214-550-6966
www.stampede66.com
Stephan Pyles is no stranger to me: thirty years ago his Routh Street Café was one of the pioneers of New Texas Cuisine, and I've praised several other of his restaurants in the years since, calling him Chef of the Year for his namesake restaurant Stephan Pyles. Now, with Stampede 66 (the numbers refer both to Philips 66 gas stations and to the iconic Route 66), he has culled all he's learned and all he truly loves about the old and new traditions of his home state and brought them to vivid life in a hugely entertaining restaurant with video screens projecting rodeo scenes and Texas sayings, like, Molly Ivins's "Next time I tell you someone from Texas should not be President of the United States, please pay attention," along with fine sculptures by leading western artists, cowhide upholstery and a wondrous collection of longhorns.
Then there's the food -- the sublimation of down-home cooking into great cuisine, from the crunchy honey-fried chicken with buttermilk biscuits and mashed potato tots to the lush shrimp and grits and smoky barbecued beef brisket with potato salad. For dessert you can't go with anything--butterscotch pudding with salted caramel or sweet corn icebox pie or the chocolate custard and ice cream float with a bottle of the coveted real sugar Dr Pepper.
Anyone who cannot wrap his arms around this food is very probably without a pulse.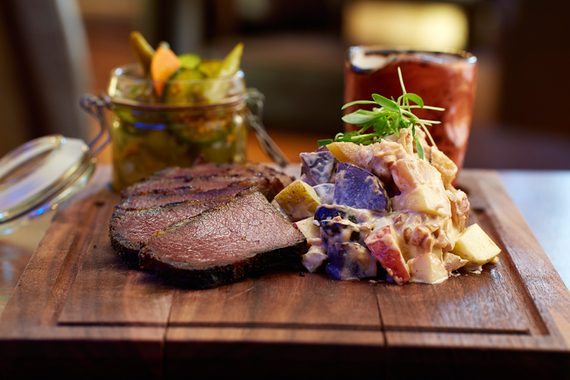 Stampede 66 is open for Lunch Mon.-Fri., for dinner nightly.
Popular in the Community