The often myopic East Coast-based food media who never set foot in Dallas continue to believe that Tex-Mex and barbecue pretty much sum up the city's gastronomy, so they thereupon focus coverage on those eateries alone. But if they'd actually visit, they would find Dallas to be one of the most diverse food cities in America, certainly ranking in culinary importance with Chicago, Boston, and DC, and surpassing Seattle, Portland, OR, and Charleston in breadth and depth of offerings.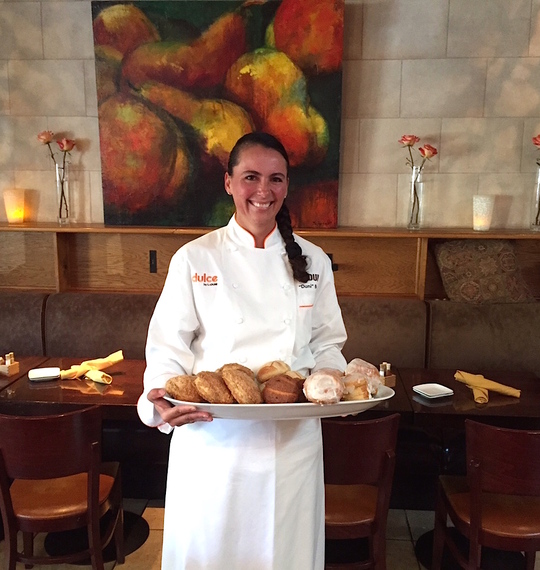 To be sure, good Tex-Mex and barbecue are to be found in Dallas, but the upscale and the ethnic dining scene thrives right besides them, from classic high-end restaurants like the French Room at the Adolphus and Fearing's in the Ritz-Carlton to a modern Japanese restaurant like Tei-An and the truly Mexican Ruth's Tamale House; from indigenous steakhouses like Al Biernat's to cozy bistros like Boulevadier and the beloved 1957 landmark Zodiac Room in Neiman-Marcus. Oddly, the city lacks anything like a first-rate Italian restaurant.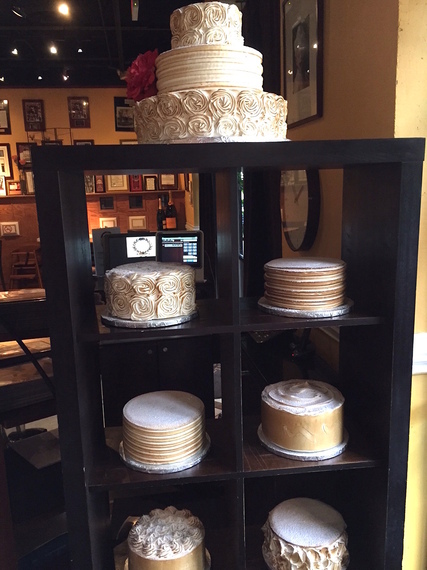 A return trip to Dallas last month reminded me of the rich panoply of engaging spots from breakfast through dinner. I was so happy to get back to La Duni (below), with three locations, which not only serves the best pastries in town--the tres leches cake is devastatingly delicious--along with bountiful dishes like eggs Benedict and honey ham in a giant popover ($11.45); a tostada filled with eggs, bacon, black beans, salsa and potato called migas ($10.50); and enchiladas suizas with Gruyère cheese and basmati rice ($14.25). As appealing as the food is, owners Dunia (above), Columbia-born, and Espartaco, a Spaniard, Borga lend their thousand-watt personalities to their restaurants. Dunia was selected "Best Pastry Chef" by D Magazine, and, with Chef Julia Lopez assuring consistency every day, La Duni is easily one of the most popular restaurants in Dallas.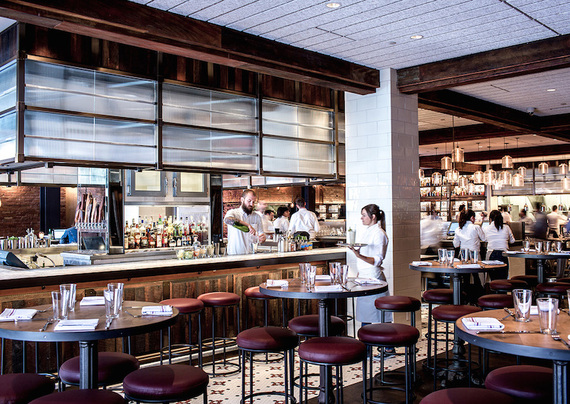 One of the best of the city's new restaurants, CBD Provisions (above), is set within the city's best modern hotel, The Joule, whose striking design, lighting and artwork would be unique in any city. CBD serves breakfast, lunch and dinner out of a long, open kitchen supervised by Chef Richard Blankenship, who has a canny way of spinning traditional Texas and American dishes with just enough panache to make them taste brand new. These include buttermilk rye pancakes with bourbon maple syrup ($11) at breakfast, and, at dinner, a dramatic table presentation of a whole Berkshire pig's head with crisp skin and custard-like flesh, enhanced with roasted tomatillo salsa and hot tortillas. CBD also has a wide-ranging artisanal beer collection worth perusing.
At the high end of Dallas dining, the restaurant at the Mansion on Turtle Creek has had four decades to establish itself as a place for the big splurge, although it's now a far more casual place than it used to be and thereby lost much of its previous glamour. French chef Bruno Davaillon continues the Mansion's tradition of refined modern global cuisine, evident in dishes like his ahi tuna with gazpacho, peas and tuna sauce ($20) and his scallops in coconut broth with lemon verbena and mussels ($44). The Mansion's famous tortilla soup remains on the menu always.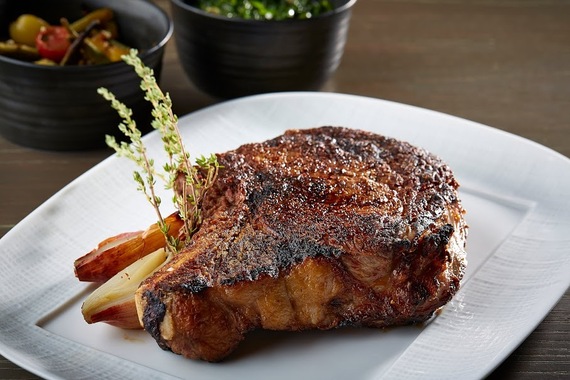 I can say without fear of contradiction that there is no more seriously committed steakhouse in America than Knife (above), an expansive, handsome, open-kitchen dining room where Chef John Tesar is pioneering aging techniques for his superlative dry-aged beef (below), with one cut spending 240 days in temperature-controlled lockers to achieve a remarkable, deep flavor in the meat, which is sold at $80 the inch! There are also slabs of crispy pork belly with collard greens ($18), spicy blood sausage ($29), and a tasting of five bacon varieties ($14). Knife is setting a standard that other steakhouses around the country will be taking a good look at to see how they might measure up.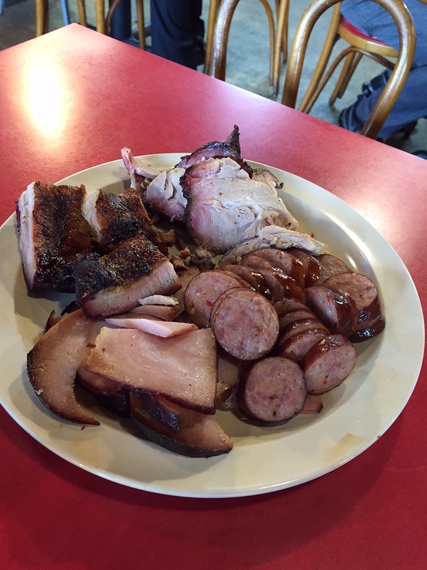 Of course, there really is every reason to search out good barbecue in Dallas, especially since the once herald Sonny Bryan's Bar-B-Que stand has sadly lost all its luster after a corporate takeover. My new favorite is Smokey John's (above), not just for its exceptional ribs ($11.95) and smoked brisket ($15.95), but for a wide variety of soul food dishes like hearty baked chicken ($8.95), fried catfish, sweet potatoes, cornbread, and the terrific hot garlic sausage ($13.95) no one else is doing. What's more, every Tuesday there is joyously thrilling gospel singing and a prayer meeting, so you'll not only leave well fed but singing halleluiah.
To get a sense of the way Dallas's dining scene has developed, it would make sense to eat at each of Chef Stephan Pyles' restaurants. Pyles was one of the pioneers of "New Texas Cuisine" back in the '80s, and his restaurants are always evolving: the newest, San Salvaje ("wild saint"), is a casual, colorful, sexy restaurant and bar with an outdoor patio where you can sip a well-made margarita and nosh on items like Ecuadorian potato cake with bacon and egg ($10) and fried squid tacos with preserved lemon ($8), or larger plates of fried whole branzino with pickled green beans and a mango-habanero mojo ($24). At Stampede 66 (below) , you'll find a vast dining room of fascinating western art incorporating steer horns and barbed wire as well as a TV showing western movies. Here Pyles is re-interpreting Texas cooking with dishes like Pedernales chili ($12), sweet potato and wild boar tamales ($12), and a rich warm brownie with Snickers-laced ice cream and a Dr Pepper float ($10). It's a place people never seem to be in a rush to leave.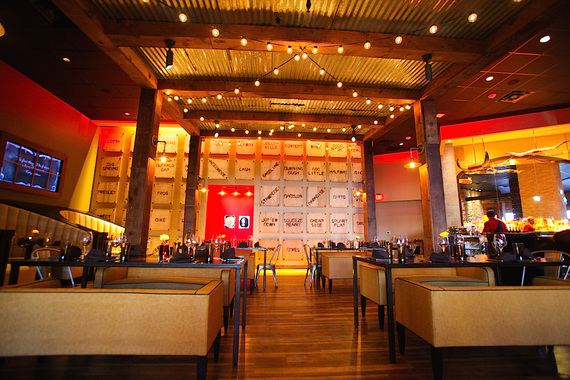 Pyles is now in the process of relocating his fine dining room named Stephan Pyles, so I hope to return in the fall when it's up and running strong.
I cannot leave any report on Dallas without noting the opening of a remarkable place called Café Momentum, whose director Chad Houser, chef de cuisine Eric Shelton and sous-chef Justin Box are offering young people in pre-release detention programs a chance to learn culinary skills and every aspect of the restaurant business, working side by side with established chefs in town. In contract with the Dallas County Juvenile Justice Department, they opt to take on youth deemed at highest risk for incarceration, and their recidivism rate for program graduates is dramatically below others in the juvenile justice system.
Momentum (below) gives these young men a cultural context within a world they know little about, and, from meeting several of these interns, I sensed that for many this was the best thing ever to happen to them and the first shot at a redemptive livelihood.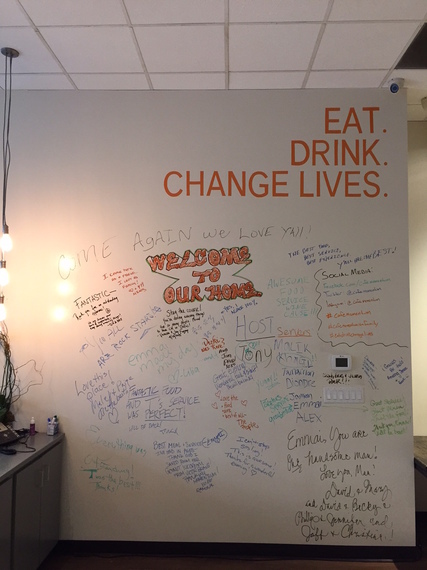 And we get to feast on their efforts in multi-course meals that range from shrimp and grits beignets with tasso aïoli ($11) and smoked fried chicken with biscuits, braised cabbage and mashed potatoes ($21) to pork loin with cider beans, mustard seeds and apples ($20), ending off with fried apple pie with smoked cheddar ice cream and cinnamon walnuts ($8).
On Momentum's wall are written the wonderful words "EAT. DRINK. CHANGE LIVES" and "Welcome to Our Home." Both are sentiments of Dallas hospitality at its most endearing and effective.
Related