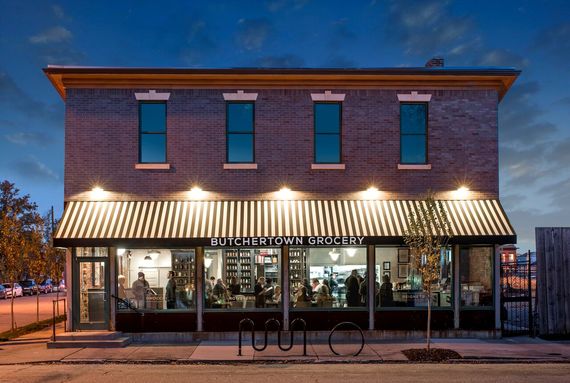 Louisville has always had a commendable number of restaurants of every stripe, from the one-of-a-kind Seviche to the modern Proof on Main, from the wonderfully old-fashioned Pat's Steakhouse for the fried chicken and T-bone to The Brown Hotel, where the Hot Brown sandwich was invented. Young chefs, new neighborhoods and a demand for first-rate ingredients have brought life back downtown and the city's residential neighborhoods.
THE ENGLISH GRILL
The Brown Hotel
335 West Broadway
877-926-7757
brownhotel.com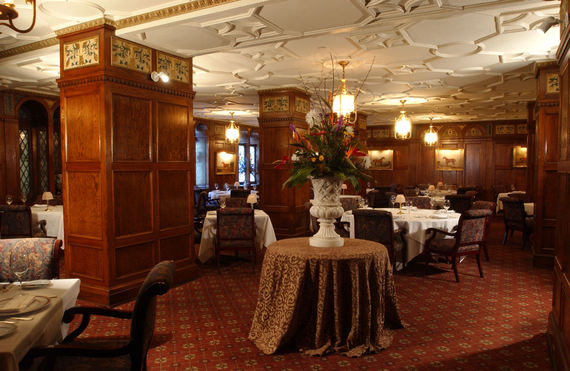 The Brown Hotel, opened in 1923, is certainly Louisville's most historic and majestic caravansary and is home to Louisville's finest restaurant, The English Grill whose dark oak paneling, lead glass windows, tracery ceilings and equestrian paintings transcend being merely historic by virtue of their polished beauty, with a cordial service staff to match. Executive Chef Joshua Bettis focuses as much as possible on Kentucky resources but readily seeks out the best he can find anywhere. Thus, he gets beautiful sea scallops, which he serves with a sunny side-up quail egg and rich Béarnaise, "Benedict style," along with lamb bacon ($14). There's a crab cake on the menu, good and meaty and with minimum binder, served with creamy celeriac remoulade ($13). Bettis also does another old-fashioned dish, lobster Thermidor, abundant with lobster meat removed from the shell and lavished with cream and a touch of sherry ($52). The trick with this dish is to not overcook the lobster or overpower it, and Bettis's version is as fine as any I've had over the decades.
The flavor of a grilled double-cut Kentucky pork chop ($36) was extraordinary, showing why American pork can be superlative when it retains its natural fat.
For dessert there is a spiced brioche rum pudding ($10), but don't hesitate on choosing the signature item here--"Chocolate Striptease" (right)--whose meaning eludes me but whose combination of milk chocolate mousse, espresso steam cake, and salted caramel, then flamed with Bacardi 151rum ($10) is as much a hoot as it is a grand dessert.
Too many people save an evening at The English Grill for a special occasion, for while it is very special indeed, it is also a place to appreciate the true and enduring genteel charms and hospitality of Louisville at its finest.
Open Mon.-Sat. for dinner.


BUTCHERTOWN GROCERY
1076 E. Washington Street
502-742-8315
butchertowngrocery.com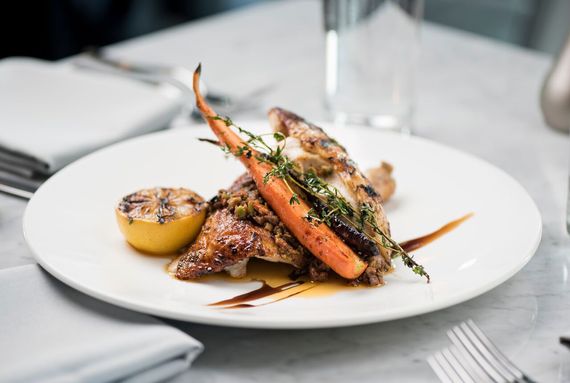 The name derives from an old grocery, dating to 1875, once called Gunkel's, known as much as a Louisville gathering place as a place to buy provisions. As a new restaurant it is easily as convivial, and its décor pays a rustic homage to the space's origins, with expanses of brick walls, weathered exposed wood on the ceiling, marble tables, and a tile floor, along with very comfortable banquettes and a very popular bar up front. It does get loud. Owners Jon Salomon, Patrick Hallahan and chef Bobby Benjamin have managed to keep a balance between casual surroundings and serious food, and they've kept the wine list at very decent price points, with about half the bottles under $50.
There are the expected burgers and sandwiches ($14-$18) as well as two very good pasta dishes--fettuccine with wild mushrooms, bacon, goat's cheese, a little lemon zest and a judicious dusting of herbs ($14), and first-rate, perfectly textured potato gnocchi with mushrooms and parmigiano ($9).
Two of the entrees showed the kitchen's adept timing with cooking--beautiful rainbow trout (above) with fregula, charred onions and peppers with creamy avocado ($24), and sweet diver's scallops with parsnips, fried leeks, and a delicious orange butter to bind it all together with a little sweet-and-tangy counterpoint ($27). Adding the flavor of white anchovies to an otherwise well-cooked roast chicken ($28) was not, however, Chef Benjamin's best idea, unless you enjoy chicken that tastes fishy and sour.
All the desserts are sumptuous, from a fine cheesecake to a hefty but not too heavy bread pudding and a juicy berry crumble--great endings with which to enjoy a nightcap from the bar.
You can tell that the owners of Butchertown Grocery had a distinct idea of what kind of place it should be, and the pieces all fit as they should and the place has great charm and seriously good food and drinks.
BLUE DOG BAKERY AND CAFE
2868 Frankfort Avenue
502-899-9800
bluedogbakeryandcafe.com
The whole idea of a casual breakfast or late afternoon sit-down to a pastry and hot coffee must be the universal daydream of all who rush through their lives fueled by coffee from a dispenser and a donut. So the lovable Blue Dog Bakery is where you go when you want to savor your take-out pastries and coffee at home or at work or, better, to bask for a while in the pleasures of going slow on premises.
As their website states, "Artisan breads are made to be eaten," meaning that a loaf that owners Bob Hancock and Kit Garretts and their staff take two days to make right deserves to be enjoyed when it's ready, not the next day, which seems obvious when you taste it. They list their baking schedule, too: baguettes Tuesdays through Saturday, brioche Friday and Saturday, cranberry walnut on Saturdays, and much more
The front counter is also piled high with big cookies, tarts, muffins and scones, along with breakfast quiches and house-made granola. For brunch you can have eggs on levain bread with Serrano ham, spinach and Parmesan ($9); sandwiches like saltimbocca with Serrano ham, chicken, smoked mozzarella and peperoncini ($9); for lunch, wonderful tartines and pizzas, including poached egg and bacon pizza ($12) and a sardine tartine with Great Northern bean puree, capers, scallion and chilies ($11).
Plan on taking your time at Blue Dog. You'll want to linger.