THE UMSTEAD HOTEL
AND SPA
100 Woodland Pond Drive, Cary, NC
919-447-4000
theumstead.com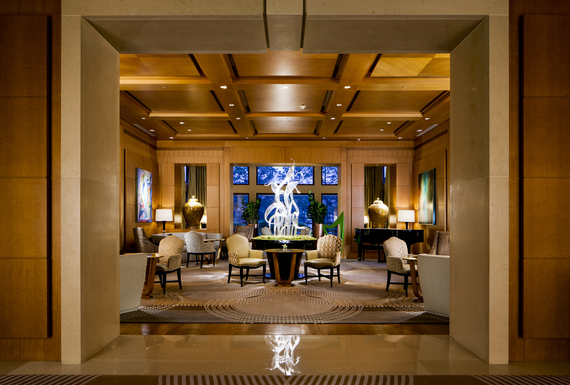 Built by local philanthropist and art collector Ann Goodnight, whose husband, Jim, made a fortune as founder of analytics software giant SAS, The Umstead Hotel and Spa is spread over 12 acres of landscaped woods and river, and its restaurant, Herons, has become one of the finest in America. Executive Chef Steven Greene and Chef de Cuisine Spencer Thomson have worked hard to earn just about every top hospitality award from the media, and I happily chime in.
The dining room has perfect romantic lighting, genial table spacing, a civilized sound level and a sophisticated service staff that would easily fit in just as well in New York. While I mentioned to Chef Greene that some of his dishes were in need of editing--canapés on billowing dry ice, too many ingredients on a plate of scallops with cauliflower custard, carbonized bamboo, tapioca and black rice--the overall quality was on a par with the best in America right now, beginning with various textures of beets with pistachio, a touch of trout roe, purple sorrel and goat's milk. White chocolate was a surprisingly good addition to a dish of chestnuts with quince, bacon, brown butter and crème fraîche, and sea bass was impeccably cooked, served with carrots, vaouvan-spiced curry, tender Littleneck clams and citrus-scented kasha.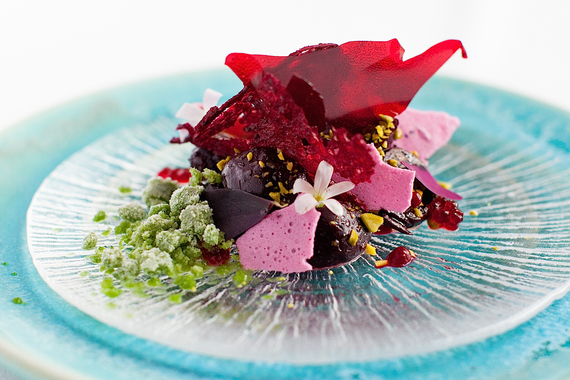 These and many other courses were matched with excellent selections of wines, from a Viognier with the chestnut dish to a Spätburgunder with the sea bass. Desserts were showy but superbly rendered, including a crèmeux of milk chocolate, kalamansi, green tea chiffon and cocoa pearls, as were the end-of-the-meal mignardises. Herons matches everything else of quality at the Umstead but stands as a culinary beacon in the entire region, a restaurant of great generosity and elegant proof of fine dining's enduring pleasures.

STANDARD FOODS
205 East Franklin Street
919-307-4652
standard-foods.com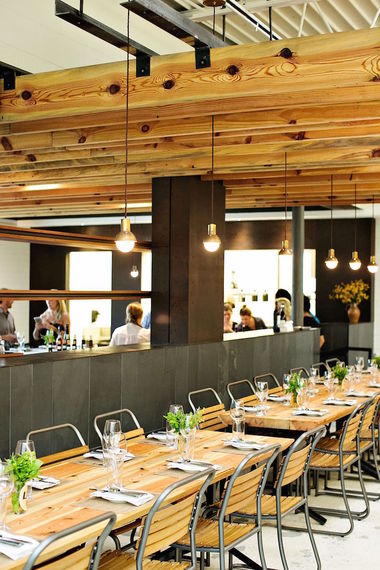 (photo: Jessica Crawford)
Standard Foods pretends to no such luxury as The Umstead but happily represents the seriousness of modern cooking under an impressive chef who relies on the quality of local ingredients, which are also sold right on the premises, including meats, local fruits and an array of Southern products from un-homogenized milk to burlap bags of stoneground grits and honey from a local apiary.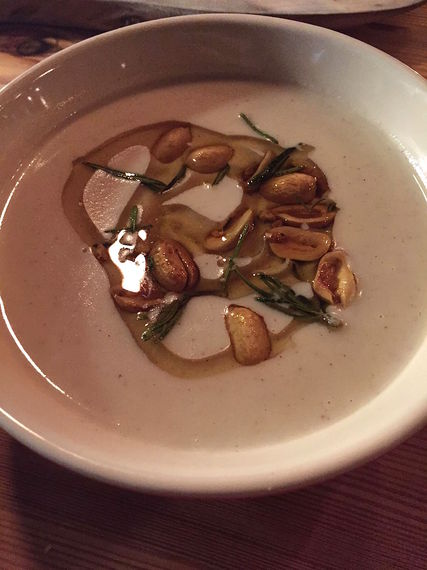 The dining room is to the left, a very casual place, lots of wood on ceilings and tables, a cement floor and an open kitchen to the rear. When I was there the noise level was deafening, but I'm told that some re-designing has ameliorated this drawback. Best thing to do is order family style. Chef-owner Scott Crawford, former chef at Herons and before that at The Cloisters in Sea Island, GA, along with Chef de Cuisine Bret Edlund present such exquisitely beautiful dishes it would be a crime not to share them with your friends, fork by fork, spoon by spoon
Menus change depending on season and availability, but I hope they will always serve the savory-sweet apple soup with smoked brown butter, peanuts and a sprinkling of rosemary ($19); a dish of rabbit and light dumplings with sweet potato, green apple and a tinge of tarragon ($14) sums up what modern Southern cuisine is all about. You can order a butcher's board of charcuterie ($18), complete with housemade lardo, and don't fail to get the Parmesan grits with wild mushrooms, squash and hazelnuts ($20). Flavors of fennel, radish and a sorrel vinaigrette enhanced fine quality swordfish ($24), and of course there's good pork here, with white beans, sausage and apple mustard ($26). I'm afraid the grass-fed beef just doesn't make for fat-rich eating, though it's helped in the dining room by smoked onion, sunchoke tots and marrow butter ($26).
We loved the caramel rum cake with goat's cheese and crème fraîche sherbet ($10), as well as the chocolate brioche with pecan butter, hot chocolate and soft cream ($12), one of those desserts hard to improve upon.
This is Raleigh's hot spot right now, jammed from Day One, and for all the right reasons of good honest food, wine, and conviviality.
BIDA MANDA
222 South Blount Street
919-829-9999
bidamanda.com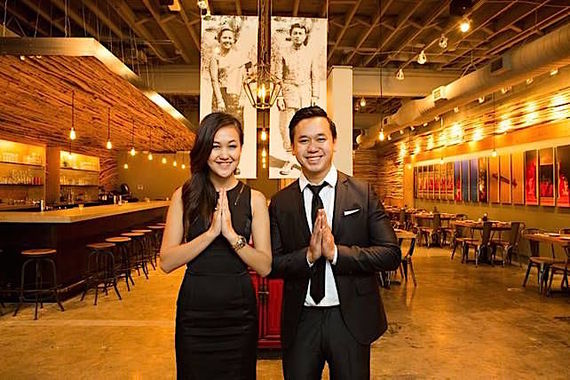 Bida Manda is yet another facet of contemporary dining in Raleigh, and yet another American Dream come true. Owners Vansana and Vanvisa Nolintha (left), along with Chef Lon Bounsanga, are from Laos, and the name Bida Manda describes "the Sanskrit ceremonial term for father and mother," in honor of the Nolinthas' parents.
The two-room downtown eatery has become a very popular spot in Raleigh, not least because of the owners' own amiable hospitality. Laotian food is just not easy to find made this well anywhere I know of, for there are few contenders elsewhere in or out of the South.
The two-sided menu offers appetizers enough for a whole meal--crispy rice lettuce wrap ($7.90), tom ka kai chicken soup with galangal and coconut ($5.90), and wonderfully crisp spring rolls filled with either ground pork or minced vegetables ($7.90). The star among main courses is the crispy pork belly soup called mee ka tee ($10.90), teeming with peanuts, vegetables and rice noodles with tantalizing seasonings. Chicken curry, kali kai mae amphone ($8.90), combines generous cuts of chicken with root vegetables and aromatic jasmine rice, while thum mak houng is a green papaya salad that accompanies a flatiron streak ($10.90) or grilled chicken with lemongrass ($8.90).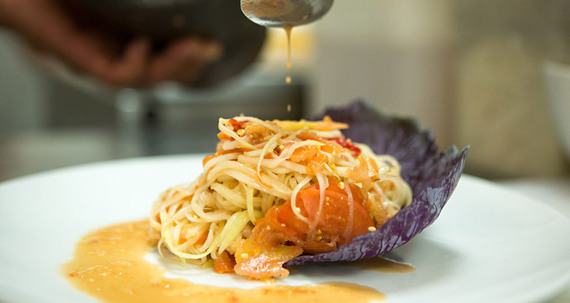 To say that one meal here will addict you to this kind of food is an easy assertion, and I can't imagine not dining at Bida Manda at least once a week were I in Raleigh, not least because the prices are so modest but also because the excitement level is so high, and the owners are so intent on both pleasing and educating you in the sweetest possible way.