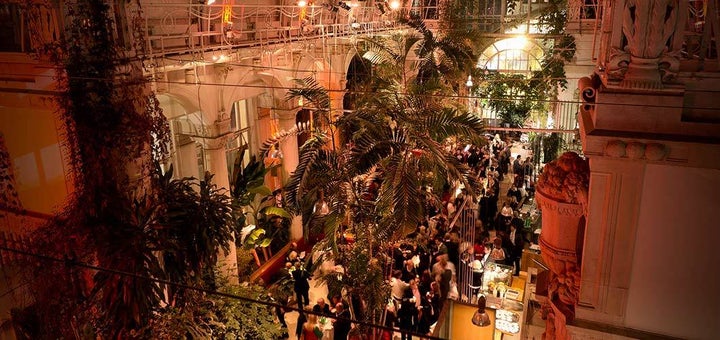 Palmenhaus Cafe Restaurant
DINING OUT IN VIENNA, Part Two By John Mariani
PALMENHAUS CAFÉ RESTAURANT
Palmenhaus Burggarten 43-1-533-1033-13
What a splendid place this! Set within a long greenhouse dating to 1822 within the Hofburg Palace Gardens and re-designed in 1901 by architect Friedrich Ohman, who brought in huge palm trees, the restaurant actually saved the structure from the decrepitude into which it had fallen by 1988, when it was closed to the public for ten years. After an investment of $17 million, it is now one of the most beautiful buildings of its kind in the world, complete with a butterfly house. You can imagine it is very popular as an event venue .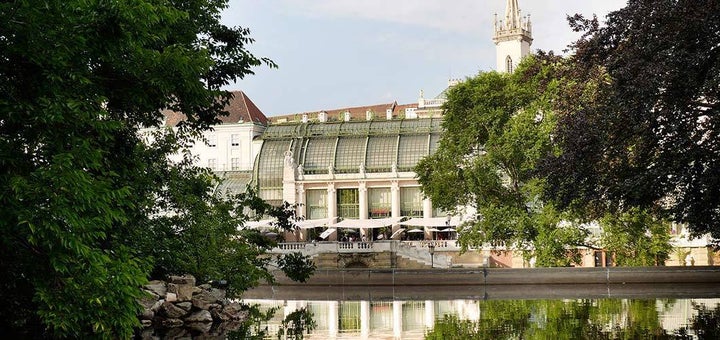 The staff is young, both on the service side and in the huge open kitchen, and the food is a mix of Austrian and international fare, which, in the spirit of things here, offers a kind of open-ended menu. You can have just a bowl of carrot soup (5.80€) or jalapeño-riddled meat loaf (12.80€) or a larger meal of a mixed grill (23.50€) of lake and sea fish, all of which are impeccably cooked. Sandwiches are hefty and served on a baguette; we loved the spicy sausage, peppers and sauerkraut.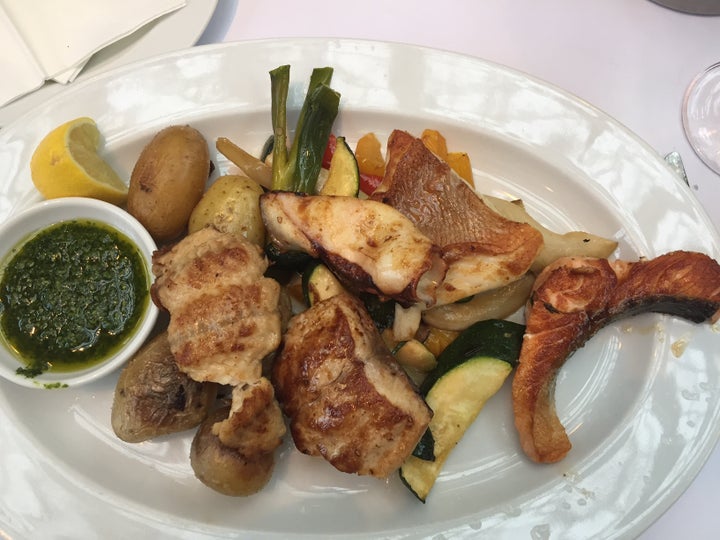 The menu changes all the time, so when young herring is in season they serve it with red onion, apple-sour cream and buttered pumpernickel (14.10€), and for desserts they'll bring in exotic fruit like mangolassi with a blood orange sorbet (9.20€). There's a wine list adequate for this kind of big bistro, and plenty of beers to choose from. I was at Palmenhaus in early winter, when its warm interior was a balm after a long cold walk through the streets of Vienna. I can only imagine how beautiful it must be in the other seasons, when the gardens are in full flourish.
Open for lunch and dinner Wed.-Sun.; for breakfast Sat. & Sun.
RESTAURANT GRAND FERDINAND AM RING Hotel Grand Ferdinand Schubertring 10-12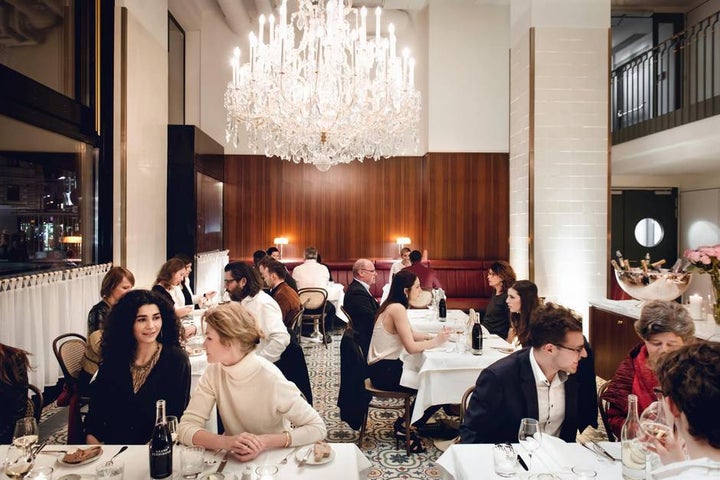 Just a few doors down from the Ritz-Carlton is the Hotel Grand Ferdinand, whose restaurant of the same name hearkens back to the sumptuous cuisine of the Hapsburg Empire, including, of course, Wiener Schnitzel and—presented with great flourish the way it used to be—tafelspitz, the famous boiled beef dish that here is wheeled out on a silver cart and ceremoniously carved and plated tableside. From that steaming cart comes generous slices of shoulder, leg, tongue and marrow bones with a ladle of restorative broth, served with creamed spinach, lettuce with peas, pan-fried potatoes, apple horseradish and horseradish chive sauce at a remarkable 26€.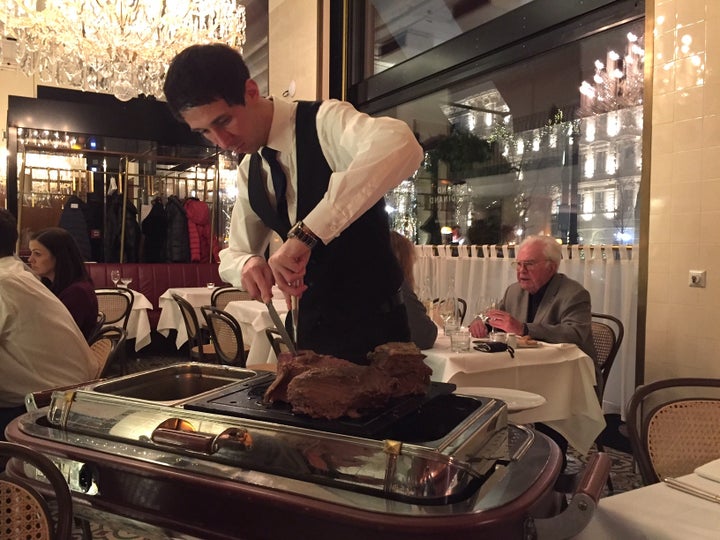 Before that, consider the cured salmon with marinated cucumber (14€) or the delicious Kaisersuppe (8€), a hearty veal soup with sweetbreads and morsels of tongue. One of the other classics on the menu is "minced meat fritters à la Metternich," with spinach and poached egg (€24), said to made according to an original 1814 recipe and named after a Prince Metternich, who, to judge by this example, must've had fairly bland taste. You may follow the main course with a selection of sweets that include sweet ravioli called powidltascherl, chocolate cake and a dessert called "Wiener Waschermadl" (14€), meaning Viennese washerwoman, perhaps because the pastry is twisted like laundry. Kaiserschmarn is a fine dessert made of cut-up caramelized pancakes (12€). On Ash Wednesday (March 1) the restaurant will hold an Old Viennese "Heringsschmaus" of seafood dishes like pike dumplings with dill cream and carp soup. The wine list is not extensive but the selections, from Eastern and Western Europe, are admirable, with a good number of brandies, and the prices are reasonable. The dining room has enormous warmth and charm, well lighted by shimmering chandeliers, with double white tablecloths, café curtains, patterned tile floors and bentwood bistro chairs. You feel very much that you are a part of what is old and what is new in Vienna gastronomy right now.
HUTH GASTWIRTSCHAFT Schnellinggasse 5 43-1-513-56-44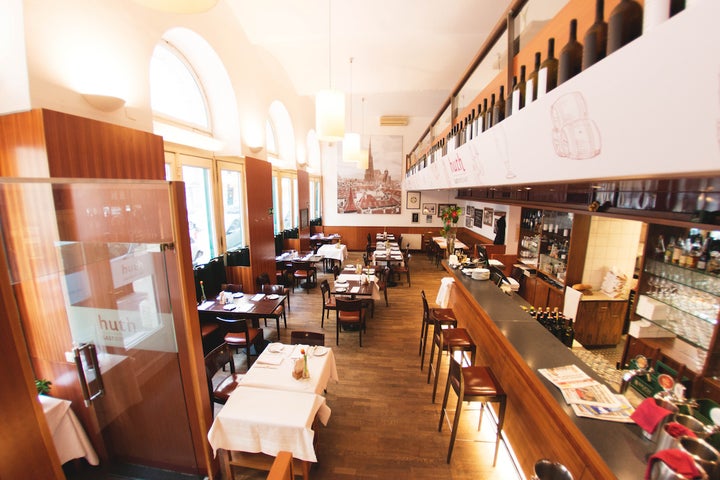 One of four disparate restaurants—two on one street (one a pizzeria)—owned by the Huth family, this Gastwirtschaft is the most traditional and easily the most popular. Best make a reservation, especially since paterfamilias Herr Richard Huth himself is not moved by your arriving without one and asking when a table might free up. The fact is, they do fairly quickly, but you can sit at the bar, where, if you order a cocktail, he will tell you, "We are a restaurant, sir, not a cocktail bar!" Wine and beer are served there. Still, by 9 p.m. there were plenty of tables to be had by just walking in. Once seated in the two-story dining room, you'll find the atmosphere is casually sophisticated and very friendly, and if you can engage the sober-faced proprietor in conversation, he may warm to you and tell you that his is the "original Wiener Schnitzel," which is difficult to believe since the dish is the national dish of Austria and originated in the middle of the 19th century. I'm sure Huth means his is made according to the original recipe, alleged to have been brought back from Italy by Field Marshal von Radetz in 1857, but without any real historical evidence.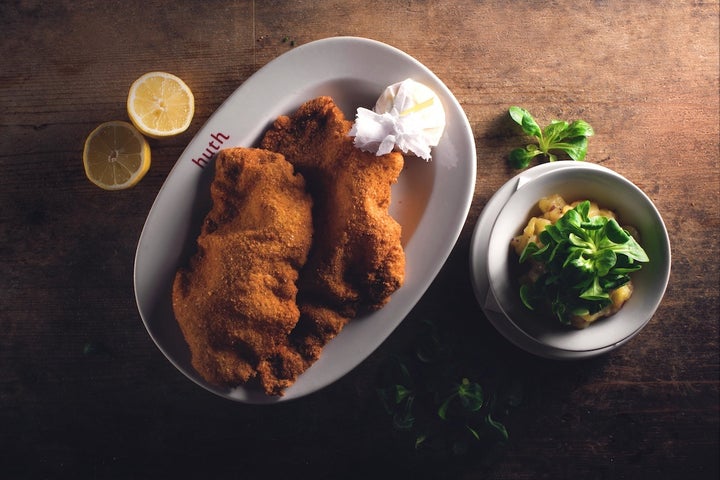 In any case, Huth's deep-fried Schnitzel (18.90€) is excellent, impeccably crispy, not at all greasy, served with a nice green salad and lemon. Before that, have the very good light chestnut soup, or the plump potato ravioli in a thick dough dressed with fine butter (8.90€ as a starter, or 13.90€ as a main). At Huth the tafelspitz (19.90€) is served without broth—"That's what they do at Plachutta!" snapped Huth, referring to a well known restaurant in town whose specialty is tafelspitz. For dessert one can hardly avoid having the comforting apple strudel (5.80€). Herr Huth is a character, all right, but I rather enjoyed dining there, not despite his demeanor but because of it. Jolliness can take different forms, and for food this good, it's worth the character study.
Open daily for lunch and dinner.
Support HuffPost
The Stakes Have Never Been Higher
Related
Popular in the Community