Arguably the most crucial piece of furniture (especially during the holiday season) is the dining table. Whether it's anchored front and center in an open kitchen or positioned in the middle of a formal dining room, the dining table is a gathering spot and a focal point. But beyond being a standout furniture piece, the dining table needs to be sturdy as a rock, comfortably accommodating and, in some instances, even flexible in shape and size.
That said, here are the essentials you need to know when shopping for a new dining table.
Consider the material. If you're going for a wood dining table, always opt for hardwood such as mahogany, walnut, maple, oak, or teak instead of composite wood, which include plywood, hardwood solids and MDF (Medium Density Fiberboard). And while engineered woods such as MDF -- which is a mixture of hard and soft wood bits that have been compressed into board form -- are durable, they're not as strong and sturdy as hardwood. And while MDF, may be stable enough for the short term, hardwood is far more longer lasting. One key fact to keep in mind is that tables with removable legs often tend be made of fiberboards, a material made of pressed wood scraps. It's not a good option for the long-run, but if you'll use the table only occasionally (or if you move frequently) then it can make sense to go with fiberboard. For those of you looking for something beyond traditional hardwood, we like the look of galvanized metal, grainy marble, or molded plastic.
Steer clear of thick veneer. A quick tip for wood table buyers: don't go for thick veneer because it tends to lift away from the piece over time. How do you know that the veneer is thick? It'll feel plastic-y to the touch and have obvious "seams" where it connects at corners.
Measure the room. It's important to have the exact measurements of the room for your dining table. This is especially crucial with smaller dining rooms, as many people buy tables that are too big for the space. For example, a rectangular table in a small rectangular room can easily fill up the space and make it look cramped instead of cozy. Remember that you have to be able to walk around the table after chairs have been put into place so it's good to keep about a 50" space between the edges of the table and the walls all around.
Decide on your table's shape. While the style of your dining table -- whether it's farmhouse-style or it has a pedestal base -- is purely your call, there are some general rules when it comes to a dining table's shape and the room it's best suited for. For smaller rooms, go with an oval table to keep the space from looking overly crowded. Square tables work in narrow dining areas but rectangular pieces, which take up the most room, require a long and narrow space. Round tables can accommodate the most people (and tablecloths look best on them) but they're not for small spaces as it limits the way traffic can flow around the room.
Check the table's dimensions. Most dining tables are consistent with the standard height range of 28"-30" tall. The most comfortable dining tables leave enough room above the knee and are at about the same level as your elbows when you're sitting down. As for width, oval, rectangular and square tables are usually a standard 36"-wide with varying lengths depending on the number of people you're looking to accommodate. To give an idea, a 84"-long oval table can accommodate up to 10 people.
Use leaves to maximize space. If you have limited space but need a table that can entertain bigger parties, a good solution is to look for a a table with leaves, which can fold and expand as needed.
Consider outdoor materials. When furnishing an outdoor terrace or patio with a dining table, you'll need to use weather-resistant materials, naturally. The most common are natural teak, which develops a beautiful patina over time from weathering and sun exposure, and powder-coated steel, which is impervious to rain and rust. Also, natural teak and powder-coated steel will be advertised in the product description so make sure to read those -- there are lots of imitators. Added bonus for teak: it doesn't warp or require tons of sealing.
Click through this slideshow for some of our favorite dining table options on the market right now.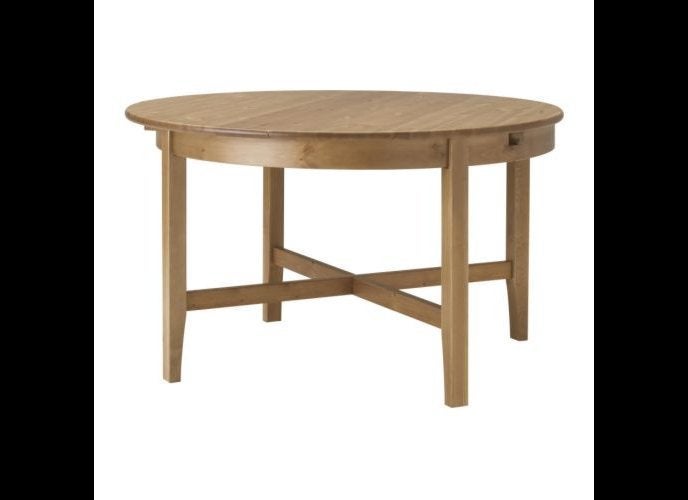 Related