This week, millions of families nationwide will be celebrating Thanksgiving and the upcoming holiday season with a sumptuous dinner table graced with a floral centerpiece.
For millions of other families across America who rely on food pantries to help feed their family, Thanksgiving will just be another evening struggling to get food on the table.
Whether provided by the host or a guest, flowers soon wilt and need to be thrown away. Floral arrangements can easily cost $40 or more. That's not only painful for the pocketbook but also for the planet, as dead flowers wind up in trash dumps and contribute -- like food waste -- to landfills' methane emissions.
What if you could, simultaneously, spend less for the centerpiece and help your neighbors in need?
A simple solution is to replace the flowers, however beautiful they might be for a moment, with something that can grace your table one day and then feed another family the next.
AmpleHarvest.org -- the nationwide campaign I founded that enables millions of home gardeners to donate excess garden produce to a nearby food pantry -- encourages people, whether they are a dinner host or the guest, to use a centerpiece of whole fruit and vegetables instead of flowers.
The AmpleHarvest.org "Centerpieces for Pantries" initiative, now in its second year, helps people share what they've been thankful for with those who aren't quite so lucky. Nearly 6,000 food pantries spread across all fifty states have registered with AmpleHarvest.org with more signing up daily.
Harvested right from your garden if you live in a warm part of the country, or purchased from a farmers market or store, fresh fruits and vegetables add lots of color and character to the table. Plus, you can see who you are talking to across the table without flowers blocking the line of sight.
You can be as creative as you want with the arrangement or even have your children contribute to the dinner by letting them create it using whole fruit, vegetables and nuts. This can also be a fun way to introduce your kids to "exotic" food such as kiwi, eggplant, papaya or, if fast food restaurants are frequented, apples that are not pre-sliced in cellophane. When it is completed, send a picture of your edible centerpiece sent to IShared@AmpleHarvest.org to be posted on Facebook to help inspire others.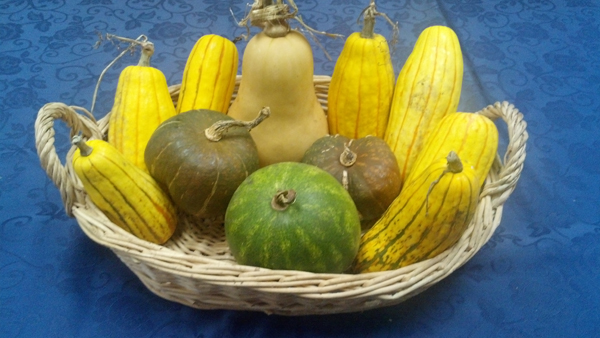 "Centerpieces for Pantries" is not limited just to holiday dinners. Do it for events such as weddings, Bar/Bat Mitzvahs, confirmations, corporate or fund raising dinners or any affair where that special table arrangement could also support community engagement.
It's important to remember that food pantries can only accept whole food. If the fruit or vegetables are cut, carved or pierced with tooth picks, they will not be accepted by most food pantries.
Calling all HuffPost superfans!
Sign up for membership to become a founding member and help shape HuffPost's next chapter