Last week, to inaugurate my Halloween movie-and-food series, I presented Huffington Post readers with as unappetizing a combination as I could think of: Dario Argento's 1977 Suspiria and Beef Heart alla Soffritto. Today we return to the world of orrore Italiano--horror gory enough to make a Borgia wince--with Lucio Fulci's The Beyond (1981). I must admit, when I picked Fulci's flick for this week's lesson, I didn't know what I was getting myself into. My friend Neil, with whom I've been attending horror conventions for years, had a Beyond poster tacked up in his bedroom in high school, so I assumed I'd seen the movie and forgotten it. I was mistaken. You don't forget The Beyond without some very expensive therapy.
I had seen Fulci's Zombie (1979), famous for its surprisingly convincing zombie versus shark fight scene, and considered pairing it with citrus-marinated mako steak. I wish I had; it would have meant I could skip The Beyond. Unfortunately, like a zombie, I'm always thinking with my stomach, and I had a hankering for some bayou cuisine.
Louisiana has long been a favorite gothic setting. The Last Exorcism and the wildly popular True Blood are fine recent examples of the bayou's persistent appeal. Perhaps you've read, or watched, Interview with a Vampire. Perhaps you've blown a few bucks on a New Orleans ghost tour or a "monkey and cock" voodoo fetish; perhaps you've been relieved of your wallet by a charming local in Saint Louis Cemetery #1.
All this belongs to the Big Cheesy, as far as Fulci is concerned. Instead of giving us vampires or voodoo, he goes straight to the source: The Beyond's setting, the dilapidated, plantation-style Seven Doors Hotel, sits on one of the seven gates to hell. This is established in a sepia-toned opening sequence--in 1927, everything was sepia-toned--in which a painter named Schweick is crucified in the hotel by a mob convinced that he's a "warlock."
Decades later, Europe is inspired to record an unforgettable rock classic, and the hotel is inherited by a young woman named Liza (Catriona MacColl), who hopes to renovate and reopen it. So it's a lot like the 1986 Tom Hanks classic The Money Pit, except with gouged-out eyes (a Fulci specialty), morgue mayhem, hungry tarantulas, crucifixions, demons, zombies, and a pretty spooky matte painting of hell. Oh, and a blind woman gets mauled by her own guide dog. Your typical screwball comedy.
What's for dinner? The truth is, unless you're a serious gore aficionado, you don't want to visit The Beyond. Stick with Sookie or Lestat or, I don't know, Easy Rider. But you do want to try The New Best Recipe's fantastic Creole-style shrimp and sausage gumbo. I made the easiest version, the one without okra or filé; I also had to substitute spicy Italian sausage for andouille. First, get a pound and a half of small to medium shrimp. Bring the shells, and four and a half cups of water, to a boil over medium-high heat. Turn down to medium-low and simmer twenty minutes, then remove the shells and add a cup of clam juice and three and a half cups of ice water. That's your stock--now set it aside.
Next, the roux. In a Dutch oven, heat a half-cup of vegetable oil over medium-high heat, to about 200°. Turn the heat to medium and stir in a half-cup of flour very, very slowly over the course of twenty minutes. Don't stop for any reason! If you suspect your glorious liquid mahogany is burning, take it off the heat for a bit, but keep that wooden spoon moving.
Add the "holy trinity" (Creole for mirepoix), in this case two finely chopped onions, one diced bell pepper, and one diced stalk of celery. Add six gloves pressed garlic, as well as cayenne, salt, and pepper to your liking (I think the Best Recipe skimps on cayenne). Keep stirring for ten minutes, and don't worry, it's supposed to be a thick, stubborn paste. Drizzle in one quart of stock while stirring hard, and then dump in the rest. Add a couple bay leaves, simmer and skim for thirty minutes; add as much sausage as you please, simmer for thirty minutes; add shrimp, cook five minutes; serve over rice, with a Sazerac, an Abita, or a foaming goblet of Tabasco sauce.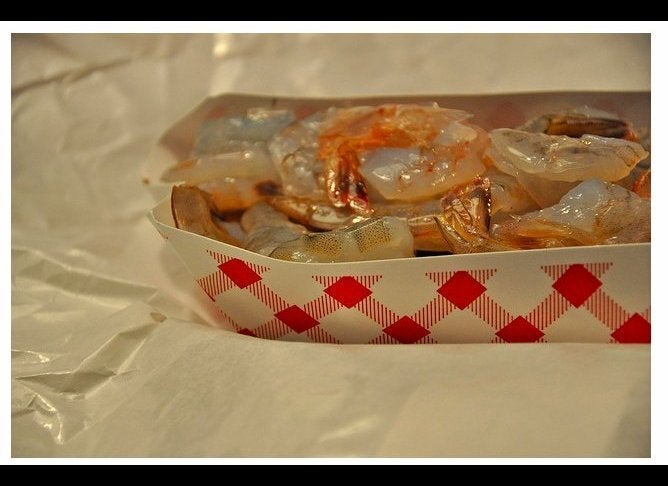 Dinner & A Horror Movie: The Murders in the Roux Morgue
Popular in the Community