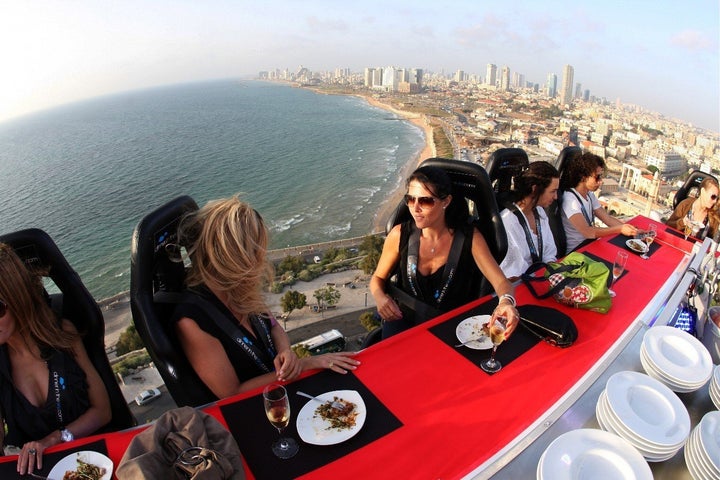 When it comes to restaurants, the view can make or break an entire dining experience. But when seated at a table hanging 180 feet in the air, even the most experienced foodie might be rendered speechless.
For $500, adventurous eaters can enjoy a rare chance to eat at a dinner table hanging high over Delray Beach. Dinner in the Sky comes to South Florida October 20, with four seatings scheduled at a table suspended from a 120-ton crane.
Gourmet fare from two local restaurants will be served by three chefs, each tethered to the platform for safety.
"I'm speechless that we're doing it, it hasn't hit me yet," Jarrod White, special events manager for the Delray Beach Marketing Cooperative, told the Huffington Post. "It's going to bring a lot of exposure to Delray Beach that we're a destination for fine dining."
The cooperative, a collaboration between the city of Delray Beach and its chamber of commerce, has been working to bring the Belgian company to the city for the last three years.
"Dinner in the Sky" has been around the world, including stateside in Las Vegas and at the Seminole Casino Coconut Creek in Florida.
Italian restaurant Caffe Luna Rosa and Asian fusion spot CandyFish will be catering two dinners each at the sky-high table, which seats 22. The dinner tab includes a 30-foot champagne toast, swag bag, full open bar, and a before and after party.
"We've never done anything like this before," Bonnie Beer, co-owner of Caffe Rosa Luna, laughed. "Our Chef Ernie, he can handle anything. If anyone can do it, it's him."
Diners must be at least 4-feet 11-inches tall and no more than 225 pounds. Seatings are scheduled for 5:30, 7, 8:30 and 10 p.m. above the Old School Square Park. Should it rain, dinners will be moved to Oct. 21.
See people around the world dining in the sky: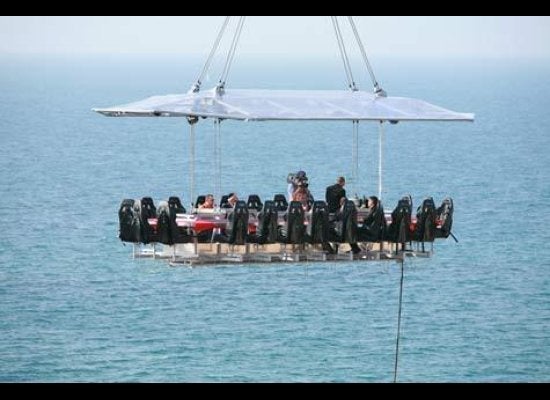 Dinner in the Sky
Popular in the Community