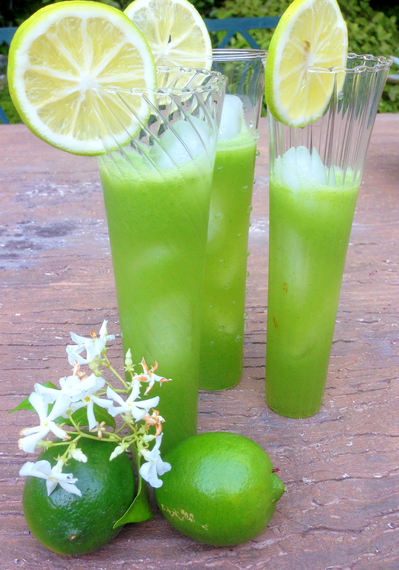 photo courtesy of: Audrey Slatkin
Feeding a hungry family night after night can be a chore, especially if your dinner companions tend to eat and run like mine. In my house, the pleasures of gathering at the table and sharing a home-cooked meal are usually lost to homework and the evening news.
But weeknight dinner need not go the way of the Yellow Pages. It just needs some rebranding. After all, having plenty of good food on the table is reason enough to celebrate. Add your favorite company and a cocktail, and you've got the makings of a fiesta.
With Cinco de Mayo coming up, why not make dinner more fun and festive? Break out the blender and you're practically there. Whether you're in the mood for a simple spritzer or a special brew, alcoholic or non, sweet or savory, nothing kicks off an evening like a toast.
Start with your favorite juice (pineapple, pomegranate, tomato, etc.), squeeze in some lemon or lime juice for a refreshing tang, and then channel your inner bartender. Take your drink any direction you please, adding sparkling water, a splash of wine or a couple shots of booze. Serve it iced cold, and don't forget the fancy garnish, such as a citrus slice or twist.
This is the cocktail I'll be making on Cinco de Mayo and all summer long. It's one I tasted in Mexico last year, and I crave it when the weather turns balmy. Depending on my mood, I might spike it with tequila, substitute mint for the cilantro, or add some chile powder. Either way, this thirst-quencher definitely says "Ole!"
And it's the only thing standing between you and a weeknight fiesta.
Cucumber, Pineapple and Cilantro Cocktail
Makes 5 cups (6-8 servings)
Juice of 2 limes, plus additional lime slices for garnish
1 cup (8 ounces) pineapple juice
1 cup coconut water, sparkling water or green tea
2 tablespoons agave syrup (optional)
1 cucumber (about 10 ounces), cut into chunks (leave the peel on)
½ bunch (about ¾ ounce) fresh cilantro, with stems, washed well
1. Place all the ingredients, starting with the liquids, into a blender along with 2 cups of ice. Blend on the highest speed until very smooth and frothy.
2. Pour into chilled glasses or a pitcher, adding more ice if desired. Garnish with lime or cucumber slices.
Dana blogs as the Beverly Hills Farmgirl about healthy cooking and living at www.90210farmgirl.com.
REAL LIFE. REAL NEWS. REAL VOICES.
Help us tell more of the stories that matter from voices that too often remain unheard.