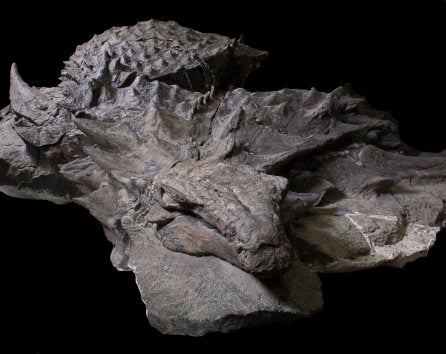 After more than 110 million years encased in stone, an impeccably preserved, dragon-like dinosaur has been unveiled by paleontologists in Canada and it's unlike anything they've seen before.
"We don't just have a skeleton," Caleb Brown, a postdoctoral researcher at the Royal Tyrrell Museum of Paleontology where the fossil went on display, told the magazine. "We have a dinosaur as it would have been."
Researchers say the fossil is remarkable, with it being a never-before-seen species of nodosaur, as well as the oldest dinosaur ever found in Alberta. Its preserved skin and gut contents are also providing invaluable clues on these extinct creatures.
"I've been calling this one the Rosetta Stone for armor," Donald Henderson, curator of dinosaurs at the Royal Tyrrell Museum, told National Geographic.
"It's basically a dinosaur mummy ― it really is exceptional," Don Brinkman, director of preservation and research, also told The New York Times.
For the last five years, researchers have spent more than 7,000 hours chiseling away at the fossil's surrounding rock to expose the incredible creature.
The researchers have had their share of ups and downs, with the fossil breaking into pieces upon its removal from Alberta's Millennium Mine in 2011.
"One of the good things about this, believe it or not, is because it's in smaller pieces it will make preparation go a little faster," Darren Tanke, a paleo technician with the Royal Tyrrell Museum, says in the video.
"This is restorable. Everything broke cleanly and in big pieces," he adds. "It's unfortunate that this happened but this is restorable."
Popular in the Community