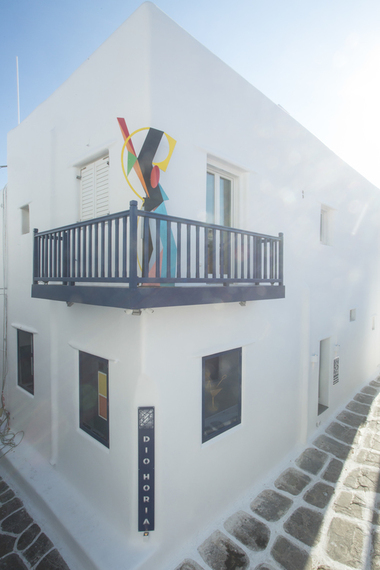 To say that I left my heart in Mykonos this summer is a sentence that falls short of how I felt after two glorious weeks in the Greek paradise. Although not my first time there, I thought that two weeks weren't enough to mingle more with its upbeat people, experience more flaming sunsets, get lost staring at more intense shades of Aegean blue waters, discover more secluded places, walk more aimlessly in labyrinthine stonewashed streets or connect more deeply with local contemporary art.
This is where Dio Horia got me hooked. A remarkable project by brilliant curator Marina Vranopoulou (who also runs the acclaimed DESTE Foundation in Hydra), Dio Horia means both "two spaces" and "two villages" - which pretty much sums up what Dio Horia wants to accomplish: a permanent location in Mykonos town and a more itinerant perspective within - thus including artworks or installations in other locations around the island.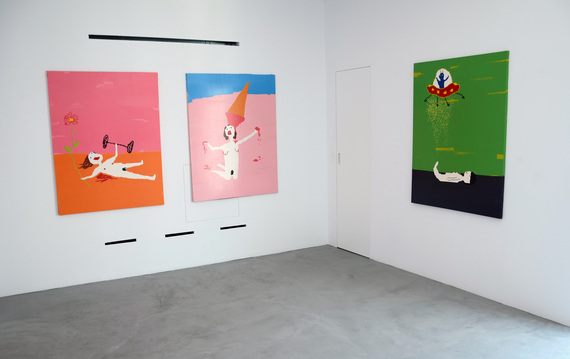 Vranopolou, who lives in Athens for most of the year, is sharp, warm and gorgeous. She happily welcomed me at Dio Horia, explaining how this project has been a dream of hers for a long time. Coming to spend summers in Mykonos since she was a little girl for the past 30 years, she has experienced raw beauty in parallel with the dramatic changes that took place throughout the years: the bohemian scene of an undeveloped, magnificent rocky haven that gradually morphed into an opulent libertine party. She's not judgmental at all; she's an observant that has now taken a very active role in giving the island its first and much needed contemporary art platform by mixing exhibitions and artists' residencies with pop-up bookshops and vibrant salons, with Mykonos and its people at the center of it all.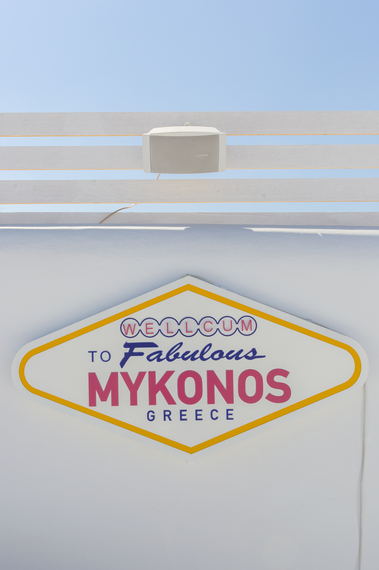 The space itself is absolutely breathtaking: a traditional Cycladian white house with blue doors and windows in the middle of Chora. It incorporates three floors of exhibition spaces and rooms for artists-in-residence, a courtyard and a rooftop all filled with the edgiest art, mostly from emerging Greek artists but also including a fair selection of international ones. The idea with the residencies is to invite artists to spend time in Mykonos and to produce a body of work that will reflect their views on what moved them. The works are then exhibited at a solo show in one of the multiple rooms of Dio Horia.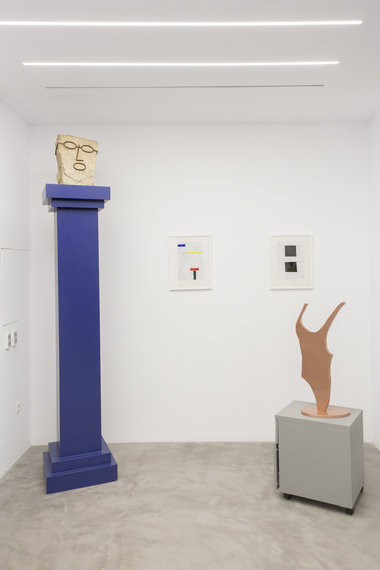 During my visit, there was a group show on the main floor that also spanned the staircase, the courtyard and the rooftop. From this selection, my favorite discovery was the work of Olga Migliaressi-Phoca, whose neon installations are not only witty but also brilliantly executed. On the upper floors are two solo shows that came out of the first Dio Horia artists-in-residence, including Maja Djordjevic, a Serbian artist who, being born in the era of computers and internet, creates pixel-like large canvases with saturated colors. For her "I Don't Know You, But I Love You" solo show, Djordevic delivered a beautiful group of beach-themed renditions with female characters, mostly purporting herself as a digital doodle playing around in Mykonos. The second solo show belonged to Greek artist Rallou Panagioto, who, using Lycra as her starting point, presented a combination of cast aluminum sculptures of swimsuits, straws and flip flops covered with luxury car spray-paint (I think the sentence would flow better if this part was an adjective in front of "aluminum" but you can decide) along with photographs of bathing suits, alluding at the concept of how memories from holidays become archived and solidified in the mind.
Mykonos stirs the soul of some, who like me, can't get over the magnetic pull and intoxicating beauty of the place and its people. For others, it is a repulsive, excessive and overindulgent spot insulated from true Greek history and culture. And it is precisely this dichotomy that Dio Horia is successfully exploring.
Dio Horia
Open year-round
Panahra Sq., Chora,
Mykonos, Greece
Calling all HuffPost superfans!
Sign up for membership to become a founding member and help shape HuffPost's next chapter