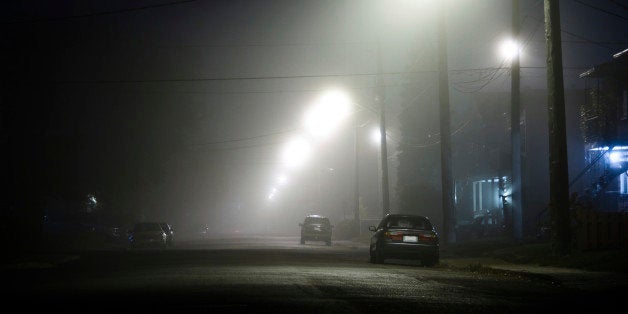 Early November 2014, I received an email from a colleague, Randall Jenson, who works for the Kansas City Anti-Violence Project, alerting me that in Missouri, not too far from Ferguson, another black man had died.
And it felt like no one cared.
On the early morning of Halloween, Dionte Greene, 22, was sitting in his car in a "bad neighborhood" and waiting to meet up with a man he had been talking to online. According to friends, the man he went to meet was "trade," or a guy you have sex with but doesn't identify as gay.
Waiting in his car, he called a friend and told him what he was doing. The friend offered to come meet-up if things got weird or awkward, which Dionte though to be unnecessary. As the man he was meeting arrived and started to approach his car, Greene, still on the phone, allegedly told the friend, "He looks just like his Facebook picture."
Moments later the phone line went dead and Greene was shot in the face, car still running.
In the wake of this tragedy, media attention was sparse. And when in the news, his case was presented as just another black man dying in a bad part of town. And, through that re-telling of a narrative that many have come to expect to hear on the nightly news about black men, an intrinsic part of the story was left out:
Dionte may have died because he was gay.
The state of Missouri is one of the few states that recognizes sexual orientation under it's hate crime laws, which one would assume they'd be receptive to investigating potential hate crime cases. But with Dionte, the Kansas City Police Department moved very quickly, with no arrests made, to say that this wasn't a hate crime...even though a community searched for other motives and found none.
Many in Kansas City believe the haste to not see this as a hate crime had to do with him being black and it being easier to chalk it up as just another killing in a city that already has such high homicide rates.
But Dionte's mother is working to not let that happen.
"My son ... he was quiet - not a problem child," Coshelle Greene told me in November during an interview in her living room the same week as the Brown verdict was given across the state. "Being that he wasn't a street person, and didn't have enemies, I lean towards it having to be someone who was on the down-low or someone so against gay people that they would do this."
Since her son's death, Coshelle has not stopped calling the KCPD for updates on her son's case. And with each passing day she worries that his case will fall to the wayside, and she will never have an answer. While always maintaining the belief that her son died because he was gay.
Beyond his mother, not one other person I met in Kansas City that knew Dionte held any doubt that their friend, a black openly gay man and active father to twin girls, was killed for anything other than the fact that he was gay.
Due to him being black and it happening in a "bad neighborhood", many believe that the case will never be prosecuted as a hate crime, or ever be solved for that matter, because when you live on the intersection of many identities, and you're black, it seems that justice is much harder to gain.
And this is why it's important to not only acknowledge Dionte's story during Black History Month, but to remember it afterwards.
It shows us that black lives not only matter, but also they are also complicated lives that matter. And it's evidence that we still live in a world that is slowly moving forward with recognizing the fact that racism is alive and well, but still struggles when considering the intersection of race and class and gender, and how those things can increase the violence you face.
And it's important for us to acknowledge that being black and gay mattered to Dionte, and both of those identities matter in the wake of his case. Since one may have gotten him killed and the other may have influenced the investigation into this murder.
The FBI is now involved and are investigating the case as possibly hate-motivated. But still, even with the FBI's involvement, it seems nothing has changed.
But Coshelle Greene continues to call every week to check in on her son's case, working to make sure he is not forgotten.
This post is part of the "28 Black Lives That Matter" series produced by The Huffington Post for Black History Month. Each day in February, this series will shine a spotlight on one African-American individual who made headlines in 2014 -- mostly in circumstances we all wished had not taken place. This series will pay tribute to these individuals and address the underlying circumstances that led to their unfortunate outcomes. To follow the conversation on Twitter, view #28BlackLives -- and to see all the posts as part of our Black History Month coverage, read here.
Calling all HuffPost superfans!
Sign up for membership to become a founding member and help shape HuffPost's next chapter