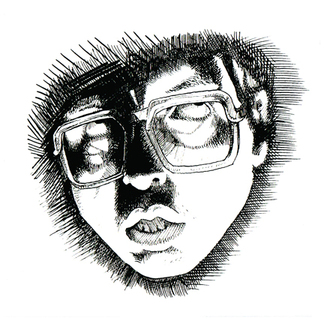 One of LA's best bands for over ten years now, Dios will deny, deny, deny the fact that they are into the Beach Boys if you ever meet em face to face. But after hanging around these guys for the past year or so I've learned that what they mean is that they're more "Smiley Smile" than they are "Surfin' Safari." Got me? Meaning live ain't just "Fun, Fun, Fun" and all smiley and nice. I mean they're from Los Angeles, Hawthorne to be exact. They are from sunny California, but they aren't all bubble-gum and smiles, that's for sure. Dios are, as the kids would say... REAL TALK! Point is these dudes write some pretty catchy rock n' roll songs. That's a fact.
If you dig what you hear here for free, make sure you check out their six song EP Cosmic Rays that came out this past June via their website. As well as the bueno audio, it also comes with three videos and a shitloads of photos for a mere $4.00. Talk about DIY! Their third full length, We Are Dios will be out February 16 via my Buddyhead Records.
In celebration of their record finally coming out, as well as the band wanting to wish you all a happy holidays, here is an offering in the form of this "4th Quarter Single 2009." After all the shit you bought those family members you really don't like... it's time to give your wallet a rest, download this two song single from Dios, put some headphones on, press play and relax, champ!
Make sure to burn this to a cd, print out the artwork Joel (the singer) drew, fold it properly and slide that puppy in your home-made jewel case. BOOM! An official release!
2) "Puttin It Down" (from the upcoming LP "When Beck Was Good")
"I Feel Finite" Music Video by "
"
"All Said & Done"
"I Want It All"
REAL LIFE. REAL NEWS. REAL VOICES.
Help us tell more of the stories that matter from voices that too often remain unheard.