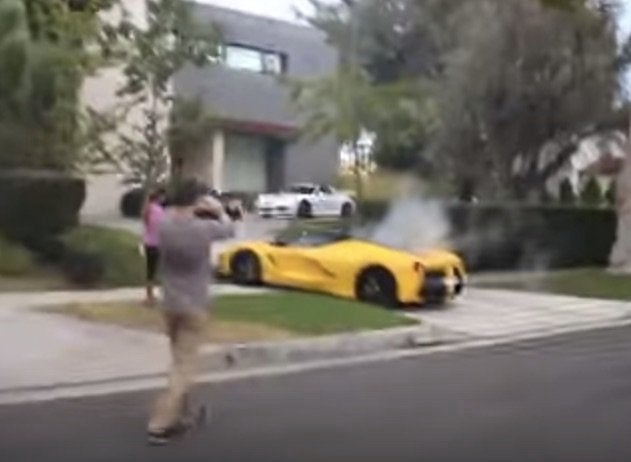 The State Department is investigating whether claims of diplomatic immunity should shield the Beverly Hills, California, owner of some high-end sports cars from prosecution despite video showing his Porsche and Ferrari violate rules of the road.
Footage shows a white Porsche 911 and a yellow Ferrari LaFerrari tearing through residential blocks of a ritzy Beverly Hills neighborhood on Saturday.
Warning: The video contains language that may be inappropriate in some settings.
The cars blow past a stop sign and the LaFerrari appears to clip another vehicle stopped at the corner and keep going. Smoke later billows from the LaFerrari as it pulls into a driveway. Clips of the speeding cars jockeying for position became big hits on YouTube.
The Ferrari bore license plates issued in Qatar. The man who owns the Ferrari and Porsche allegedly told Beverly Hills police that he was shielded from arrest by diplomatic immunity and also denied doing anything wrong. Police turned to the State Department to authenticate the man's diplomatic status.
"The U.S. Department of State is working closely with local authorities concerning this incident. the case is currently under investigation and we are in the process of reviewing the validity of the alleged assertion of diplomatic immunity with respect to this case," a department spokesman told HuffPost.
The spokesman would not provide information about who the man was or what diplomatic role he might serve.
"He told me verbatim, 'I could have you killed and get away with it,'" Jacob Rogers said, according to KNBC. "I told him, 'The press is allowed to be here on the sidewalk on a public street.' He said, '(Expletive) America' and threw a cigarette at me."
Despite the existence of the videos, the drivers could get off the hook for other reasons. If the crimes are misdemeanors, officers would have had to physically witness the drivers commit them or bystanders would have had to perform a citizen's arrest, CBS Los Angeles reported.
Neighbors told KTLA they've seen the cars recklessly darting around the area on other occasions.
The Beverly Hills Police Department did not respond to HuffPost's inquiries. Calls to Qatar's consulate in Beverly Hills were not returned.
Related
Popular in the Community