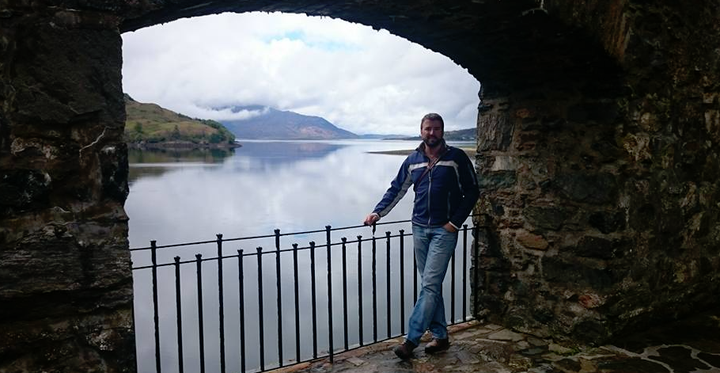 Ken Kero was working in the political section of the U.S. Embassy in Berlin in 2006, when he met a German film editor and photographer named David Mentz. Two years later, they got married and changed both their last names to Kero-Mentz.
At the time, the meaning of "married" was tricky. Germany recognized same-sex marriage "in all but name," in Ken's words, but the U.S. government, his employer, didn't acknowledge such relationships at all. In the State Department's eyes, he was single.
That was tolerable in Germany, but it became a serious problem when it was time for the couple to move to Ken's next post in Sri Lanka. David didn't get any of the benefits that straight Foreign Service spouses enjoyed, such as health insurance, assistance in case of emergency or evacuation and a diplomatic passport ― in fact, he wasn't allowed to have a U.S. passport of any kind.
What made things worse was that in Sri Lanka homosexuality was ― and still is ― illegal. Although the law is not enforced most of the time, for legal purposes, same-sex relationships don't exist. So for the Sri Lankan government, David had no reason to reside in the country and was only eligible for a short-term tourist visa, which had to be renewed frequently ― at a Sri Lankan embassy or consulate abroad, forcing otherwise unnecessary trips. "We were traveling in and out of the country, and the fact that the government was being so difficult made it even harder for us to like the place," Ken said.
At the beginning, the American Embassy wasn't very helpful, either, he said. At least David wasn't barred from living with Ken. As for access to the embassy, the State Department left that to the discretion of every post's management, although unmarried partners ― gay or straight ― as well as live-in parents and other relatives, were considered "members of household."
David had access to the compound and "the ambassador treated him very well," Ken said. But the security office told the couple that, if something were to happen to David, the embassy would do nothing to help him, "because he wasn't an American and didn't have a U.S. diplomatic passport." About seven months after their arrival in Colombo, the Sri Lankan capital, a job opened up at the embassy store, and David got it ― that eventually led to a longer-term visa for him.
But it was too late. The problems and the impossibility of having a more meaningful job made David "deeply unhappy," which strained their relationship, Ken said. David even contemplated going back to Germany, but in the end, he decided to stay with his husband. However, Ken cut short what was supposed to be a three-year tour in Sri Lanka, and they moved to Washington after two years.
When Hillary Clinton became secretary of state in 2009, she issued an order granting diplomatic passports, access to medical care and other benefits to employees' same-sex partners ― but only those who were U.S. citizens. Foreign-born partners didn't become eligible for permanent residency and eventual citizenship until the Supreme Court's landmark 2013 overturn of the so-called Defense of Marriage Act.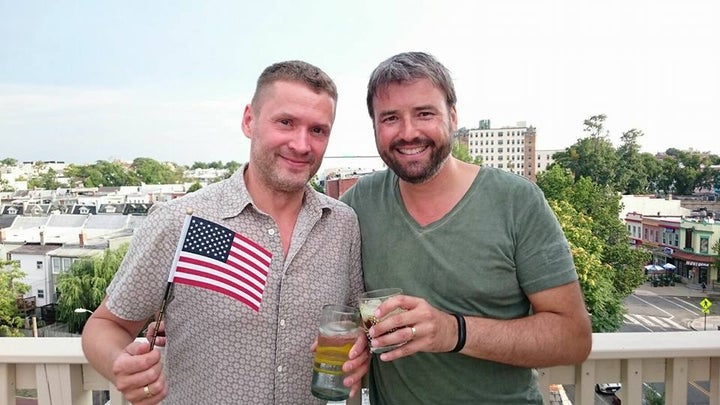 In 2016, David became an American citizen. Ken helped him celebrate during home leave from his tour as the political and economic section chief at the U.S. Consulate-General in Erbil, the capital of the Iraqi Kurdistan region. Family members weren't allowed in Iraq, even though Erbil is considered an oasis of stability compared to the rest of the country, so David didn't move there with Ken. This was Ken's second tour in Iraq ― he was one of the first Foreign Service officers to serve in Baghdad after the 2003 overthrow of Saddam Hussein.
"It's incredibly intense, and nothing can be left until tomorrow. There is very little downtime, but despite the challenges, it's my most rewarding job in the Foreign Service to date," said Ken, who joined the service in 2000 and has also served in Brazil. Previously, he worked on Capitol Hill in Washington for five years.
The United States is trying to help Iraq through a precarious security situation, including a grave threat from the self-proclaimed Islamic State (IS), coupled with an acrimonious political environment and a struggling economy. Erbil's proximity to IS territory in the north magnifies its importance.
While serving in Washington between his tours in Sri Lanka and Iraq, Ken got to work on issues that affected his and David's life, as well as the lives of millions of gay, lesbian, bisexual and transgender people around the world. He was president of GLIFAA, an organization of LGBT employees of the State Department and other foreign affairs agencies. It was founded in 1992 ― until then, diplomats who were found out or admitted to being gay were often expelled from the Foreign Service.
GLIFAA's initial priority was to secure full equality for American LGBT employees and their families. Several years ago, transgender rights were added to its agenda, which has since expanded even further to include non-American LGBT staff members of U.S. embassies, consulates and other diplomatic missions abroad, particularly those in countries where being gay is still illegal or dangerous.
After the brutal murder in April of Xulhaz Mannan, a 39-year-old employee of the embassy in Bangladesh and editor of the country's first and only LGBT magazine, "we are putting even more of an emphasis on the needs of our local staff," Kero-Mentz said. In fact, GLIFAA has tried to help the global fight for LGBT rights, partly by "developing the framework" that led to the creation of a special envoy position at the State Department last year, he added. Secretary of State John Kerry made a point of entrusting an openly gay Foreign Service officer, Randy Berry, with that job.
"That is a lasting legacy and demonstrates the crossover work of GLIFAA," Kero-Mentz said. "It's not just about working to resolve personnel issues, but also to improve the work of the State Department on LGBT issues globally."
One personnel matter that is still unresolved is the diplomatic accreditation of same-sex Foreign Service families to countries where marriage equality or even domestic partnerships don't exist, Kero-Mentz said. That effectively precludes LGBT diplomats from serving in much of the world.
Despite all the challenges over the years, as well as the dangers of living in certain places and being away from home, Kero-Mentz said he has appreciated the opportunities for public service and "enjoyed experiencing things few Americans have experienced." He advised new diplomats to focus on the big picture.
"Roll with the punches, don't let the small stuff wear you down, and take even difficult experiences as opportunities to learn something new, whether it's substantive or interpersonal," he said.
Photos courtesy of Ken Kero-Mentz
Support HuffPost
Every Voice Matters
Popular in the Community