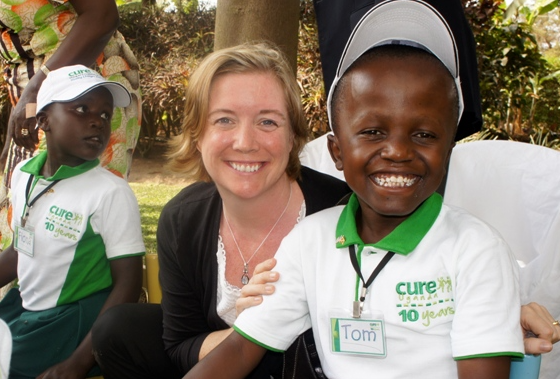 Virginia Blaser, a newly minted American diplomat, was the duty officer at the U.S. Embassy in Madrid one weekend in 1993 when a call came in from two Midwest teachers who had brought a group of teenage students to Spain on their first trip abroad.

A boy from the group was nowhere to be found, and the teachers wanted the embassy's help to locate him before word about his disappearance reached his parents back home. Blaser alerted the police but couldn't just sit and wait for something to happen.
"I remember thinking that the child might be out there hurt or scared," she recalled. "So my husband and I literally walked the streets for two days, hoping that we'd find him just by sheer luck, but of course we didn't. Eventually, we got a call from the police saying that they had been driving along a highway outside the city and found him -- traumatized, dehydrated and sunburned."
Now a senior Foreign Service officer and deputy chief of mission in Tanzania, Blaser has also served in Uganda, Mauritius, El Salvador, Britain and Belgium, while managing to raise four children. She started out as a consular officer, eager to help fellow Americans abroad. "It may not be a big deal for you when you see hundreds of people a year, but it is a big deal for a little lady from Des Moines who has never traveled overseas and has had her bags grabbed and has been pushed around," Blaser said. "I love to be the one who can solve her problems."

While assisting Americans overseas was cited by dozens of officers serving around the world as the best part of consular work, they had few good things to say about interviewing applicants for U.S. entry visas. "Even if you say 'no' nicely, some people still yell at you and try to spit on you," Blaser said. "It took me weeks not to take that personally, because I'd never had anyone speak to me that way before. Sometimes, they even threaten your life."
Consular officers don't always want to receive feedback from their customers, but Blaser did hope to hear back about the lost boy in Madrid during her first tour in the service. While she was looking for him, his parents and their congressman's and senator's offices had been calling several times a day.

When the boy arrived at the embassy, Blaser took him home against official rules, phoned his parents, fed him, gave him clothes and a bed for the night. "Finally, the next day, the group leader came to pick him up," she said. "We gave him another set of clothes, they left and we never heard from anyone again -- not from the parents, not from the senator or congressman, not from the school. I suppose in a way that was a compliment, if everybody was satisfied and had no complaints. I don't usually feel that we need thanks for doing our job. But it was one of the few times I actually wanted someone to call and say that the kid was all right." No one returned the clothes, either.

Blaser did hear back from two Colorado women she had helped in London in the spring of 2003 -- but only through the media. The women, whose rental car had been broken into and their purses stolen with their passports and money, called on a Friday morning to ask for help. A local British employee at the embassy explained to them the procedure for applying for temporary passports so they could return home, telling them they needed to submit photos and pay a fee. They arrived at the embassy, with their luggage, a few minutes before it was to close. Visitors are usually not allowed in the building with more than a small bag or purse for security reasons, but the guards saw the women were frustrated and let them bring the suitcases into the lobby of the American Citizens Services section.

Even though the embassy was closing for the week and most of Blaser's staff were preparing to go home, she asked for volunteers to work overtime so they could start processing the women's passport applications.

"This wasn't a true emergency, because they weren't leaving the country until Monday, and there was time to do everything that morning, but because they were so upset and angry, I wanted to do as much as we could that night," Blaser said. One local employee was recovering from cancer and needed rest, yet she offered to stay. Another one did, too, although his father had just had a heart attack that afternoon and the son was expected at the hospital, as Blaser learned three days later. Most of the paperwork was done, and the only thing left before the passports could be issued was mandatory name checks, which could take hours. Since her staff had already put in an extra hour, Blaser requested the name checks and asked the women to return first thing Monday morning to receive their passports. They did and made their flight back home later that day.

A couple of weeks passed, and one day an article appeared in the Denver Post. The two women, high school teachers Jennifer Tompkins and Irma Sturgell, had told columnist Diane Carman their story -- it was about the "hell" they had endured with the "nightmare embassy staff." Blaser's heart sank as soon as she glanced at the headline: "Travelers see Brits' best, Yanks' worst."

"The embassy staff was unconscionably rude. The women didn't have the money and the photos required to get new passports, the bureaucrats said. They refused to allow them to make any calls," Carman wrote in the column, which has since been removed from the newspaper's website. "We were still pleading, but they physically took our suitcases and put them on the street," she quoted one of the women as saying. "They said if we had been beaten or raped, they could help us. That would have been considered an emergency. It was unbelievably inhumane."

Both Blaser and the embassy spokesman at the time, Lee McClenny, said that Carman hadn't contacted them to ask for their version of the story. Carman confirmed that in a 2004 e-mail message but offered no explanation why not. The column reinforced the perception about callous bureaucrats at embassies who care more about obeying rules and going home on time than helping people in need. Members of Congress often hear such complaints from constituents. Except that this time was different.
"That was such a small case, and there have been thousands since then," Blaser said, "but it still bothers me, because it was my staff that made sacrifices and did everything right, only to get beaten up in that article."
Photo by U.S. Mission Uganda
Popular in the Community