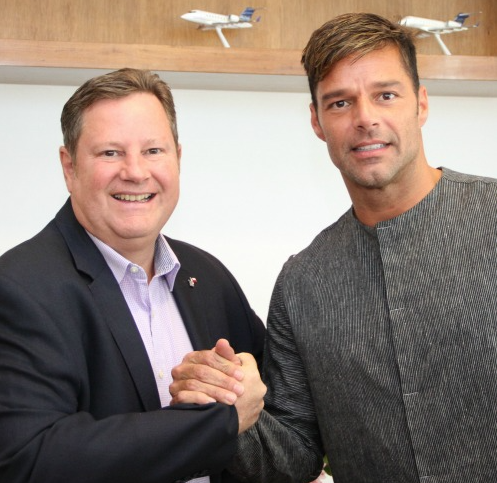 Michael Hammer was nine years into his Foreign Service career in 1997, when he did advance work on President Bill Clinton's visit to Vancouver, Canada, for the annual Asia-Pacific Economic Cooperation summit.
Once the president's party arrived, Glyn Davies, a fellow Foreign Service officer who was the executive secretary of the National Security Council (NSC) at the time, approached Hammer with a special task. Clinton wanted to go out to dinner with a group of friends, and Davies wondered if Hammer, who had been in the city for about 10 days, could help.
Even though Hammer was a mid-level political officer, he had no problem making a dinner reservation. "I had in essence a 30-minute bus ride to make arrangements, but I did manage to find a restaurant close by, and everybody ended up having a good evening out," he recalled.
About a year later, when it was time to bid on available positions for his next assignment, Hammer was interested in a job in the NSC's Europe office and sent his résumé to Davies. "Glyn came back and said, 'I don't necessarily see a match for the Europe job, but there is a vacancy in our press shop at the NSC.' I was pretty stunned," Hammer said.
That job changed his career. It got him started in press work, and eventually led to his appointment as the first NSC spokesman in the Obama White House, and later as assistant secretary of state for public affairs. From there, he became ambassador to Chile in 2014. He said he doesn't believe any of that would have happened had he not arranged that dinner for Clinton in Vancouver.
"If someone comes to you, and you are able to do little things right, you might be given bigger opportunities," he said. "People don't necessarily focus on whether you are the best note-taker or cable-writer, but if you have a good head on your shoulders, and you can solve problems, then perhaps you'll be given other opportunities."
Personal connections and corridor reputation play a significant role in selecting candidates from the Foreign Service bid lists for rotating positions at embassies, consulates and multilateral missions, as well as in Washington -- perhaps more significant than some diplomats deem appropriate. Still, few managers will hire someone just because they know him or her, without proper qualifications, several officers said. Since joining the service in 1988, Hammer has also served in Bolivia, Norway, Iceland and Denmark.

Few professions have changed as much as diplomacy has as a result of the 9/11 attacks. The shift has been so big that diplomats have had to acquire skills and perform duties that were never expected of them before, and were not even associated with diplomacy, including working in active war zones. "That challenged our identity," Hammer said. "We knew what we came in to do, but all of a sudden we were asked to do something different."

The wars in Iraq and Afghanistan, in particular, were "a shock to the system," he said. "We hadn't worked in war zones and done things like infrastructure and local governance, which we hadn't come in trained and expected to do. You have to go back to the Vietnam generation to find people who did things like that, and it wasn't quite the same. But now, if we have to do nation-building again or pass certain skills on to foreign governments, we know how to do it."
The public caught an unprecedented glimpse of the behind-the-scenes workings of U.S. diplomacy through an unauthorized release of more than 250,000 State Department cables -- some of them secret -- by the website WikiLeaks in 2010. The documents, written by American diplomats posted across the world, provided information and analysis on developments in other countries, foreign officials and U.S. embassy activities.

"Such reckless sharing of classified information jeopardizes our relationships and puts sources, such as human rights activists, in harm's way," Hammer said. "There is always an expectation that they talk to us in confidence. Diplomacy does need that space behind closed doors to take effect and produce results. People will be more willing to talk to you and do things for you if they are allowed that breathing space."
At the same time, the cables made a surprising revelation to the public. "People suddenly realized three things," Hammer said. "First, that we are pretty good writers and provide sound and interesting analysis. Second, that we are passionate and determined to advance the U.S. national interest. Third, that we do what we say, and there isn't much variance between what we say in private and in public."
Serving their country is by far the most cited reason for joining the Foreign Service by American diplomats, though a desire to travel and see the world, as well as financial security, are often mentioned as well. "First and foremost, we are patriots," Hammer said. "We come in because we want to serve the country. We want to advance American interests. What we don't necessarily know when we come in is how we are going to do that."

In spite of all the publicly available information on the State Department website, existing literature and the many blogs of serving diplomats that have appeared in recent years, new Foreign Service officers don't know exactly what to expect. What they do depends on their specific future assignments in a highly unpredictable career path.
Despite recent improvements in training, following decades of neglect, many new officers still arrive at their first post without sufficient knowledge about the specifics of what an embassy and its various sections do, several senior officers said. The State Department culture still doesn't value training and professional development at different levels as highly as it should, and relies too heavily on diplomats' ability to figure things out on the job, they added.
Hammer said the ever-increasing demands of modern diplomacy, along with the new skill sets required to achieve the Foreign Service's ambitious mission, make high-quality training more urgent than ever.
"Diplomacy in the 21st century has so many dimensions that you can't just learn it on your own or through osmosis," he said.
Photo by U.S. Mission Chile
Popular in the Community