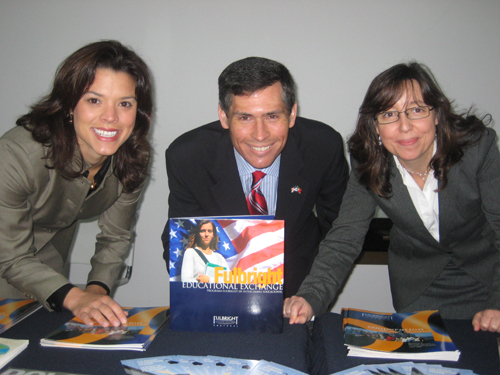 Gavin Sundwall stood beside the grave, a Bible in hand, and read John 11:25-26: "I am the resurrection and the life..." Two taxi drivers, who had become the deceased woman's chauffeurs during the last years of her life, shared memories of her and shed tears. They sprinkled the woman's ashes over the graves of her two husbands, which were just a few feet apart.
The impromptu ceremony at the Corozal American Cemetery outside Panama City in the summer of 1998 was over. Sundwall, a first-tour Foreign Service officer, had never met the elderly American woman when she was alive, even though she had lived in Panama for decades. He saw her for the first time when he went to the morgue to identify her body after she had died from natural causes. That was no unusual duty for him as a consular officer, but the funeral he organized was certainly not in his job description.
"I informed her family back in the U.S. of her death, but they didn't want to come down and have anything to do with her burial, although they sent money," Sundwall recalled. "They told us that her last wishes had been to be cremated and have her ashes sprinkled over the graves of her two husbands. All her friends were elderly and didn't want to come. So who else would have done it if I hadn't?"
That same year marked the first time Sundwall was in a Panamanian jail. Two Satanist killers sat across from him. Fortunately for him, he was just visiting the criminals, who were U.S. citizens, to make sure they were being treated humanely, and to relay any messages to their families back home.

Later during that tour, Sundwall received a call one day from an Indiana couple who had just adopted a girl from Panama and wanted to take the baby to her new home in the United States. But the airline they flew on refused to allow the infant on the plane. She didn't have a U.S. entry visa, and though she was now the daughter of American citizens, she was still a national of Panama.

As it turned out, the couple "had done all the adoption paperwork through the Panamanian system, but had done nothing on the American side," Sundwall said. "She was an abandoned and burned girl who had been put in a trash can and set on fire. The [adoptive] parents had scheduled hospital treatment for her the next week and had appointments for reconstructive surgery. So it was very hard, but I had to sit them down and tell them that there was nothing I could do to help them out of this situation that day, since the Immigration and Naturalization Service declined to allow them to enter the U.S. without a visa under humanitarian parole. It was one of the hardest things I've had to do in my career."

Sundwall explained to the new parents that they had to go back home and apply for adoption, which includes visits by social workers to determine whether they would be capable parents. Then, they had to file an application for an immigrant visa for the girl, which would make her a permanent U.S. resident, and later an American citizen.
"At the end of the day, they had to put the child back into the orphanage, go back to the United States and start the process. I told them they could call me anytime to talk about anything they wanted," Sundwall said. But the process dragged on, and the couple got frustrated with the immigration authorities who seemed to come up with hurdle after hurdle. At Sundwall's suggestion, the couple took the matter to the office of their U.S. senator, Richard Lugar. "They were back in my office within a month after that first time, and we issued the visa," Sundwall said.

According to the State Department, the United States "welcomes more children through adoption than any other nation" -- almost a quarter-million since 1999. In 1994, the Bureau of Consular Affairs created the Office of Children's Issues, which assists "parents as they seek to provide a home to orphans abroad through inter-country adoption by offering country-specific information about the adoption process, and by advocating for greater protections for adoptive parents and children abroad."

Sundwall's stories from Panama may seem extreme and not quite representative of daily consular work, but they are actually very common. Almost every consular officer has similar life-changing stories, and they certainly don't always end happily.

There was no happy ending -- at least not yet -- to the story of a 24- year-old U.S. graduate student who went missing while hiking alone in southern China in 2004. Sundwall was chief of the American Citizens Services section at the embassy in Beijing, having served in Kuwait after leaving Panama. The student, David Sneddon, was a Mormon missionary from Utah traveling through China at the end of his study there when he vanished in the Tiger Leaping Gorge. His family flew to China and, with the help of the embassy, recreated his last steps and met with senior local officials. The U.S. ambassador at the time, Clark Randt, raised the issue at the highest levels of the central government in Beijing. Robert Bennett, a Republican U.S. senator from Utah at the time, also got involved.

Although the family didn't find Sneddon or his remains, it was "very grateful for the full cooperation and support" of both the embassy and the State Department. "The ambassador was most gracious, considerate and interested in our situation," the student's parents wrote on a website created to help find David. "The embassy and staff of American Citizens Services have gone beyond the 'second mile' in their continuing efforts to help."

Sundwall, who later changed his career track from consular to public diplomacy, has also served in the Azores, Afghanistan and Denmark, where he is currently the public affairs officer at the embassy in Copenhagen. He has many other stories about Americans abroad to tell. There was the elderly Chinese-American woman who got lost in Beijing with $3,000 in her pocket. Then there was the American man and his Chinese wife who were being blackmailed by their landlord. And of course, there are suicides, traffic accidents and other fatalities, as well as passports and visas for new American spouses and children.
In China, together with one entry-level Foreign Service officer and three local Chinese employees, Sundwall covered a consular district larger than Western Europe -- and, as he pointed out, "it's much harder to do business in China than in Western Europe." While there are "limitations on what we can do and how much we can get involved," Sundwall said, "our job is really any American, any problem, any time."

Official U.S. policy is not to take sides in child-custody disputes, but at the same time consular officers have a duty to protect U.S. citizens. That apparent contradiction makes these cases even more difficult, several officers said. They protect the interests of the American parent and child, they explained, by negotiating -- they actually try to avoid using that word -- on their behalf with local authorities and sometimes with the other parent.

Sundwall exhausted all his persuasive skills over three days in the fall of 2002 in a hotel room in central China, where Camille Colvin and her 4-year-old son Griffin were held by police at the request of the boy's Chinese father, Guo Rui. He had kidnapped his son from New York, after a U.S. divorce court had awarded custody to his ex-wife. She had hired a detective and found Griffin in Guo's hometown of Zhengzhou but wasn't allowed to leave the country -- or even the hotel -- unless she left the child behind or reached an agreement with Guo.

"She was besieged," recalled Sundwall, who flew down from Beijing to handle the case. "The Chinese said it would have to go through the Chinese court system, which was going to take a while, and she agreed, but there was a lot of pressure on her to make one of those informal deals to settle things with the father. At one point, I was trying to persuade the Chinese to let me take the child to my house in Beijing not to be trapped in that hotel."
In the end, Colvin had to pay $60,000 in "blood money," Sundwall said, even though she won custody in a Chinese court.
Photo by U.S. Consulate Azores
Popular in the Community