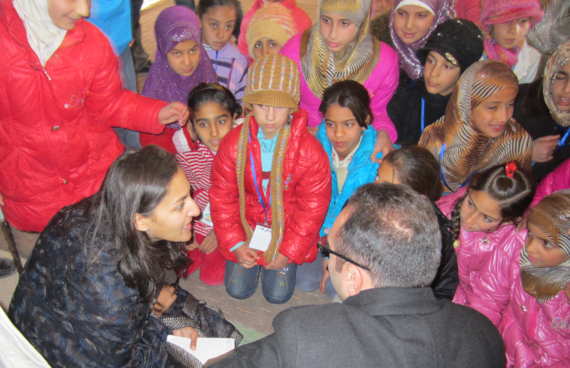 Anjalina Sen is a diplomat of a peculiar kind. She finds diplomatic receptions "a bit more onerous than sleeping in a bamboo hut for a week." It makes sense, then, that she has spent her nine years in the Foreign Service so far working mostly on refugee issues.
"We do a lot of business at receptions, but the field work I do is phenomenal," she said. "Talking to refugees about their experience, their hopes and dreams, and figuring out how to bring that up with our policy -- that's what gets me really excited. I'm often in refugee camps, so I spend a lot of time in flip flops. I don't like wearing a suit."
Born to a Canadian mother and an Indian father, Sen grew up in Brazil, Mexico and Portugal. After working on Wall Street, she made what seemed a natural career choice for someone with her cosmopolitan upbringing.
Soon after joining the Foreign Service, she found herself in the middle of the now-infamous passport crisis of 2007, when new entry requirements for Americans traveling to Canada and other countries in the Western Hemisphere caused a huge flood of passport applications, overwhelming the State Department. In a very unusual move, Sen and most of her entry-level colleagues were assigned to an emergency task force to help ease the load.
"We didn't have enough computers and had to hand-adjudicate passport applications," she said. "But it was a great bonding experience, and I'm still really close with the people I was on that task force with."
After her mandatory consular tour, which she spent in Guangzhou, China, Sen became a refugee officer in Bangkok. That was the start of a career path that is highly unusual even in an already unusual organization like the Foreign Service. While most officers try to take a variety of assignments over the course of their careers, Sen has stayed true to refugee work ever since, helping to protect refugees across Asia and the Middle East, and to resettle some of them in the United States.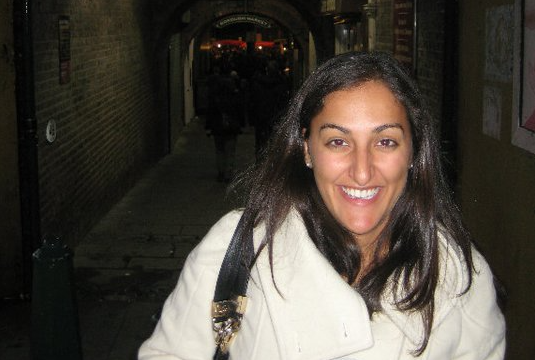 "I see my job as translating cultures and negotiating to find similarities," she said. "We do a lot of monitoring and evaluation. The U.S. is usually the largest donor in the camps I visit, so we fund nutrition, medical services, preventative and curative healthcare, water and sanitation, gender-based anti-violence and other programs. We don't get out and tell the story very much. We do humanitarian work, but we don't benefit from it necessarily."
In addition to the humanitarian reasons, Washington spends significant resources to help refugees -- regardless of whether they end up in the United States -- out of concern that large camps full of desperate people with no prospects and decent living conditions could ignite violence and cause regional instability.

According to the U.N. High Commissioner for Refugees (UNHCR), there were more than 65 million forcibly displaced people worldwide in 2015. Among them were more than 21 million refugees, over half of whom were under the age of 18. That same year, U.S. government data shows that the United States admitted nearly 70,000 refugees, most of whom were from Burma and Iraq. Washington was criticized for accepting only 1,682 Syrians in 2015.
Sen said the process of designating displaced people as refugees and resettling them is rather long. "We have several bars to meet before we can even consider sending them to the U.S.," she explained. "UNHCR has the international mandate, and individuals enter the process as persons of concern. Then they become asylum-seekers, go through refugee status determination, and then get the refugee designation. However, that doesn't mean they are refugees under U.S. law quite yet -- for that to happen, UNHCR has to formally refer a person for resettlement, and then the Department of Homeland Security has to make a decision on admissibility to the United States."

Throughout that lengthy and uncertain process, those displaced people need protection and assistance, and that's where Sen and her colleagues come in. "We are in a situation where no one is willing to speak for these people but us," she said. After Thailand, she was posted to Iraq, followed by a public diplomacy assignment in Colombia. But she missed refugee work and left Bogota early, eventually returning to Iraq and then heading to Lebanon. She will be dealing with refugees again for the next three years in Turkey, beginning later this summer.
As hierarchical as a government bureaucracy is, Sen sees significant change for the better in the Foreign Service -- especially in her line of work -- compared to other countries' diplomatic institutions. "I have family in the Indian Foreign Service, and it's so hierarchical," she said. "When I look at my counterparts, it's very much about your rank. Here, it's about getting the work done, and I feel empowered."
For a long time, Sen was concerned that her personal life might suffer because of her work. She was in a long-term relationship when she joined the Foreign Service, but during her first tour in China, her boyfriend was able to come only as a tourist on short-term visas. Employment was out of the question. "We had different ideas about what we wanted our lives to look like," and the relationship ended, she said.
"Many of us join the service as double-income families, but then all of a sudden we drop to a single income -- and it's often the lower income," said Sen, who was single for about six years until 2015, when she met her current boyfriend, an American, in Lebanon.
"In most cases, we have partners who are just as educated and motivated, and we are asking them to sit out on their career for lengthy periods of time," she said. "That aspect of Foreign Service life is very difficult."
Photos courtesy of Anjalina Sen
Popular in the Community