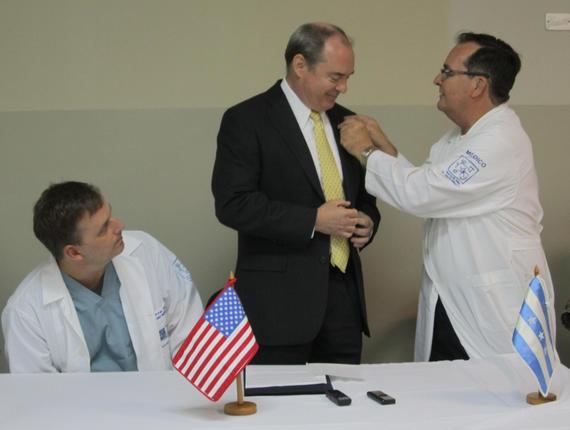 Working saved David Lindwall's life -- literally. He was deputy chief of mission at the U.S. Embassy in Haiti in January 2010, when a catastrophic earthquake flattened his house. He felt very lucky to be in the quake-resistant embassy building when the earth shook.
His colleague Victoria DeLong, however, wasn't that lucky -- she was killed when her house collapsed. Overall, hundreds of thousands of people and a quarter-million buildings perished. DeLong, who was the embassy's cultural affairs officer, spent 27 of her 57 years in the Foreign Service.
For American diplomats serving abroad, natural disasters, along with terrorist attacks, carjackings, kidnappings, robberies and even murder, are part of their way of life. Yet many, including Lindwall, are drawn to dangerous postings more often than plush ones. After Haiti, the poorest country in the Western Hemisphere, Lindwall went to Iraq. He cut short his next assignment as consul-general in Guayaquil, Ecuador, to serve in Afghanistan, where he is currently the deputy chief of mission.
"Even though not every officer has had such experiences, dealing with disasters is very much a part of the Foreign Service life," Lindwall said. "After my house in Haiti collapsed, I slept with the Marines that first night. The second night, the Marines brought a cod, a pillow and a blanket into my office. I slept there for about six weeks."
Lindwall, who joined the Foreign Service in 1985, has also served in Colombia, Spain, Honduras, Nicaragua and Paraguay. He said the most significant change in what American diplomats do during his time in the service has been a shift from observing and reporting to advocacy and lobbying. "We used to lobby the executive branch, but that's not enough anymore," he said. "In many countries, the center of power is not only in the central government, and we have to deal with a much broader field of players, such as legislatures, mayors, governors and even the private sector. We have to build constituencies."
Beginning in the 1990s, the embassy in Guatemala tried for more than a decade to persuade the Central American country to reform its child-adoption system. Rampant corruption was hampering many Americans' attempts to adopt Guatemalan children. From 1999 to 2013, U.S. citizens adopted more children from Guatemala -- almost 30,000 -- than from any other country except China and Russia.
The corruption "created a situation where babies were being stolen" without the future American parents' knowledge, said Lindwall, who was deputy chief of mission there in the mid-2000s. Congress put "an incredible amount of pressure" on the embassy to push for changing the system, he said. "Guatemala was a historic violator of human rights, but on that we didn't get nearly the pressure that we did on adoption."
Lindwall and his colleagues mounted an intensive lobbying campaign among Guatemalan legislators, government officials and others involved in the issue -- and finally succeeded.
While the executive branch of the U.S. government usually sets the country's diplomatic agenda -- and overseas missions often have flexibility in the daily management of foreign relations -- the field has become more competitive. Congress plays a major role in foreign policy through legislation, foreign travel and appropriating funds. In addition, the Senate must confirm every ambassador, as well as assistant secretaries and higher-ranking officials at the State Department.
During his time as the political-military counselor at the embassy in Baghdad, beginning in 2011, Lindwall was involved in another campaign driven largely by congressional pressure.
Camp Ashraf was a refugee camp in Iraq that looked nothing like the camps familiar to Americans from the news. Rather, it resembled a small town, with modern buildings, the latest communications technology and even its own university, Lindwall said. When he first visited, he was impressed by a "huge mosque with a monumental blue dome, a museum, water park, several monuments, a large conference center, and a tree-lined main boulevard."
The camp was the headquarters of the People's Mujahedin of Iran, which is also known as Mojahedin-e Khalq or MEK, an Iranian resistance group designated by the State Department as a foreign terrorist organization "for the assassination of several U.S. military personnel and civilians in the 1970s." Following the 2003 U.S. occupation of Iraq, the American military disarmed the camp, which had about 3,400 residents, according to the department. The new Iraqi government was under pressure from Tehran to close Ashraf for years, but the MEK refused to leave. The Iraqi army attacked the camp more than once, killing several Iranians and provoking an outrage in Congress.

So it fell on the United States to help find a new home for the refugees and to close Ashraf. A direct link between Ashraf's future and the U.S. national interest was difficult to find, but it was the issue that occupied more of Lindwall's time in Iraq than any other, and the "U.S. government spent an incredible amount of time and resources on it," he said.
He explained that paradox with "an effective lobbying campaign that a few vocal MEK supporters" mounted in Washington. "Somehow, they persuaded 98 members of Congress to sign a letter" to then-Secretary of State Hillary Clinton, calling for the group's removal from the terrorist blacklist. "These were very serious people," Lindwall said of the legislators, "so there was a great deal of pressure on us to resolve this problem."

In 2012, hundreds of Ashraf residents moved to a former U.S. military base near the Baghdad airport, Camp Hurriya. By 2015, most of the rest had been relocated as well.

Among the most lucrative and controversial trades the United States does around the world are the sales of weapons and other military equipment, which are overseen and authorized by the State Department. When authorizing deals, the department said it takes into account the overall situation in the purchasing country, including its human rights record, potential weapons proliferation and regional security.
Officers like Lindwall "do the screening and paperwork," he said, though the Pentagon "originates the deals." That was another part of his work in Iraq. Since Saddam Hussein's demise in 2003, the government there has made U.S. arms purchases worth more than $20 billion, including dozens of F-16 aircraft.
"They ultimately want to have an air force to match their neighbors' who have hundreds of planes apiece," Lindwall said. "That creates a lot of jobs in the U.S."
Photo by U.S. Mission Ecuador
Popular in the Community